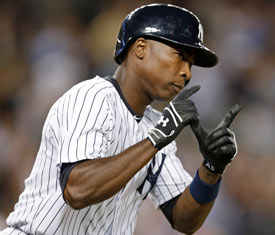 Not every interview is memorable. Sometimes, it's the questions that are uninspiring. Sometimes, it's the answers that are unfulfilling. But this 2004 interview with Alfonso Soriano resonated with me. I remember how focused he was about proving that he had moved on from his beloved Yankees. It didn't work.
Three months after Soriano was the other player in the epic trade that sent Alex Rodriguez to the Yankees from the Rangers in 2004, we spoke in Arlington, Texas. Soriano explained how he would always cherish his memories with the Yankees, but that he was happy with the Rangers. Then Soriano said something revealing about his three years in New York.
"The only bad moment I had," he said, "was when I heard the trade."
Obviously, he didn't want to leave. Throughout that interview, I thought Soriano was trying too hard to be convincing that he was thrilled about being a Ranger. I think Soriano had adjusted and he was playing well, but some of his words, mannerisms and questions showed that a part of him still pined to be a Yankee. He once thought he'd be a Yankee for life, a la Don Mattingly, Bernie Williams and Derek Jeter.
"When you have a great moment, you never forget those moments," Soriano said. "I had a great three years with the Yankees. I'll never forget that part of my life. I'm comfortable here, but, when you have something in the past, you'll never forget it."
As Soriano has flourished in his second stint with the Yankees, I've reflected on what he said nine years ago. The interview happened a few days before Soriano opposed the Yankees for the first time after the trade and, as the questions piled up, he grew more emotional. He noted that he still spoke with Jeter. He said he was at peace because Rodriguez was the only player who was talented enough to compel the Yankees to trade Soriano. That was Soriano's opinion.
In a surreal yet suddenly riveting 2013, Soriano, the player who never wanted to leave, is back and is trying to help the Yankees salvage their season. Soriano bashed R.A. Dickey's flat knuckleball for a two-run homer in the eighth inning to power the Yankees to a 4-2 victory over the Blue Jays on Tuesday night. The Yankees have won 10 of their last 13 games and are only four games behind the Athletics for the second Wild Card spot in the American League.
The offensive revival and the streak of successful play wouldn't be possible without the player who I wrote ambled out of New York with "all the anonymity of a substitute teacher" in The New York Times. That was true. At the time, the acquisition of A-Rod, the greatest player on the planet, was all about A-Rod. Now Soriano, who was acquired from the Cubs last month, has helped spearhead the Yankees' surge with nine homers and 28 runs batted in across 24 games. Five of his homers have been go-ahead shots.
For some reason, Soriano is a player whose weaknesses are sometimes highlighted more than his strengths. He is a free swinger who doesn't walk much so he's not a high on base percentage hitter and he isn't a great defensive player. But Soriano also has 2,015 hits, 397 homers and 283 stolen bases. He should eventually surpass 400 homers and 300 steals. Only four players have ever compiled at least 2000 hits, 400 homers and 300 steals: Barry Bonds, Willie Mays, Andrew Dawson and A-Rod.
Back in 2004, it was evident that Soriano hated leaving New York. After the Yankees got him back last month, Soriano was viewed as a right-handed power hitter they desperately needed. He has been that. He has been more than that. The player who had one bad moment in his first stint with the Yankees is creating a lot of good moments in his second stint with them. Soriano might even help save their season.
Follow us on Twitter @JackCurryYES and @YESNetwork for more.