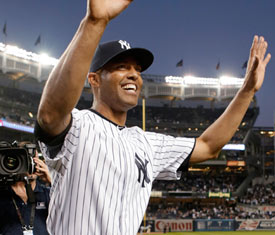 We all knew Mariano Rivera was going to pitch at Yankee Stadium for the final time on Thursday night. We all knew the bullpen door was going to open and Rivera was going to jog to the mound and do what he has done for almost two decades. We all knew the star of the show and we all knew what was supposed to be in the script. We had this night all figured out, right?
But there wasn't actually a script for Rivera's last appearance in pinstripes. There was emotion, an endless flow of emotion from the unforgettable pitcher, and there were tears, an abundance of tears that Rivera predicted would never appear. So, on a night where we all thought we knew what to expect, we witnessed scenes that we had never envisioned. Rivera's good-bye was riveting.
Even though we presumably knew what was about to happen with Rivera, we were still in awe. We watched every move he made because, as it turned out, we didn't really know what was about to happen. We knew the cast, but we didn't know how this night would unfold. That's what makes a baseball night like this so great. It's something unpredictable, like Rivera's tears after two of his teammates surprised him on the mound. It's something you'll still be talking about in a decade.
Ten years from now, few people will care that Alex Cobb outpitched Ivan Nova and the Tampa Bay Rays quieted the Yankees, 4-0, on September 26, 2013. Those are the facts of the game, but those facts were shoved aside by Rivera's exploits. The kid who first tried to get signed by the Yankees as a 155-pound shortstop evolved into the greatest closer of all-time. On Thursday, we saw another example of his flair, his class and his dignity.
From the moment Bob Sheppard's voice introduced Rivera in the eighth inning, there was a different buzz about a game that was meaningless for the Yankees. The Yankees weren't in contention for a Wild Card spot anymore, but the fans had something valuable to hold on to in the 159th game of the season. They had come to see Mariano, the mighty pitcher with the amazing cut fastball. They had come to see him, praise him and watch him for the last time.
And, of course, Mariano put on a show. He retired two batters on five pitches to motor through the eighth. Before pitching the ninth, Rivera sat in the dugout for an abnormally long time. While Rivera was waiting for JR Murphy to put on his catcher's gear, he was also absorbing as much of the moment as he could. He was about to go to that mound for the final time. The Yankee Stadium part of his career was about to die forever.
After Rivera notched the first two outs in the ninth, Manager Joe Girardi unveiled an excellent surprise for him. Andy Pettitte and Derek Jeter, Rivera's forever friends, became part-time managers and strolled to the mound to remove Riverafrom the game. It was a brilliant move by Girardi as he inserted the two players with strongest bonds to Rivera into Rivera's swan song at the Stadium.
When Rivera saw Pettitte and Jeter, he erupted into a smile. Then Jeter smiled back and said, "Hey, it's time to go." Rivera handed the ball to Pettitte and hugged him, but Rivera wouldn't let go. He hung on tight to Pettitte, maybe thinking he was hanging on to the last few seconds of his career in the Bronx. Pettitte patted Rivera's back and then his head, the way a parent would treat a child. The embrace seemed to last five minutes. Then Rivera hugged Jeter, too. When Rivera finally departed the mound, he had tear stains on his cheeks.
As Rivera approached the dugout, he hugged Girardi. Rivera dropped the game baseball, but Girardi quickly stuffed it back in the pitcher's glove. Rivera hugged his teammates, waved to the fans after a curtain call and waved to the classy Rays, too. Once the game was over, Rivera was the last man to leave the first base dugout. He walked back to the mound, dug at the pitcher's rubber with his cleats to loosen up some dirt and scooped up the dirt. He wanted a keepsake from the home he was leaving.
During our post-game show on the YES Network, Bob Lorenz was the first person to mention that Rivera shouldn't even pitch in Houston this weekend. As soon as Bob said it, I emphatically agreed. There is no reason for Rivera to throw another pitch in his Major League career, no reason for him to try and add any more details to a remarkable story.
If Girardi wants to let Rivera play center field for a few innings against the Astros, that's fine. Let Rivera run around in the outfield as if he's a boy running on the beaches of Panama again. But Rivera shouldn't throw any more cutters. On a pulsating Thursday, Rivera and the Yankees crafted a beautiful ending to his pitching career. It's a scene that won't ever be topped. Rivera should leave that script as is.