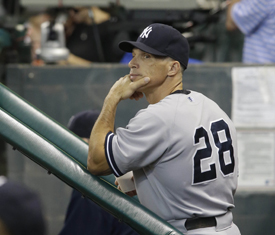 There are numerous times when Joe Girardi is asked questions and gives brief answers. That is Girardi's approach as the manager of the Yankees. Sometimes, topics are off limits. But there are also times when Girardi offers enough insight to reveal what he is thinking. I think Girardi did that during his end-of-the season press conference in Houston.
If you analyzed Girardi's answers that day, you wouldn't have been surprised that Girardi agreed to a 4-year, $16 million deal Wednesday to remain as the Yankees manager. As a relaxed Girardi sat in the dugout on that Sunday, he was chatty about his future. My evaluation of what Girardi uttered is that he needed to talk with his family, but that he was almost certain to be back with the Yankees in 2014.
In the end, that's what happened. Girardi's connection with the Chicago Cubs was mentioned a lot, but the sides never even spoke because he was still under contract with the Yankees for the rest of the month. There was also the possibility that Girardi would return to broadcasting or maybe even take a year off. I never thought those were serious options. The Yankees like Girardi, he liked his prestigious job and it was logical to believe both sides would reach a quick agreement.
"To me, I want to be part of this," Girardi said. "I want to be part of us getting back on top."
Girardi couldn't have negotiated with any other teams until November 1, but he still had some leverage because of the superb job he did in 2013. In a season in which the Yankees were hampered by an endless trail of injuries and had to deal with the distraction of Alex Rodriguez's looming suspension, Girardi helped push the club to 85 wins. The Yankees remained in the hunt for a wild card until the last week of the season.
Now Girardi, who initiated the idea of a fourth year on his deal, will be back and he will join with the front office to try and make the Yankees a better team in 2014. Can that happen? When Girardi was asked about the distinct possibility of the Yankees having to assemble a winning team with a payroll under $189 million, he said, "I think $189 million is still an awful lofty number."
Still, Girardi acknowledged that he will be managing the Yankees in a period where there will be some "uncertainty." Both Mariano Rivera and Andy Pettitte have retired. Robinson Cano, the best player on the Yankees, is a free agent. So are Hiroki Kuroda, Curtis Granderson and Boone Logan. Derek Jeter played in 17 games this year and will turn 40 years old in June. CC Sabathia was disappointing and didn't pitch like a $23 million ace. The Yankees missed Russell Martin and need a reliable starting catcher.
But, despite the many questions, Girardi said, "I wouldn't have come back if I didn't think we could win a championship." Although Girardi stressed the importance of young players producing, the Yankees will also investigate the free agent market. If Rodriguez is suspended and his salary doesn't count against the payroll, the Yankees will have more financial flexibility. Beyond Cano and Kuroda, the players the Yankees like include Brian McCann, Shin-Soo Choo and Masahiro Tanaka, who was 20-0 with a 1.24 earned run average in Japan this season.

"I have faith they'll give us everything we need," Girardi said.
Once Girardi agreed to the new contract, he told his wife and three children how rare it was for a manager or a coach to work in the same city for 10 straight years. As long as Girardi fulfills the length of this deal, a decade is how long he will have managed the Yankees. So Girardi is back, back to the place he never left.
"I don't manage to just work," Girardi said. "I manage to win championships."

Follow us on Twitter @JackCurryYES and @YESNetwork for more.