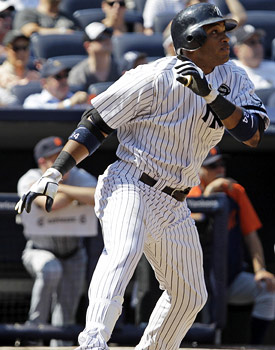 NEW YORK – The former Most Valuable Player looked like the injured kid on the playground who had been left out of another game. With his left foot in a cast and crutches by his side, Dustin Pedroia sat in the third base dugout at Yankee Stadium and watched. He hates watching. He would rather play.

While Pedroia can't play baseball, he can talk baseball. Since Pedroia won the MVP two years ago for the Red Sox and has done a lot of watching lately, I wanted to know who he thinks has been the most valuable player in the American League. He responded in 1.2 seconds.

"It has to be Robbie, you would think," Pedroia said. "Doesn't it have to go to him?"

Robinson Cano, Pedroia's counterpart as the Yankees' second baseman, is having a memorable season that might end up as an MVP season. Derek Jeter is hitting 50 points below his career average, Alex Rodriguez missed games with leg injuries and misplaced his home run swing for long stretches and Mark Teixeira took almost two months before producing consistently. But Cano has been the anchor in the lineup.

As the other marquee Yankees have sputtered, Cano hasn't experienced many droughts. He is hitting .318 with 28 homers and 105 runs batted in, robust numbers for a second baseman. Cano, who has also excelled defensively, had better numbers before the All-Star break (.336, 16, 58) than after the break (.295, 12, 47). But Pedroia lauded Cano for being a slick fielder and the most consistent hitter on a team that leads the Major Leagues in runs.

"He would get my vote for MVP," Pedroia said. "I'd like to see another second baseman get it."

If Josh Hamilton of the Rangers didn't fracture two ribs, there probably wouldn't be a debate about who should win the award. Hamilton is batting .361 with 31 homers and 97 runs batted in and is one of the primary reasons the Rangers won their first division title since 1999. But Hamilton has only played two games in September and isn't expected to play again until the last few games of the season.

Can someone who barely played in the final month of the season be the MVP? Hamilton was the best player in the AL before getting injured and helped put the Rangers in a commanding position to reach the postseason. Hamilton hit .421 against Boston this season and Pedroia talked as if every hit left a bruise.

"That wasn't MVP stuff," Pedroia said. "That was Hall of Fame stuff."

According to the Elias Sports Bureau, no position player who played fewer than 10 games in September (excluding strike seasons) has ever won the MVP. Pedroia noted how Carlos Quentin of the White Sox was the favorite to win the award in 2008, but Quentin broke his wrist and missed the last 26 games. Pedroia (.326, 17 homers, 83 RBIs) swooped in and won the MVP over Quentin, who hit .288 with 36 homers and 100 RBIs.

"It stinks for Josh that he hasn't played the last month," Pedroia said. "It's really tough."

Besides Cano and Hamilton, Miguel Cabrera (.328, 38, 126) of the Tigers and Jose Bautista (.264, 52, 118) of the Blue Jays are also candidates for the MVP. When I mentioned those players to Pedroia, he said it would be difficult for them to win because their teams haven't been contenders. Joe Mauer, who was the 2009 MVP for the Twins, has had a good, but not great season. He is batting .331 with nine homers and 74 RBIs.

Cano added to his MVP candidacy by slapping a game-tying, run-scoring single off Jonathan Papelbon in the ninth inning on Sunday. The Yankees won, 4-3, in 10 innings, which was their biggest victory of the season because it lowered their magic number to one and allowed them to exhale. All the Yankees need is one more win to secure a postseason berth.

A few hours before Cano's hit, I told him that Pedroia thought he was the MVP.

"That's cool to hear that a guy you play against thinks you're the MVP," Cano said. "That's really nice. That's a great thing."

Although the debate about Hamilton's vacant September and how it will impact MVP voting will be intense, Cano said that injuries show that players "are human." Cano cited how Mauer missed a month last year and still won the MVP Of course, Mauer missed the first month of the season. Voters scrutinize April much differently than September. Still, the MVP chatter doesn't consume Cano.

"It's out of my hands," Cano said. "It's not something I can worry about."

Cano stressed that he was much more concerned about the Yankees winning than about the possibility of winning an MVP. Two writers from each AL city will vote for the award. Pedroia's vote for Cano was symbolic, but it was meaningful to Cano.

"If you see him," Cano said, "tell him I said thank you."

Follow Jack Curry on Twitter.