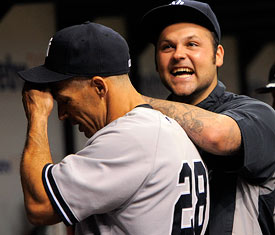 Forget about Joba Chamberlain surrendering a homer on the second pitch he threw this season. Ignore that he was clipped for four hits while collecting five outs. Don't stress about the lack of velocity on his fastball. Instead, focus on how Chamberlain made it back to the mound for the Yankees.
When General Manager Brian Cashman first spoke about Chamberlain's openly dislocated right ankle last March, he was sullen and called it a "massive" injury. The Yankees knew Chamberlain had seriously injured himself, but they couldn't predict when he would return. It was a disconcerting day, another day when Chamberlain's roller coaster of a career had been derailed.
"Keep him in our prayers, because obviously he's facing a lot right now," said Cashman, at the time.
Since Chamberlain was already rehabilitating from Tommy John elbow surgery, he knew what it was like to be lonely pitcher that aches to get back to the Major Leagues. While Chamberlain noted that he was a quick healer and vowed that he would return in 2012, the Yankees couldn't count on his words. Until Chamberlain proved that he was healthy and effective, he would be just another rehabbing player.
That unwanted distinction ended for Chamberlain last Wednesday. He was correct. He is a quick healer. He would pitch again this season. After Chamberlain made his first appearance in 14 months in a 12-3 win over the Orioles, he admitted that he felt like a nervous rookie back in 2007. That is the season when Chamberlain was a superhuman setup man to Mariano Rivera. But in the last five seasons, there has been some hope, more hype, different roles and more heartache for Chamberlain.
Now the Yankees need Chamberlain to be a weapon out of the bullpen again. Rafael Soriano is the closer and David Robertson is the setup man in the eighth inning. If Chamberlain can handle the seventh, he would combine with Robertson and Soriano to give manager Joe Girardi an intimidating threesome across the last three innings of games. If Robertson or Soriano need a day off, Chamberlain could also be summoned in the eighth or the ninth, too.
Although the Yankees have had one of the best bullpens in the American League this season, Girardi explained how Chamberlain's presence could have help him avoid resorting to so many righty-righty and lefty-lefty matchups. Before Chamberlain was activated, the Yankees had two right-handed specialists in Cody Eppley and Chad Qualls, and two lefty specialists in Clay Rapada and Boone Logan.
Unlike those four pitchers, Chamberlain is a pitcher that Girardi trusts to retire righty and lefty batters. For Chamberlain's career, his numbers against righties and lefties are remarkably similar. In 808 plate appearances, righties have a .250 average, 20 homers and 190 strikeouts against him. In 833 plate appearances, lefties have the same .250 average, 17 homers and 196 strikeouts versus Chamberlain. David Phelps is versatile enough to face righties and lefties, but he is a long man and can't be used as often as Chamberlain. So Chamberlain should give Girardi more flexibility.
In a season that was almost a lost one for Chamberlain, he is now a pitcher that can have an impact on the Yankees again. The Yankees would love to see some semblance of the Chamberlain of old, the reliever who burst in from the bullpen with a 98-mile-per-hour fastball. But, as the Yankees wait for that type of production, they are also just satisfied to see Chamberlain back on the mound at all.
Follow Jack Curry on Twitter: @JackCurryYES