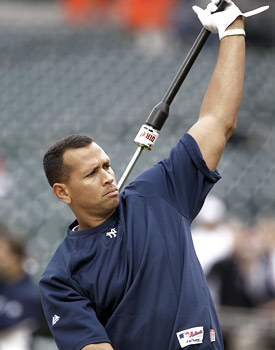 1. Two slightly different reactions from Alex Rodriguez and Derek Jeter, neither of whom was in the Yankees lineup when it was posted today.

Rodriguez said he knew Wednesday night that he wouldn't be in there. Also said he believes Joe Girardi will be smart when it comes to his playing time, knowing that 145-150 games played is the goal this season.

Rodriguez, 5 for his last 40, said he wants to play every day (of course), but particularly wants to be out there when he's not swinging the bat well. And he was critical of himself for that ninth-inning strikeout last night, when he tried to check his swing.

"I should have taken the walk," he said, "shouldn't have ever offered at that pitch."

Immediately after speaking with Rodriguez, the media turned to Jeter's locker. Jeter said he was "surprised" not to be in the lineup.

"There is no (hip) injury," he said. "I had no treatment today."

Jeter also said he did not talk to Girardi about the hip or day off – not last night and not today.

Eric Chavez tripled but left the game with an injury in the fourth inning. Rodriguez replaced him. So much for that day off.

By the time the game ended, Eric Chavez already was on a flight back to New York, where he will be seen tomorrow by Yankees team physician Christopher Ahmad.

Chavez had an X-ray at Comerica Park, which indicated a fracture of the fifth metatarsal, the long bone that connects to the little toe on the outside of the foot.

2. One (slightly) funny moment, as Rodriguez talked about the offensive struggles.

"We have guys swinging the bat well," he said. "(Like) Teixeira."

Then he paused, came up with no other name, nodded and said, "Teixeira."

3. Two cool things about Jim Leyland: His boyhood idol was Yogi Berra and he still talks to Don Zimmer every day.

4. After Max Scherzer finished shutting out the Yankees for eight innings on Wednesday night, he and Leyland had an animated conversation in the dugout.

"I bet you thought he was mad at me for taking him out," Leyland said before today's game."

Not necessarily. But what was it about?

Seems that on Tuesday night, Leyland told Scherzer his only chance against the Yankees was to "not nip and pick. You've got to be aggressive."

Scherzer vowed he would be. After the outing, manager and pitcher were reminding each other about that conversation. Both, obviously, were very pleased with the approach. And the results.

5. Six-year-old Victor Jose Martinez, son of Victor, has already made a big impact in the Tigers clubhouse. "He's like one of the guys," Tigers third baseman Brandon Inge said. "He talks to you like he's an adult. It's amazing."

Little Victor – a favorite of Terry Francona's last year in Boston – can rake. And he's already a switch-hitter.

6. Through 3 1/2 games of this series, Girardi has to be happy with the way his pitchers have approached the dangerous Miguel Cabrera. He's gotten his hits, RBIs and taken his walks, but he hasn't done game-breaking damage or hit one out of the park.

And that's saying something. Inge sees Cabrera hit every day and still marvels at batting practice sessions when Cabrera sprays home runs all over the field.

"He'll say right field, then hit them out to right," Inge said. "And he works his way to center and left. He hit one to center, at least 600 feet at Target Field. It's crazy."

Inge went on to laud Cabrera as "a great guy. One of the best teammates I've ever had."

7. We've asked around about the Freddy Garcia reaction after the third inning last night, when he seemed to be agitated in the dugout and appeared to exchange words with catcher Francisco Cervelli.

(Garcia said he was simply upset at the pitch Magglio Ordonez hit out. Cervelli said he didn't hear Garcia address anyone. And Girardi said he saw nothing.)

Anyway, we're told that Garcia is such an easy-going guy that it's hard to imagine him having conflict, let alone initiating it.

"Once he got over throwing a bad pitch, with Freddy it was over," a teammate said.

He also settled in on the mound. After giving up four early runs, Garcia finished his outing with four scoreless innings.

8. The hotel in the Detroit area has skinny mirrors. Thank you.

9. And, as a particularly relevant follow-up to the previous note, the media dining room in Detroit might have the best soft-serve ice cream in the majors. Again, thank you.

With Chavez headed to the DL, the Yankees will make a roster move before Friday's game. We'll have more between now and the opener Friday night against the Rangers.

It's time to fly to Texas now.
To reach Kim or comment on the blog, go to @YESKimJones on Twitter.