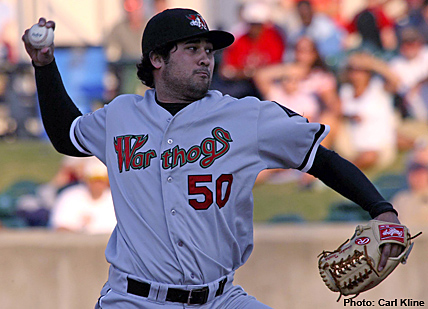 Texeira was traded to the Yankees along with 1B/OF Nick Swisher on November 13, 2008 in exchange for RHP Jeff Marquez, RHP Jhonny Nunez and IF Wilson Betemit.
Scouting Report

Texeira is a classic sinker-slider reliever. His best offering is a
slider that dives away from righties with hard two-plane break, which
explains why they hit just .186 with a 2.38 GB/FB rate off him in 2008.
His fastball generally sits in the 89-91 mph range, although he can
hump it up to 93 if he puts everything into it. Texeira is most
effective in the upper 80⁈⁚s, when he gets the most movement out of his
heater. The White Sox had him work on a changeup earlier in his career,
but it⁈⁚s nothing more than a show-me pitch. He does an excellent job of
keeping the ball in the park, allowing just three homers total in the
last three years.
Working from a low three-quarters arm slot, Texeira isn⁈⁚t too far
off from being a sidearmer. That arm slot is what makes his slider so
good, and so far he⁈⁚s been durable as a pro. His control needs work,
and although he had no issues in 2008 he has to work diligently to keep
his weight in check. As a dominant reliever he hasn⁈⁚t gotten much of an
opportunity to work on holding runners.
2009 Outlook

Texeira will start the year as a key cog in Double-A Trenton⁈⁚s bullpen,
and could be in line for a midseason promotion to Triple-A Scranton.
Rule 5 Draft eligible after the season, Texeira could be trade bait at
the deadline given the Yanks⁈⁚ crowded 40-man roster.
My Take

The Yankees have more relievers in the uppers levels of their farm
system than they know what to do with, and Texeira just adds to that
crop. I⁈⁚m a huge JB Cox fan and that⁈⁚s who Texeira reminds me of,
albeit with less control and without the impressive track record at an
elite college program. In reality, he⁈⁚s just another young and cheap
relief option with good stuff that⁈⁚s near Major League ready. With all
do respect, I⁈⁚m glad he⁈⁚s only the second best Tex the Yanks picked up
this offseason.
http://riveraveblues.com/2009/02/prospect-profile-kanekoa-texeira-7715/#more-7715