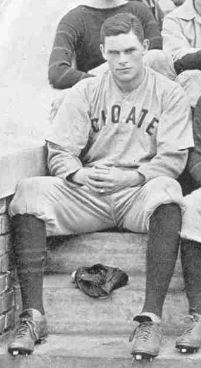 A player for the New York Yankees once died for America in a war. And, mostly likely, you've never heard of him.

November 1, 1893:
Alexander Thomson Burr is born in Chicago. Usually listed as "Alex Burr" in baseball reference sources, but known as "Tom Burr" to his friends, he went east to attend the Choate prep school (now Choate Rosemary Hall) in Wallingford, Connecticut, and became a star pitcher. He then attended Williams College in Williamstown, in the Berkshire Mountains, in the northwestern corner of Massachusetts, bordering the States of New York and Vermont.
He signed a pro contract before ever appearing in a college game, so he never played for Williams. But he didn't last long. Frank Chance, the legendary Chicago Cubs manager now struggling to lift the Yankees to success, was impressed with him in spring training, and brought him north with the club.
But Tom Burr appeared in exactly 1 major league game, on April 21, 1914, at the Polo Grounds, and not as a pitcher. He played center field for the New York Yankees -- not yet an exalted position. He only played in the field, in the 10th inning, had no fielding chances, and never came to bat -- a true "Moonlight Graham." The Yankees went on to beat the Washington Senators 3-2.
He was soon released, and never reached the majors again. He played 7 games for the Jersey City Skeeters of the International League. He went back to Williams, but when the U.S. got into World War I in April 1917, he enlisted in the U.S. Army without getting his degree, and became a pilot.

On October 12, 1918, just 1 month before the Armistice ended the war, Tom Burr was killed in action in a plane crash, in Cazaux, France. It was an accident: Rather than being shot down, another U.S. pilot crashed into him -- what became known as "friendly fire." His plane caught fire, and crashed into a lake. It took 12 days to find his body.
He wasn't quite 25 years old. He was 1 of 8 major league players killed in "The War to End All Wars." Another, former St. Louis Cardinals catcher Harry Glenn, died of pneumonia the same day as Burr. Only 1 other played for a New York team, former Giant 3rd baseman Eddie Grant.

For all their history, and for all their attention to it, the Yankees make no mention at Yankee Stadium of the one and only player from their ranks to have died in military service. This becomes all the more glaring when you remember how much longtime team owner George Steinbrenner, whose prep school was Culver Military Academy in Culver, Indiana, pandered to patriotism and to our armed forces, down to the Monument to the 9/11 victims and rescuers in Yankee Stadium's Monument Park.

Where did The Boss go to college? Williams, also the alma mater of Tom Burr. You'd think he would have seen some kind of memorial there, and remembered it.

Alas, all the men and women who served in World War I are dead now -- of combat wounds, of wartime illness, of later shortcuts of life, of old age. Army Corporal Frank Buckles of Oakwood, Oklahoma was the last living American veteran of that conflict, dying on February 27, 2011, age 110. Chief Petty Officer Claude Choules of Britain's Royal Navy was the last combat veteran, dying on May 5, 2011, also 110. And Florence Green, of the Women's Royal Air Force, was the last veteran of any kind of that war, living until February 5, 2012, just short of turning 111.

On the 75th Anniversary of the Armistice, November 11, 1993, ABC News did a piece on it, and taped a French survivor, in his late 90s, visiting a military cemetery. France had suffered terribly, especially since most of the action on the Western Front was on their soil (and some of it in their airspace).

I can't remember the man's name, but he looked into the camera, held up a finger, and said something. The reporter covering it translated it as, "All should remember to never do this again."

There it is: The best way to honor your dead soldiers, sailors, airmen and marines is to not make any more of them.