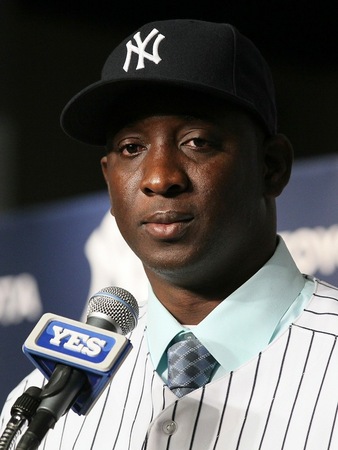 Even though the Yankees missed out on Cliff Lee, the Rafeal Soriano signing was a crucial one because he gives the Bronx Bombers two dominant pitchers at the end of the bullpen. This is something that they have not in essence had since Mariano Rivera was pitching the eighth and John Wetteland was pitching the ninth in 1996.
With all the talk about the core four turning into the core three right now, since Andy Pettitte ended his brilliant career on Friday, it is reassuring to know that the Yankees have a replacement for Rivera once he does retire. Another question on lots of peoples mind right now is if Derek Jeter will be able to bounce back from his sub-par 2010 campaign. Last season, Soriano struck out 57 batters while walking only 14, while converting 45 saves with an impressive 1.73 ERA. Even after 16 seasons Rivera has proven that he is not slowing down yet, posting 33 saves with a 1.80 ERA, and a 0.83 WHIP but this strong tail-end of the bullpen will be even more crucial taking into consideration the teams questionable rotation.
I think that the Yankees should make an effort to trade Joba Chamberlain, but if not, there will now be less pressure on him as well as the rest of the pitchers in the bullpen. Somebody who is surely positively affected by this signing is Pedro Felicano because he has led the majors in appearances in 2008, 2009 and 2010. This season, he will not have to shoulder so much of the burden, but Girardi should be able to continue to rely on him to get batters out when called upon like he has for much of his career. Another key contributer to the bullpen will be David Robertson. He is a young pitcher coming of a solid season in 2010, having converted more than a strikeout per inning.
For a reliever, Soriano was signed for a high price of three-years, $35 million contract, but he has been one of the elite closers. This signing proves all the more valuable now that Pettitte has retired. I thought that bringing Soriano to the team would have helped Pettitte have the urge to pitch one more season, but since it did not, the Yankees need a dominant bullpen even more.
Even though the Yankees have a deep bullpen, after the CC Sabathia and Phil Hughes, the rotation surely has some question marks. AJ Burnett needs to be able to pitch like he did in 2009 and not like he did in the 2010 campaign. If the number four and five starters can pitch deep into games and not tax the bullpen too much, the season can be a success.
Rafeal Soriano's value should not be understated because if he is able to replicate his dominant performance from last season, opponents will essentially have seven innings to score runs. This might be obvious, but, it is necessary to have somebody who can be relied upon to get outs in the eighth inning to be a "bridge" to Rivera because if they can't hold leads for him consistently than that reduces the wins that he Yankees can lock down. Finally, the Soriano acquisition will be making a bullpen that was strong last season (3.47 ERA) even more reliable.