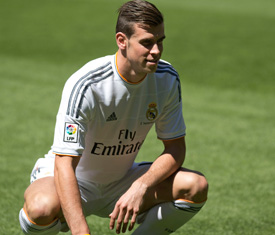 FREE KICK: So what's been going on since we last got together? Whether it's the masterpiece theatre presented by the Barclays Premier League or the grand stage of the international game, soccer has produced plenty of drama. Let's find out who deserves to take a bow, and who needs to make way for an understudy. It's time to kick start this thing.
BARCLAYS PREMIER LEAGUE: The first act involves Gareth Bale. As early as December of 2012, I declared my allegiance to the Welshman as the Premier League's 2012-13 MVP, and arguably the third best player in Europe (behind Messi and Ronaldo). While it was my hope that Bale and Tottenham Hotspur would have a lengthy marriage, money will always be an attractive and irresistible mistress. Real Madrid shed nearly 100 million Euros to import Bale from the premiership, and now they, and by extension La Liga, are dating one of the sport's most desirable players; meanwhile, without their leading man, Spurs has scored just two goals in their first three League matches.
There was a character from the 1970's TV show "The Mod Squad" named Linc who had a well-coiffed afro to go along with a cool persona. Marouane Fellaini can match Clarence Williams III north of the scalp, however, when in the glare of the spotlight, the Belgian is more Miley Cyrus than James Bond. With Manchester United sputtering like a Volkswagen on a cobblestone street, manager David Moyes plucked his former Everton player to firm up a flabby and unsightly Red Devils midsection.
Moving on to Arsenal, after an opening day loss to Aston Villa, Arsene Wenger must have felt like Russell Crowe in Gladiator. Thumbs down was the verdict across north London with the belief that the Frenchman was pinching pennies, but wins over London rivals Fulham and Tottenham have turned those thumbs upside down, and with the arrival of underrated Mesut Ozil from Real Madrid, it appears that Arsenal will be serious championship contenders throughout the campaign.
Overall, Robin Thicke's "Blurred Lines" can best describe the action on the pitch. Liverpool undefeated? Man U not within the top four? Jose Mourinho with some head-scratching decisions at Chelsea? Hold on tight passengers, the 2013-14 season promises to be a roller-coaster ride.
UNITED NATIONS: It's often been said that revenge is a dish best served cold, and after the USA defeated Costa Rica in blizzard conditions six months ago in Denver, the Ticos declared war - and while CR won last Friday's battle 3-1 in San Jose, Uncle Sam's Army remains poised to plant the Stars and Stripes for CONCACAF supremacy and book a first-class ticket to Brazil for the 2014 World Cup.
As for Mexico's shocking 2-1 home loss to Honduras on that same Friday night and the sacking of manager Jose Manuel de la Torre minutes after the contest: I refuse to love thy neighbor. El Tri are in fourth place and currently sit on the outside looking in, as only the first three teams automatically qualify for the World Cup, and Mexico's soccer team would lose an unopposed popularity contest amongst US soccer supporters. All eyes are now on Columbus, Ohio, site of Tuesday night's World Cup qualifier.
That's it for now. Hit me back with your questions and comments: nbaker@yesnetwork.com.