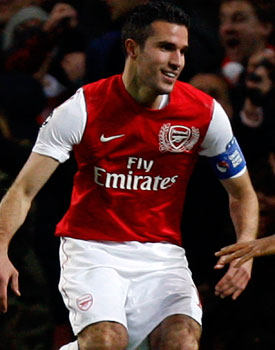 Robin Van Persie is the true caped crusader. Arsenal's Dunkin' Dutchman has scored 13 goals in 12 games to lead the entire premiership in scoring. RVP's appetite for the back of the onion bag is the biggest reason why the gunners, described a month ago as dead men running by several "expert" soccer observers, are climbing to the top of the premiership charts.
With six goals in his last three games, Rockin' Robin is hotter than a bikini-clad Megan Fox. Would the good times continue to roll? Let's kick start this thing.

ARSENAL-FULHAM
Me thinks that Arsenal spent too much time at the Thanksgiving dinner table. How else can one explain their slow, lethargic approach to the game? Fulham was more than willing to take their foot off the gas and adopt a plodding course of action of their own. This is the holiday season, and Arsenal defender Thomas Vermaelen gift-wrapped an own goal in the 65th minute to give the visitors a 1-0 lead. But Vermaelen giveth and taketh. His header off a corner kick proved to be the equalizer. Van Persie was kept under wraps with really only one solid scoring chance midway through the second half that he placed over the net. Arsene Wenger was disappointed in his team's effort and performance. Arsenal-1 Fulham-1.
MANCHESTER UNITED-NEWCASTLE UNITED
Was there a full moon over Old Trafford? How else to explain a bizarre and wacky contest between two teams with their sights set on the top four and Champions League competition next season. Man U. opened the scoring through Chicarito Hernandez. Wayne Rooney's free-kick pinballed off the Mexican striker; 1-0 red devils after 49 minutes. Referee Mike Jones did not put whistle to mouth when Rio Ferdinand challenged Hatem Ben Arfa, but the linesman on the far side of the field ruled otherwise. Replays showed that Ferdinand made a fair challenge but sometimes soccer isn't fair. Demba Ba slotted home the PK and the score was tied in knots at 1. Newcastle midfielder Jonas Gutierrez saw red in the 79th minute and with the man advantage Man U went on the attack. The firm of Vidic, Evra, and Young all had their quality scoring chances turned aside, while Chicarito had his apparent goal correctly ruled offsides. Sir Alex Ferguson was livid after the game but let's be honest, Manchester United has been on the good side of more bad calls than not. Manchester United-1 Newcastle United-1.
CHELSEA-WOLVERHAMPTON
The red-hot Frank Lampard was anchored to the bench but the blues had little trouble with their overmatched visitors. First half goals by John Terry, Daniel Sturridge, and Juan Mata made for a stress-free afternoon in north London. Chelsea keeper Peter Cech hardly worked up a sweat, while Juan Mata is quickly becoming Chelsea's most dangerous player. Chelsea-3 Wolverhampton-0.
LIVERPOOL-MANCHESTER CITY
The leaders in the standings faced a tall order but came out in full-attack mode. In the 31st minute Vincent Kompany headed home a corner kick into the corner pocket. Kompany's placement was picture-perfect but the celebration only lasted two minutes. That's because there was an OG for Joleon Lescott. No, he's not an original gangsta but the victim of an own goal. We start anew tied at one. Speaking of gangsta, Man City's Mario Balotelli always has a scowl on his face that appears to say "back up off me," but he performed a pair of drive-by's that warranted a red card. In walking off the pitch the italian hot-head had words with his manager Robert Mancini. Fortunately for City, Liverpool couldn't deliver the game-winner despite playing 11-on-10 for the last 15 minutes. Liverpool-1 Manchester City-1.
WEST BROMWICH ALBION-TOTTENHAM HOTSPUR
Harry Redknapp is one shrewd cat; before the season he adopted a woe is me approach to the season. Spurs didn't have enough money to spend, they didn't have enough depth, every other team wanted to take his players on the cheap. Hey Harry I call your bluff. You've got a good squad and it was proven once again through a pair of goals from Emanuel Adebayor and one from Jermain Defoe. After a pair of losses to open the campaign against the Manchester's; United and City, Tottenham has stretched their undefeated streak to 10. Anyone out there who dares to agree with Mr Redknapp's testimony should quickly cue up the Doobie Brothers classic "What a Fool Believes." Tottenham Hotspur-3 West Bromwich Albion-1.
SWANSEA CITY-ASTON VILLA
A dark cloud hung over the stadium with the unexpected passing of Wales manager Gary Speed at the age of 42 (Swansea City is located in Wales). It seemed the players didn't want to play (AV goalkeeper Shay Given was sobbing during a pregame tribute), the fans didn't want to cheer, and the time did not wish to pass. This was one time where the game and the result just didn't seem to matter; not even a little bit. Swansea City-0 Aston Villa-0.
SUNDERLAND-WIGAN
In last week's episode we joined in the chorus that protested a brutal non-call in Wigan's draw against Blackburn but turnabout was "fair" play on this day. My guy, Victor Moses, got the award for best supporting actor in gaining a penalty kick call in the first half, while Franco Di Santo sealed the deal after a terrible giveaway in the second half. Hey sometimes it's better to be lucky than good. Wigan-2 Sunderland-1.
BOLTON-EVERTON
Bad news for Bolton when midfielder David Wheater was deservedly shown a red card for a two footed challenge just 20 minutes in. From there it wasn't a matter of it, but when Everton would punish the home side. Marouane Fellaini has a hair style that belongs on Soul Train but a game that occasionally lives in the Twilight Zone. The Belgian volleyed home a centering pass to open the scoring in the 49 minute. Everton would add an insurance goal late in the game to secure all three points. Everton-2 Bolton-0.
STOKE-BLACKBURN ROVERS
Blackburn manager Steve Kean received a vote of confidence in the days leading up to the game but Blackburn supporters will surely ask for a recall election. Their team, usually lacking in talent, often compensate with guts if not glory. Unfortunately, neither was on display in this rather drab affair. Rory Delap's header gave Stoke the lead at 1-0 and the only question after that would be the margin of the final score. Stoke-3 Blackburn Rovers-1.
NORWICH CITY-QUEENS PARK RANGERS
QPR boss Neil Warnock was understandably upset with the quality of goalkeeping that his team received. The game was tied at one when Norwich substitute Grant Holt came through (again) in the clutch. He delivered the game-winner from the doorstep with just 19 minutes left in the match. Let this be a lesson to anyone who watches a Norwich game; don't turn the channel until the final whistle sounds. Norwich City-2 Queens Park Rangers-1.
PENALTY KICK
Here's The Pitch shows a yellow card to FIFA chief Sepp Blatter. The head of the international soccer federation took a dive that would have been the envy of Christiano Ronaldo when he refused to raise his voice beyond a whisper on the issue of racism on the playing field. Recent allegations of racist language have tagged John Terry and Luis Suarez, and racist behavior is as common in stadiums throughout Europe as flags and flares. But when asked for a reaction Blatter would only say that such matters can be solved with a simple handshake. Soccer is the beautiful game. The body of the game is picture-perfect. The head of the game is in serious need of a makeover. Hit me back at nbaker@yesnetwork.com.