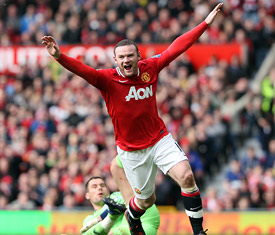 Fans of the Barclays Premier League were treated to some heavyweight matchups the past two weeks, but this weekend's games were played in the featherweight division. But, hey, featherweight results carry the same weight as those in the heavyweight ranks. Let's get ready to rumble.
SWANSEA CITY-MANCHESTER CITY.....Swansea wasn't even expected to have a puncher's chance against the premiership leaders and a missed PK in the 7th minute wouldn't brighten their spirits. City made one mistake but it would prove to be costly. Stefan Savic's goof at midfield would soon become a Luke Moore goal. Mike Tyson, meet Buster Douglas. Swansea-1 Manchester City-0.
MANCHESTER UNITED-WEST BROMWICH ALBION.....WBA came in winners of three in a row but they would hardly lay a glove on the red devils. A pair of goals from Wayne Rooney would send the visitors down for the count. "The champ is here" as United overtakes City at the top of the table. Manchester United-2 WBA-0.
SUNDERLAND-LIVERPOOL......Liverpool have absorbed their share of body shots this season and it seems to have taken its' toll. Nicklas Bendtner tallied the only goal of the match in the 56th while the reds proved impotent on the offensive end. They've dropped three straight for the first time since 2003. How Kenny Dalglish has escaped the wrath of the home fans is beyond me. Sunderland-1 Liverpool-0.
CHELSEA-STOKE......In black-and-white Chelsea's win looks impressive however on the green grass the victory looked more ugly than attractive. Stoke striker Ricardo Fuller was banished after seeing red however Chelsea would only yield a 68th minute Didier Drogba goal despite its' one-man advantage for 65-plus minutes. I'm not buying Chelsea's new-found success. Chelsea-1 Stoke-0.
EVERTON-TOTTENHAM HOTSPUR.....Since they blew a 2-0 lead to arch rival Arsenal in late February, Spurs has stalled like a '57 Chevy. Nikila Jelavic who arrived from Scotland during the January transfer period scored the game's only goal courtesy of some nifty tic-tac-toe passing in the 22nd. Tottenham's best chance came during stoppage time when former Everton striker Louis Saha was denied by the post and Tim Howard respectively. Two things you can be sure as the premiership season draws to a close; the weather gets warmer, and Tottenham dances to the Tighten Up. Everton-1 Tottenham Hotspur-0.
ASTON VILLA-FULHAM......A dreary, overcast game produced a ray of sunshine in the 92nd minute. Fulham keeper Mark Schwarzer couldn't wrap his mitts around Gary Gardner's hard strike from just outside the box. Andreas Weimann was in the right place at the right time to tuck home the rebound. Tough luck for a Fulham side that had been in good form of late. But in Weimann's case you make your own luck. Aston Villa-1 Fulham-0.
BOLTON-QUEENS PARK RANGERS......An enormous match between two squads fighting to avoid relegation. Unfortunately the officiating had a starring role in this production. Clint Hill looked to put the visitors in front in the 19th when his header clearly crossed over the goal line. However referee Martin Atkinson and his two accomplices working the sidelines didn't see it that way. The same exact incident happened two weeks earlier in a Juventus/AC Milan Serie A match. Goal line technology exists to get these calls 100% accurate. Millions of dollars in revenue are at stake. Hey I know it's not my cheddar but to the Football Association we're talking tip money. Ivan Klasnic broke a 1-1 tie in the 86th to give Bolton all three points. QPR was left with nothing but fumes as they expressed their disgust following the match. Bolton-2 QPR-1.
WOLVERHAMPTON-BLACKBURN.....Another huge relegation zone battle but this one would belong to the visiting side. Junior Hoilette would net two of the prettiest goals you'll ever see on each side of intermission. I've made boxing references throughout this blog and here's another; Wolves is down for the count. They can't recover from this KO. They won't be playing in the premiership next season. Blackburn-2 Wolverhampton-0.
NORWICH CITY-WIGAN....A few weeks back I proclaimed that Wigan dead and buried. After Saturday's courageous effort I've updated their condition critical. Led by Victor Moses Wigan produced its' finest effort since the calendar turned to 2012. The result in the record books was a 1-1 stalemate but Wigan was the better side. Norwich City-1 Wigan-1.
PENALTY KICK.....How come Tiger Woods is the only golfer who continually finds himself in golf's medical ward. Els, Mickelson, Westwood, the list is endless. However it's golf's best-conditioned athlete who's always hurt. How is this so ? We're talking golf not American football. This doesn't pass the smell test. Hit me back with your comments nbaker@yesnetwork.com.