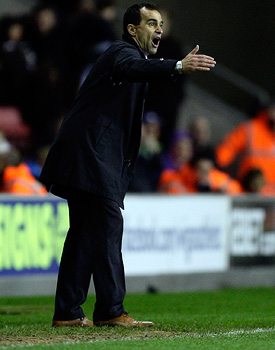 Between April 7th and the 16th, Wigan took on Chelsea, Manchester United and Arsenal. That's the premiership's equivalent of a pitcher facing Gehrig, Ruth, and DiMaggio in the ninth inning of a tie game. Despite being relegation-challenged, Wigan escaped the jam with a pair of strikeouts (victories over Man U and Arsenal) and a free pass (a controversial loss to Chelsea). I've officially moonwalked away from my March prediction that Roberto Martinez's team is going down. Without the benefit of a life-preserver, Wigan has floated back to sea-level. Well-done, Wigan. Let's kick-start this thing.
MANCHESTER UNITED-EVERTON......Games like this would make anyone a premiership soccer fan. With 8 goals scored, this horse is easy to ride. What made this see-saw affair so dramatic was the quality of the goals scored, and the competiveness of the two sides. If I were to start at the beginning, this blog entry would never end. Nikica Jelavic opened the scoring in the 33rd with a nod of the head despite being virtually parallel to goalkeeper David De Gea. A near impossible shot made possible by a perfect placement. Wayne Rooney and Nani then decided to make the pitch their own. With the aid of a terrific right-footed thunderbolt from Danny Welbeck, Man U had a two-goal cushion on two separate occasions. But despite playing at home, and with the aroma of a premiership title in the air, the red devils put down their pitchforks. They didn't just fall asleep they went comatose. Everton would strike twice within a two minute span in the 83rd and 85th minutes resulting in a 4-4 standoff and sending Man City hearts racing. Man U's collapse was comparable to Saturday's 15-9 Yankees victory over the Red Sox. Wow. Manchester United-4 Everton-4.
WOLVERHAMPTON-MANCHESTER CITY......So with Everton providing first aid to their rivals, it was up to City to complete the exacta and add meaning to next Monday's Manchester derby. Strangely, City came out cagey and crafty while Wolves had City net minder Joe Hart scampering across his goal line like a hip hop dancer. Sergio Aguero finally allowed the visitors to exhale in the 27th courtesy of a terrific assist from Gael Clichy. Samir Nasri doubled City's pleasure in the 74th. The table is set with the premiership's finest silverware on the line next Monday afternoon. On the flip side Wolves is officially relegated. The orange-clad unit displayed heart and courage during this difficult season. They have absolutely nothing to be ashamed of. I predict only a one-year absence from soccer's strongest league. Manchester City-2 Wolverhampton-0.
ARSENAL-CHELSEA........Chelsea was coming off an emotional midweek victory over Barcelona, compared to the Gunners stunning setback to Wigan. With that as a backdrop it was surprising to see both teams tap on the brakes instead of a full-throttle attack. Chelsea had the upper hand when the contest was played between the top of the penalty boxes, but from penalty box line to the goal line, Arsenal was in charge. Robin Van Persie had several golden scoring opportunities turn to rust. The gunners didn't suffer a loss on the scoreboard, but their locker room was a minus one when it was announced that Theo Wolcott would miss the rest of the season with a hamstring injury. Chelsea-nil Arsenal-nil.
QUEENS PARK RANGERS-TOTTENHAM HOTSPUR.......Tottenham resides in the upper floors of the premiership while QPR is looking to escape the cellar. Guess which side came out with more spirit and courage? One goal was scored but it would prove to be enough; Harry Redknapp once called Adel Taarabt a fruitcake. After the Moroccan delivered the goods on a free kick, the beleaguered Spurs boss had to be reaching for the alka seltzer. Spurs has been diagnosed as schizophrenic and need a firm hug or at a house call form Dr Oz. They have rock-solid character in the form of Bale, Parker, Modric, and Gallas. But Adebayor, Van der Vaart,and Lennon, are little girls with curls. It would be astonishing if they fall out of the top four after being anchored in third for the majority of the season. QPR-1 Tottenham-nil.
NEWCASTLE UNITED-STOKE CITY........Newcastle went big-game hunting; winners of five in a row, with dreams of a Champions League berth at seasons' end. The scoring firm of Cabaye and Cisse was too much for Stoke to handle. In the 17th Yohan Cabaye deposited the rebound of a Papiss Cisse header, and four minutes later Cabaye was on the giving end with a pinpoint pass to the premiership's hottest goal scorer. Cisse would net his 11th goal in his last 10 games and it was essentially game-over. Cabaye added some frosting 12 minutes into the second half. He rolled a curler past a defenseless Asmir Begovic for the final tally of the afternoon. It's refreshing to see one of England's blue-collar workers contend with the Chelsea's, Arsenal's, and Man U's for European glory. Newcastle-3 Stoke-nil.
FULHAM-WIGAN......Instead of a slice-and-dice approach, these two offensive minded sides decided to poke and prod their way through the first 55 minutes of "action". Emmerson Boyce was the first player to awake from the slumber party with a perfectly-placed drive from just outside the box. The home-side countered via Pavel Pogrebnyak exactly 71 seconds later. Pogrebnyak has proven to be one of the most valuable additions from the transfer window period. With the contest headed to an apparent deadlock, Phillippe Senderos unlocked the tie by using his noggin' in the final five minutes. Offensively Fulham doesn't need to take a backseat to Beyonce, Megan Fox, or Brooklyn Decker in the looks department. I could watch their entire body of work 24/7. Fulham-2 Wigan-1.
LIVERPOOL-WEST BROMWICH ALBION.....If indeed revenge is a dish best served cold, then Roy Hodgson will be booking his next flight to Siberia. 13 months after being shown the door at Anfield, the WBA chief came in with his new squad and raided the kitchen cupboard. Liverpool surrounded the WBA net with chance upon chance but had nothing to show for it. Meanwhile Glen Johnson's charitable donation in the 75th was gladly accepted by Peter Odemwingle. It was thievery of the highest order minus the disguise. WBA had no right to win this game and they didn't; Liverpool lost it. West Bromwich-1 Liverpool-nil.
ASTON VILLA-SUNDERLAND......Another head coach returning to his old stomping grounds. Martin O'Neill has been a miracle worker at Sunderland, after previously nursing AV to good health. However the temperamental O'Neill can be counted on to speak his mind which has made for a lengthy resume. His black cats must've walked under a ladder because their luck on this day was all bad. Nicklas Bendtner deserved to score three goals. The one time he placed the ball in the back of the net, it was disallowed due to a bad off-sides call. Sometimes you're the windshield, and sometimes you're the bug. On this day Sunderland was the insect. On the other side, AV is offensively-challenged. Sunderland-0 Aston Vila-0.
BLACKBURN ROVERS-NORWICH CITY......Blackburn's supporters continue to treat head coach Steve Kean as if he were a hippie at a country music concert. His team got the last laugh with a well-deserved three points. Mauro Formica volleyed home a cross in the 41st and David Hoilett showed why he's the best soccer player to come from Canada. He dribbled some ten yards across the top of the box before unleashing a laser into the top corner pocket. Pure magnificence. Blackburn will need performances like this to escape the danger zone. Blackburn-2 Norwich-nil.
BOLTON-SWANSEA CITY.........There were goal scoring chances aplenty between these two sides looking to stay within the premiership next season. Each side would score in the opening 15 minutes, but they do not enter sign awaited both teams in the last 75 minutes. Swansea's Danny Graham was found guilty of squandering a pair of scoring opportunities while Bolton was ruled innocent of poor defending. They simply retreated to a defensive posture and soaked up Swansea's pressure. A tie was a fair result. Bolton-1 Swansea-1.
PENALTY KICK......Next week's blog will come your way following Monday afternoon's Manchester City/Manchester United showdown.