FREE KICK
Spain winning Euro 2012; the U.S women's team finding gold in London and along the way defeating Canada in a memorable Olympic semifinal; and for an exclamation point the US men's senior team defeating Mexico on Mexican soil for the first time ever. Soccer fans around the globe were well-fed by a bountiful of quality international soccer. However, Here's The Pitch is starved for action from the Barclays Premier League. The 2012-'13 season kicked off over the weekend. Feed me!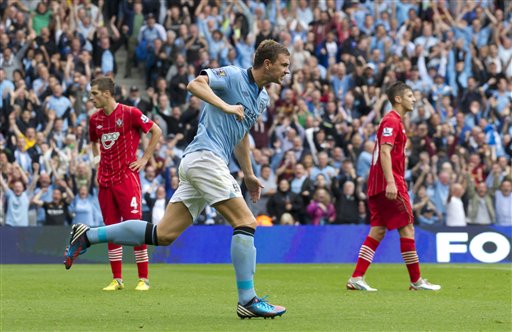 MANCHESTER CITY-SOUTHAMPTON
You can call last year's champions many things, but dull would never enter into the conversation. In a game that should've been theirs at halftime, City emerged from the sauna bathed in sweat. They allowed a pair of goals to a recently promoted Southampton side in the span of just 11 minutes. Faster than you can say YaYa Toure, it was 2-1 Southampton. But as former Houston Rockets head coach Rudy Tomjanovich once remarked, you can never underestimate the heart of a champion. Goals from Edin Dzeko and Samri Nasri snatched victory from the jaws of defeat. Manchester City-3 Southampton-2.
WIGAN-CHELSEA
The kings of Europe opened their campaign while also unwrapping their newest gift, midfielder Eden Hazard. The Belgian's introduction to English soccer was quick and impactful. He was the primary accomplice on Branislav Ivanovic's opener, while his swashbuckling run into the box produced a penalty that Frank Lampard converted. Those two plays occurred within the first six minutes. From there Chelsea sat back, soaked up pressure, and protected its clean sheet. The end result was a workmanlike, opening-day victory. Chelsea-2 Wigan-nil.
QUEENS PARK RANGERS-SWANSEA CITY
QPR performed their finest act of magic in avoiding relegation on the final day of the 2011-'12 campaign, but it appears as if a hangover effect still lingers. How else can they explain a five goal drubbing in front of the home supporters on opening day? QPR were equal opportunity offenders with issues at the front, back and in midfield. I personally feel they've upgraded their roster with the addition of Fabio and Jung Si Park from Manchester United, but this contest was wicked witch of the west ugly. Swansea City-5 QPR-nil.
READING-STOKE-READING
Reading are recent premiership graduates while Stoke barely avoided relegation. This one was a tight, defensive matchup that was nearly decided by a charitable donation from Reading 'keeper Adam Federici. He somehow allowed Michael Kightly's shot to squeeze between his arms and the grass in the 34th minute. Just when Stoke was about to lift its glass in celebration of a road-kill, referee Kevin Friend awarded a dubious penalty to the home side. Adam Le Fondre would make no mistake from the spot as both sides escaped with a point. Reading-1 Stoke-1.
WEST HAM UNITED-ASTON VILLA
Kevin Nolan's thunderbolt in the 40th minute would be the only shot to find the back of the net. AV protestors claimed offsides, but referee Mike Dean would not agree. Villa doesn't employ an attacking style of play. It served them well last season, but this year I feel they'll need a little more power in their punch. West Ham-1 Aston Villa-nil.
NEWCASTLE UNITED-TOTTENHAM HOTSPUR
Despite a successful 2011-'12 campaign, Spurs gave the boot to head coach Harry Redknapp and entered into a salary dispute with their most talented midfielder, Luka Modric. On opening day they travelled to Newcastle to take on a side that featured the premiership's top scoring combination last season in Demba Ba and Papiss Cisse. Spurs found a post and a crossbar in a lackluster first half, but the contest came to life in the second. Ba opened the scoring in the 54th before Jermain Defoe knotted the score 22 minutes later. The game commentators believed that the play was offsides but I was in agreement with the game officials. Newcastle's Hatem Ben Arfa was by leaps and bounds the best player on the pitch and he was rewarded for his hard work by drawing a deserved penalty kick in the 80th. Ben Arfa neatly deposited the PK and the Baggies secured the three points. Newcastle-2 Tottenham-1.
WEST BROMWICH ALBION-LIVERPOOL
Regular readers of this blog can attest to my ongoing feud last season with Liverpool field general Kenny Dalglish. No team did less with more than the Reds. Despite his legendary status when he played at Anfield, Dalglish was shown the door while Brandon Rogers snuck in through the window. The former Swansea skipper had to be horrified by his team's display. I mean no disrespect but WBA will never be compared to Man U, Man City, or Chelsea, but on this day Liverpool had to believe they were at Camp Nou taking on Messi and company. WBA showed no fear in carving up a slow and plodding Liverpool backline. Liverpool fans will feel that they were done wrong by a red card decision against Daniel Agger in the 58th, but that occurred 15 minutes after Zoltan Gera scored a gorgeous tally that would have made Eva Mendes envious. The Hungarian chested down a corner kick and thumped a one-time volley past a defenseless Pepe Reina. Absolute style and substance from Gera. WBA-3 Liverpool-nil.
ARSENAL-SUNDERLAND
Poor Arsenal. They are truly the Charley Brown of soccer. Despite fielding a world class squad that consistently finds Champions League glory while playing a swashbuckling and eye-pleasing style, they seem to always get a rock while those around them are awarded treats. In the latest example, last year's MVP, RVP (Robin Van Persie), was sold in midweek. But he wasn't just shipped out on a sailboat; RVP traveled by cruise ship to Manchester United where Sir Alex Ferguson welcomed the dunking Dutchman with open arms. The equivalent of this deal would be if the Giants traded Eli Manning to the Jets. So naturally Arsenal would find itself offensively-challenged on this day despite a marvelous performance from midfielders Gervinho and newcomer Santi Cazorla. RVP's replacement, Olivier Giroud, somehow missed the target from just 10 yards away, despite a room service delivery from Cazorla. Arsenal-0 Sunderland-0.
FULHAM-NORWICH CITY
The story of this contest concerned a player who didn't play. Clint Dempsey is a Fulham midfielder who wishes to be dealt to a more successful club. Unfortunately the Texan can't take his cowboy boots and ride into the sunset because he's still under contract. He has refused to suit up for Fulham and the team called his bluff. They turned over a pair of aces in a thorough 5-0 demolition of Norwich City. When the home fans weren't cheering the home side, they would ad lib anti-Dempsey chants. I respect Clint Dempsey. I praised his performance last season from touchline to touchline; but he needs to honor his contract and hope that his play hurries his exit from Craven Cottage. Fulham-5 Norwich City-nil.
PENALTY KICK
As I mentioned in the lead paragraph the U.S women's team is to be commended for claiming its third consecutive Olympic Gold Medal. And while the pool in the women's game is quite shallow in terms of depth, what the women kickers were able to achieve in London was special. I wish I could say the same about the team's outfitters. Nike, an American company the last time I checked, did not see fit to place any USA logos or patches on the front or the sides of their jersey. I don't have much of a life so I witnessed nearly every minute of Olympic soccer action and I did not hear one word about this fashion faux pas. I hope I'm not making too much out of this, but for goodness sake we're talking about the Olympics, not some regional tournament. Can I please get some USA representation on the uniform? Am I making too much out of this? Hit me back: nbaker@yesnetwork.com.