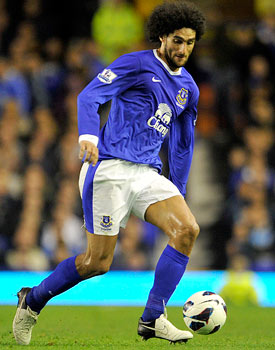 ASTON VILLA vs. MANCHESTER UNITED - The red devils entered Villa Park on a four-game winning streak while AV had scored just eight goals in their first ten contests. The villains came out inspired and took a two-goal lead after 50 minutes. Andreas Weimann was credited with both strikes although it was midfielder Gabriel Agbonlahor who put in work on the second goal. Man U can be down, but they're never out. Chicarito Hernandez would find the back of the net twice, via a volley, and a header. Those tallies surrounded a Ron Vlaar own goal in the 60th. Another Houdini act from Sir Alex Ferguson's side. Manchester United-3 Aston Villa-2.
MANCHESTER CITY vs. TOTTENHAM HOTSPUR - Forget Dr. Phil and Dr Oz, Man City needs an office visit with Dr. Feelgood. Terrible within the Champions League and inconsistent domestically the defending champions found themselves flat on the mat following a Steven Caulker head shot. The force of the nod nearly put a hole through Man City keeper Joe Hart. More fragile than my aunt's collection of fine china, City netted the equalizer when Sergio Aguero delivered a slider in the 65th with the game-winner coming from super-sub Edin Dzeko two minutes from time. It's not the first time Dzeko has come to the rescue. Only Mariano Rivera has more saves than the Bosnian striker. Manchester City-2 Tottenham-1.
CHELSEA vs. LIVERPOOL - The most appealing match on the BPL menu. An adjective usually precedes John Terry's name, but the Chelsea captain always bring an honest effort between the lines. He got the Blues on the scoreboard when a corner kick found his forehead midway through the first half. For the most part Liverpool was less than poor offensively until Luis Suarez won the back end of a doubleheader. Once again the scoring play came via the corner. Jamie Carragher flicked his header before Suarez got the nod for the nightcap. It's safe to say the BPL has more goals scored on headers than any other league. Chelsea-1 Liverpool-1.
EVERTON vs. SUNDERLAND - With a grand total of zero goals in their past three games, the black cats have hardly resembled panthers when on the attack. Adam Johnson is the answer to a trivia question when he became the first Sunderland player other than Steven Fletcher to score a goal this season. While Sunderland sat back and admired their work, Everton put on its' hard hat. Marouane Fellaini gets my nomination for best supporting actor. The Belgian would tie the score with a strike into the left corner pocket, and he was the primary health care provider for Nikica Jelavic's game winner. Fear the fro. Everton-2 Sunderland-1.
NEWCASTLE UNITED vs. WEST HAM UNITED - Only Kevin Nolan's 38th minute deposit saved this contest from being one of the worst of the campaign. West Ham-1 Newcastle-nil.
READING vs. NORWICH CITY - This game was uglier than my son's finger-painting. Reading-0 Norwich-0.
ARSENAL vs. FULHAM - Finally some scoring to speak of. Four goals in the opening half with the gunners scoring the first two. One thing we know about the 2012-'13 Arsenal eleven is that no lead is safe and no deficit is insurmountable. In the 67th Dimitar Berbatov struck gold from the penalty spot and suddenly Fulham had a 3-2 advantage. Olivier Giroud would knot the score just two minutes later, but the excitement was far from over. After a controversial handball decision against Fulham deep into stoppage time, justice prevailed when Mikel Arteta directed his PK straight into Mark Schwarzer's midsection. A tie score was a fair result. Arsenal-3 Fulham-3.
SOUTHAMPTON vs. SWANSEA CITY - Southampton was clinging on to a 1-0 lead by its fingernails when they lost their grip in the 73rd. An act of charity from goalkeeper Paulo Gazzaniga was converted into an acceptable donation by Nathan Dyer. Southampton-1 Swansea-1.
WIGAN vs. WEST BROMWICH ALBION - How can a person figure out Wigan without a calculator? A week ago Roberto Martinez' side were deserved winners at Tottenham. This week they lay an egg against BPL guppies WBA. West Bromwich-2 Wigan-1.
STOKE vs. QUEENS PARK RANGERS - QPR will remain in the cellar of this blog until they win their first game. 0-11 and counting. Only four ties separates this motley group from Lindsay Lohan-level embarrassment. Stoke-1 QPR-nil.