FREE KICK - The BPL turned a twin-killing earlier in the week. However, this double play resulted in the removal of head coaches Roberto DiMatteo from Chelsea, while Mark Hughes was erased from Queens Park Rangers. The Hughes dismissal was to the surprise of absolutely no one. The derriere of many jokes are still without a victory more than two months into the season. DiMatteo brought Champions League glory to Chelsea just four months ago. This is yet another reminder that owner Roman Abramovich is more impulsive than a shopaholic let loose on Black Friday. Time to kick start this thing.
CHELSEA-MANCHESTER CITY - The most appealing item on the weekend menu should've been sent back to the kitchen. A pouring rain drenched the pitch and doused both sides of any creative genius. Rafael Benitez was serenaded by the Chelsea boo birds, but the chorus should've saved their musical performance for Abramovich. The blues enjoyed the better of play while once again City proved impotent within the 12-yard box. Chelsea-nil Manchester City-nil.
MANCHESTER UNITED-QUEENS PARK RANGERS - Give 'em hell Harry was the rallying cry for QPR. But alas this Harry Redknapp hardly resembles Harry Truman and the red devils will never be compared to Thomas Dewey. Man U dominated the first 45 but it was carpe diem for QPR on the counter when Jamie Mackie found the back of the net with his header in the 52nd. Reality TV set in from that point with Johny Evans, Darren Fletcher and Chicarito Hernandez in the starring roles. A contest that appeared more mismatch than matchup turned out to be true. Manchester United-3 QPR-1.
TOTTENHAM HOTSPUR-WEST HAM UNITED - The beautiful game turned ugly as the West Ham supporters unleashed a flurry of nasty chants to the Tottenham faithful. In the midweek a Spurs was fan was hospitalized after being stabbed in a Rome drinking establishment. Spurs was preparing to pay Lazio at the time and Lazio has a deserved reputation for harboring dangerous, ultra-right-wing fans. They say that revenge is a dish best served cold, and Jermain Defoe was cool under fire in scoring a pair. American Clint Dempsey provided first aid to a Gareth Bale tally as the good guys won out at the end of this story. Tottenham-3 WHU-1.
ASTON VILLA-ARSENAL - A wet and soggy pitch dampened the spirits of both players and fans. The gunners fashioned a patchwork starting eleven following their gut-check Champions League victory at Montpelier. The villains had no such excuse. I'm starting to notice a pattern. A smorgasbord of games on the weekend and in the midweek has resulted in a diminished quality to the games. I've said it before, and I'll repeat it here. The premiership needs to take a midseason break like their brethren in Italy, Germany and Spain for the good of the game. Wash, rinse, recycle. Aston Vila-nil Arsenal-nil.
SWANSEA CITY vs LIVERPOOL - Another scoreless contest. Raheem Sterling would find the crossbar with his first half piledriver and Jose Enrique was harshly judged to be offsides on yet another scoring opportunity. The second half was more boring than a plate of meat loaf. Swansea-nil Liverpool-nil.
SUNDERLAND vs WEST BROMWICH ALBION - WBA is the 1969 miracle Mets of the 2012 premiership season. They brought a three-game winning streak into their encounter with an out-of-sorts Sunderland side. Evidence of their hot hand was exemplified with Shane Long's "goal" that was gift-wrapped by butter-fingered Sunderland netminder Simon Mignolet. WBA now sits third in the standings and are flying high. They're rising up to heaven without dying. WBA-4 Sunderland-2.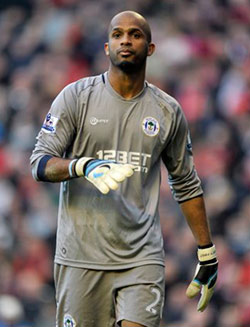 WIGAN vs READING - Simon Mignolet shares space In the goalkeeper hall of shame alongside Wigan's Ali Al Habsi. He fumbled a Hal Robson-Kanu pop fly that could have been ruled an infield-fly rule. Jordi Gomez' hat trick saved Wigan's bacon. Wigan-3 Reading-2.
EVERTON vs NORWICH CITY - Everton field boss David Moyes and premiership referees have a relationship worth of TMZ coverage. On this occasion his team was the bug with referee Mike Jones as the windshield. His questionable free kick ruling allowed Sebastien Bassong to knot the score. Everton's Leighton Baines terrorized the canaries backline the entire game; so of course the rumor coming out of the contest is that the talented midfielder will soon don Manchester United colors. Everton-1 Norwich-1.
STOKE vs FULHAM - Three weeks ago, I anointed Fulham as the club to fear most in the premiership so of course the London based side collapsed like a fawning girl at a Justin Bieber concert. Stoke is offensively challenged but they're the hardest team in the premiership. Stoke-1 Fulham-1.
SOUTHAMPTON vs NEWCASTLE UNITED - An injured Hatem Ben Afra certainly hurt Newcastle's chances. Just two weeks ago this author was prepared to gas up the hearse for Southampton's funeral procession, but to their credit a second straight win has improved their condition from critical to satisfactory. Southampton-2 Newcastle-0.