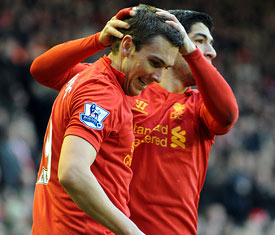 FREE KICK - While the flames have been extinguished, Manchester United supporters are still fired up over Nani's red card in last week's Champions league showdown with Real Madrid. United, Manchester City, and Chelsea and others had FA Cup encounters on this weekend's plate. That left just six premiership league games on the menu. I'm prepared to feast on the leftovers. Let's kick start this thing.
LIVERPOOL vs. TOTTENHAM HOTSPUR - The weekend's most attractive matchup involved two teams who at the moment have better form than Kate Upton. Nifty footwork not seen since the days of Michael Jackson helped give Liverpool a lead midway through the opening 45. Philippe Coutinho tip-toed past a pair of defenders, which gave Luis Suarez acres of open space. He poked home a pass and the home side had a 1-nil advantage. Spurs would score the next two goals with Gareth Bale providing first aid on both tallies, despite glue-like marking by the reds. Bumbling not seen since the days of Laurel and Hardy provided Liverpool with a lifeline. Kyle Walker and goalkeeper Hugo Lloris combined on a comedy act that Stewart Downing converted into the tying goal, while Jermain Defoe's error gift-wrapped all three points to Liverpool. The unearned runs translated into Spurs losing the match instead of Liverpool winning it. Game on in the race for the final two Champions League spots. Liverpool-3 Tottenham-2.
NEWCASTLE UNITED vs. STOKE - At the turn of the new year, Newcastle were flat on its' back; receiving life-support and donating to charity one of their most valuable players in striker Demba Ba. Suddenly the magpies have developed the strength of Hercules. They are one of just 16 teams left in the Europa League (the poor man's Champions League) and are now nine points north of the drop zone. In the 67th minute of a defensive battle Chieck Tiote, who has the finesse of a Greco-Roman wrestler, took down Jonathan Walters within the penalty box. Walters would make no mistake from the 12-yard dot and the visitors had a 1-0 lead. Yohan Cabaye tied the game in knots when he went top shelf after picking up a loose ball in the slot. Then deep into injury time Papiss Cisse found himself all alone on Stoke's front porch. He got up from his rocking chair and scored the game winner. All credit to manager Alan Pardew. The steel industry may be on its' last legs in the U.S but it's a thriving business in northeast England. Newcastle-2 Stoke-1.
NORWICH CITY vs. SOUTHAMPTON - Neither rain, nor snow, or sleet for that matter would deny these squads of their appointed rounds. The conditions were awful with the pitch resembling a Florida swamp. Needless to say the game bogged into a scoreless bore after 90 minutes. Just as a tie seemed a fair and equitable verdict Norwich striker Grant Holt did his best Daniel Day Lewis impersonation and "fell" to ground following a meek challenge from Luke Shaw. It's not the first time that the saints have been on the wrong side of a judge's gavel. The late comedian Richard Pryor once remarked, "if you go looking for justice, what you'll find is just us." Southampton fans were not amused. Surprisingly goalie Artur Boric gave his team a stay of execution with a fantastic diving save of Holt's PK. I guess sometimes life can be fair. Norwich-nil Southampton-nil.
READING vs. ASTON VILLA - The villains need to strap on their hard-hats and lunch buckets if they are to escape relegation. Their blue-collar effort garnered all three points in a tense pulsating affair. Nathan Baker swung and missed when a centering pass crossed his path midway through the first half. The resulting strike out was credited as an own-goal and a 1-nil Reading advantage. Christian Benteke continued his consistent play when his deflected shot eluded a flailing Stuart Taylor just one minute after Baker's OG, 1-1 the score at that point. Gabriel Agbonlahor would later unleash a rocket into the upper left corner late in the first half and AV held a 2-1 lead at intermission. American Brad Guzan stood tall between the pipes in denying several solid scoring chances in the second half however Reading were howling like a cable news host when an offsides call negated an apparent Noel Hunt equalizer. There's more space between the pinky and ring finger than what separated Hunt and the nearest AV defender but the offsides call stood. Aston Villa-2 Reading-1.
QUEENS PARK RANGERS vs. SUNDERLAND - QPR registered its' second consecutive victory with a well-deserved home win. The black cats were purring in the early going. Stephane Sessegnon put in work down the right wing before crossing to Steven Fletcher. He would place an exclamation point on the buildup giving Sunderland a 1-nil after 20 minutes of play. Sunderland were toast after Frenchmen Loici Remy knotted the score off the rebound in the 30th minute. In the 70th, Andros Townsend lobbed a knuckleball past Simon Mignolet that would've made R.A. Dickey proud and 20 minutes later Jermaine Jenas went dead-red serving up a fastball that painted the outside corner. QPR were firing blanks with five straight home shutouts in premiership games before unleashing their offensive firepower on this day. QPR-3 Sunderland-1.
WEST BROMWICH ALBION vs. SWANSEA CITY - In general the officiating in the premiership this season has been above average. There have been occasional head-scratching decisions but by-and-large the league's referees and linesmen have earned a passing grade. Unfortunately the judge and jury in this case caused a mistrial. With Swansea trailing 2-1 Roland Lamah found the back of the net. A linesman wrongly judged that Lamah was offsides, ignoring the fact that Lamah received the ball from an opposing player after his shot on goal. Maybe soccer needs a supreme court, or better yet a court of appeals. Swansea was understandably livid after the match and WBA manager Steve Clarke also admitted that his team feasted on lucky charms. WBA-2 Swansea-1.