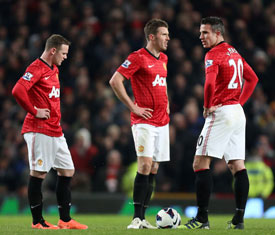 FREE KICK - In a last-gasp attempt to save their BPL membership card, Sunderland named Paolo Di Canio as its new manager. Di Canio's background makes Chris Brown seem like a boy scout. He once pushed a referee to the ground after being dismissed with a red card, feuded with managers in both England and Italy, and is a passionate defender of former Italian dictator Benito Mussolini. On more than one occasion he's displayed a roman salute; which before a rabid Lazio fan base is like giving a teenage girl an unlimited telephone card. In 2001 the enigmatic Di Canio was honored with the FIFA Fair Play Award proving that the only difference between a noose and a halo is six inches. I'd prefer to judge Di Canio by the play of his current team, and not by previous actions. Let's kick start this thing.
CHELSEA vs. SUNDERLAND - A weird game with two own-goals, and a deflected score. Playing their fourth game in nine days Chelsea was like a sailor on liberty at last call. Therefore it was no surprise that the visitors opened the scoring in the final seconds of the opening 45 when Cesar Azpilicueta mistakenly headed an aerial pass behind a flailing Peter Cech; 1-0 Sunderland. Fernando Torres was unleashed from the coach's doghouse and paid an instant dividend when his shot run was re-directed past Simon Mignolet to even the score at one. Eight minutes later Branislav Ivanovic deflected home a David Luiz effort giving he blues all three points. With Chelsea playing an American-like baseball schedule and the black cats taking lessons from new manager Di Canio, it's little wonder that this game was more finger-paint than Picasso. Chelsea-2 Sunderland-1.
MANCHESTER UNITED vs. MANCHESTER CITY - The Yankees vs. Mets or Giants vs. Jets of English soccer had the aura of a heavyweight title fight. The first 45 was pulsating, end-to-end action but a pair of zeros remained on the scoreboard. It was like observing a bevy of beautiful women at a nightclub and being unable to connect with any of them. The second 45 picked up where the first 45 left off. James Milner graciously accepted Ryan Giggs' charitable donation to open the scoring with Vincent Kompany's own goal tying the game in knots eight minutes after. Sergio Aguero tight roped the top of the man U penalty area before roofing the go-ahead strike past a startled David DeGea. Man City won the battle however Man United will win the war. Manchester City-2 Manchester United-1.
TOTTENHAM HOTSPUR vs. EVERTON - Two teams trying to secure berths in next season's Champions League tournament produced more twists and turns than a hip-hop dancer. The game was hardly a waltz. Emmanuel Adebayor scored the second fastest goal in the premiership this season when he got on the receiving end of a pinpoint 30-yard-pass from Jan Vertonghen. 1-nil Spurs before the fans could get comfortable. Sylvain Distin did his best LeBron James impersonation to head home the equalizer; 1-1 at intermission. After Everton took a 2-1 advantage through Kevin Mirallas, Gylfi Sigurdsson deposited the rebound of an Adebayor shot to knot the proceedings at 2. A French poodle would've provided more protection than midfielder Leighton Baines on the game-tying goal. The Spurs performed admirably in their first game without the maestro of their orchestra, Gareth Bale. With the talented Welshman expected to miss two weeks with an ankle injury, the Spurs' grip on third place is dangling by a string. Tottenham-2 Everton-2.
LIVERPOOL vs. WEST HAM UNITED - for the past two weeks field boss Brendan Rogers and his fan base have insisted that Liverpool can still claim one of the coveted top four spots and clinch Champions League qualification. Mr. Rogers needs to understand that he can huff and puff until his cheeks turn red, but the opposition won't blow away by themselves. An obviously overconfident Liverpool team could only muster a scoreless draw. I subscribe to the fairness doctrine. The hammers deserved to win this game, however Lucas Leiva rescued his team from harm with a fantastic goal line clearance of a Jack Collision head knocker. Liverpool-nil WHU-nil.
QUEENS PARK RANGERS vs. WIGAN - Much like life in the Big Apple, downtown and not uptown is where the action is most fun. This relegation zone battle was Gettysburg for QPR skipper Sir Harry Redknapp who declared that nothing less than three points was required from his troops in an effort to avoid demotion. Strangely instead of a slugfest, these two teams decided to spar until the 11th round. At the 85th minute Rangers were off and running on the counter-attack. Frenchman Loic Remy proved to be more dependable than a cabernet along the champs d'elysees when he placed a right-footed rocket along the outside corner. QPR fans were ignited like a plate of Crème brûlée, 1-0 home side. With a 1-0 advantage QPR defended more like Custer than Grant. A pair of clumsy, rash fouls gave Wigan a pair of scoring opportunities. The second by Shaun Maloney resulted in the tying goal. Loftus Road had the atmosphere of a funeral, while Wigan and their supporters partied like it was 1999. QPR-1 Wigan-1.
READING vs. SOUTHAMPTON - This contest had more sides than an Italian dinner. Reading manager Nigel Adkins met up with a Southampton club that showed him the door just a few months earlier despite navigating the team's premiership survival course. Goals from Jay Rodriguez and Adam Lallana translated into relegation-zone doom for Reading, who have fallen and can't get up. Southampton-2 Reading-0.
WEST BROMWICH ALBION vs. ARSENAL- Tomas Rosicky was the difference offensively and defensively as the gunners jumped ahead of third placed Chelsea in the standings. At the 12-minute mark Rosicky turned WBA's golden scoring chance to rust with a goal-line clearance, while his of goals in the 20th and 50th minutes turned WBA blue. Arsenal withstood a 70th minute red card to Per Mertesacker in registering a well-deserved road win. Arsenal-2 WBA-1.
NEWCASTLE UNITED vs. FULHAM - A pair of premiership setbacks along with a midweek defeat in Europa League play left Newcastle starving for a win. After spitting out several solid scoring chances, Papiss Cisse feasted on a delicious serving deep into stoppage time. Fulham was proven impotent on the offensive end. Newcastle-1 Fulham-nil.
STOKE vs. ASTON VILLA - Stoke would rather rumble and tumble instead of run and gun and their physical characteristics have amounted to just one victory in their previous 13 outings. Matthew Lowton volleyed home the game-winner from 35 yards out just three minutes remaining in regulation. It was the prettiest goal this side of a beauty pageant. Christian Benteke's tally in injury time was nothing more than a sprig of parsley on a dinner plate. Aston Villa-3 Stoke-1.
NORWICH CITY vs. SWANSEA CITY - A 2-2 stalemate was a fitting conclusion for two sides comfortably north of the Mason-Dixon Line. Norwich-2 Swansea-2.