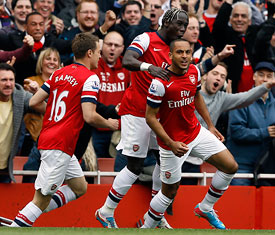 FREE KICK - It was the story that sports journalists around the world sank their teeth into. Luis Suarez treated Branislav Ivanovic's elbow as if it were a well-done steak. Immediately following the incident Suarez apologized. The outrage decreased to a murmur and the story seemingly floated out to sea. Days later however Liverpool managing director Ian Ayre and manager Brendan Rogers created a mutiny. In their estimation the 10-game penalty was cruel and unusual punishment. I can't understand their protest. This wasn't like trying to get a good night kiss at the end of a first date; it was more like a pinch or grab of a body part. The penalty for that offense requires a swift kick south of the border. The BPL's governing body was the father of the girl.
ARSENAL vs. MANCHESTER UNITED - A touch of class preceded the match when the gunners lined up in rows and applauded the champions' appearance onto the pitch. Arsenal's fans on the other hand treated the contest as if it were the hunger games. Their boos and catcalls were primarily directed towards Robin Van Persie who they found guilty of treason in the summer of 2012. Theo Wolcott got on the board at the two minute mark when he outraced Patrice Evra to a Thomas Rosicky pass. The play should've been whistled for offsides but the goal stood, 1-0 Arsenal. RVP amassed 132 goals in his eight seasons in Arsenal red and white, eighth-most in club history. He was as subtle as a sledgehammer in the opening 45 with a solid scoring opportunity while cheek-to-cheek with Arsenal goalkeeper Wojciech Szczesny; being shown yellow for a harsh challenge; stripping Bacary Sagna like paint remover; winning a penalty kick; and consequently scoring the red devils' equalizer (that's two games worth of labor for most soccer players) to make it 1-1 at the halfway mark. The field was slanted in Arsenal's favor in the second 45 however Man U proved dangerous on the counter-attack. Sagna needs to hit the casino. Consider him fortunate in avoiding an early exit following a sliding two-footed challenge on Evra. Arsenal-1 Manchester United-1.
WIGAN vs. TOTTENHAM HOTSPUR - With just three weeks left in the season this was a match that had value for both clubs. Spurs with an eye on a top four finish and Champions League qualification next season and Wigan looking to escape the BPL's relegation zone. This end-to-end ping pong match was the Hearns vs. Hagler of the weekend. A spine-tingling, pulsating toe-to-toe slugfest that produced an Abbott-and-Costello goof for Tottenham's first goal; an Aroldis Chapman-like fastball from Callum McManaman to give Wigan a 2-1 advantage; and some late-game Spurs drama that was better suited for a theatre. Masterpiece Theatre indeed. Wigan-2 Tottenham-2.
CHELSEA vs. SWANSEA CITY - The blues were rubbing their hands like a mad scientist as they welcomed a Swansea side winless in their previous five. Midfielders Oscar and Frank Lampard each tallied in the first half giving Chelsea a comfortable victory. It was Lampard's 201st goal with Chelsea; one behind club leader Bobby Tambling. To their supporters interim Chelsea field boss Rafa Benetiz is as welcome as a detective among a roomful of thieves, but his accomplishments since taking over need to be recognized. A likely top three finish in the premiership standings; one of four teams remaining in the Europa League. A more compact and secure defensive backline. Be careful for what you wish for Chelsea, you might not like what you'll get. Chelsea-2 Swansea-nil.
MANCHESTER CITY vs. WEST HAM UNITED - The hammers entered the match on a streak, having not tasted defeat in their last five. However they bit off more than they could chew in the BPL's second-placed team. Man City's first goal was a paint-by-the-numbers approach. Sergio Aguero put the finishing brush stroke on the tally from West Ham's front porch. Yaya Toure's would follow with a left-footed slider from the top of the box. The called strike rendered Andy Carroll's injury time goal meaningless. To be real, Manchester City's penchant for turning golden scoring opportunities into rust reared its ugly head once again. City didn't do much but it was enough to secure all three points. Manchester City-2 West Ham-1.
NEWCASTLE UNITED vs. LIVERPOOL- With Luis Suarez serving the first of his ten-game sentence Liverpool could be excused for a lackluster performance. Instead its' fans were standing and shouting "encore" after a devastating and lethal offensive output. The reds guzzled a six-pack at Newcastle's expense, leaving the home side wobbly and rubber-legged at games' end. A surprising result to this reporter. Just one month ago the magpies were one of eight teams fighting for a Europa League title. Now they find themselves one of three teams who could still be relegated. Head Coach Alan Pardew peeled the paint off the walls in his post-match interview. Liverpool-6 Newcastle-nil.
READING vs. QUEENS PARK RANGERS - A Macy's mannequin had more life than this dull scoreless affair. A fitting conclusion in a matchup between two sides that will move from the premiership's uptown address to the Championship League ghetto next season. At first glance it appeared both sides played hard, but when the cards were turned up, they were bluffing with a 2-7 off-suit. Are these two teams playing out the string? Reading-nil QPR-nil.
EVERTON vs. FULHAM - With just two wins away from home in 2013 (one coming on New Year's Day). Fulham once again proved more meek than mighty. Stephen Pienaar slotted home a centering pass at the 6 minute mark and that's all she wrote. Everton keeps their slim Champions League dreams afloat while Fulham continue to drown in mediocrity. Everton-1 Fulham-nil.
SOUTHAMPTON vs. WEST BROMWICH ALBION - Having not lost since a 2-1 setback to QPR back on March 2nd and sitting chilly in the middle of the premiership table, Southampton was guilty of sitting back and admiring their work instead of dealing with the task at hand. Robert Madley made his premiership debut as the man in charge and he was kept busy dismissing two Southampton and one WBA player. At even-strength the Saints were no match for Albion and they were finger-paint ugly playing 9-against-10. Romelu Lukaku was the man of the match by heads and shoulders. The Belgian international netted West Brom's second score and provided first aid on their third tally. WBA-3 Southampton-0.
STOKE vs. NORWICH CITY - To the loser nightmares of being relegated, the victors would be spoiled with premiership riches next season. Charlie Adams was the hero scoring the only goal from the sweep spot. Stoke traveled from points A to B courtesy of Robert Huth's long distance punt. Stoke can now exhale in reaching the 40 point plateau, Norwich will try to hold its breath over the next three weeks. Stoke-1 Norwich-0.