FREE KICK: This season's Barclay's Premier League standings are much like an ocean, in that danger and intrigue can be found near the bottom instead of at the top. Three teams face the Premiership firing line, with Reading and Queens Park Rangers already blindfolded and dangling a cigarette from their lower lip; currently, Wigan is the third team set to be demoted, but Sunderland, Newcastle, and Aston Villa entered the weekend just five points above sea level. For those four "contenders," it's time to grab the life preservers and float to shore, because with relegation comes a loss of some 40 million dollars in TV revenue. It's time to find out which teams sink and which ones swim. Let's kick start this thing.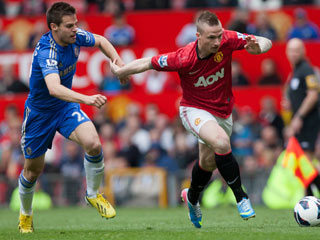 MANCHESTER UNITED vs. CHELSEA: The more compelling matches of the weekend involved Wigan, Aston Villa, and Newcastle, but when the Red Sox and Yankees of the Premiership line up across each other, it instantly becomes the lead. With the 2012-13 BPL title already in their bank account, Man U did not have the determination of their opponent, and the match was more chess than football, with more probing and poking than fury and drive. The Red Devils were checkmated in the 86th when Oscar spotted Juan Mata just inside the box, and his left-footed slider found the lower right corner of the net via a Phil Jones deflection for the game's first and only goal. A few minutes later, Chelsea's David Luiz and Man U defender Rafael engaged in hand-to-hand and elbow-to-elbow contact; Rafael acted last with a swift kick to his fellow Brazilian's calf, sending the curly-haired one down in a heap, but as he grinned sheepishly at his Tony Award-winning play, Rafael was shown red by referee Howard Webb. Did Rafael deserve a card? For sure, but yellow would've been my color of choice. With the win, Chelsea has a 13-5-5 record under Benitez, and while the Spaniard is still looked upon as Benedict Arnold by Chelsea supporters, history will flatter his 2012-'13 accomplishments. Chelsea 1, Manchester United 0.
TOTTENHAM HOTSPUR vs. SOUTHAMPTON: Earlier in the week my hero Gareth Bale was anointed Player of the Year in the BPL, and he rescued Spurs on this occasion with a left-footed slider that gave his team all three points. The goal was pure Picasso; while traveling right to left at top side, the Welshman unleashed a left-footed rocket that left Southampton goalkeeper Artur Boric sprawling like a contortionist. Just a tremendous individual effort from captain clutch, and while Bale already had my vote as the Premiership's MVP months ago, I'll now raise the pot and go all-in: Gareth Bale is the third best soccer player in Europe, ranking below Lionel Messi and Ronaldo. Tottenham visits Chelsea during the midweek, and the winner claims all the chips in the race for a Champions League berth. Tottenham 1, Southampton 0.
SWANSEA CITY vs. MANCHESTER CITY: Many years ago, Billy Preston had a hit song entitled "Nothing From Nothing Leaves Nothing"; this match had plenty of nothing, but that shouldn't come as a surprise, as Swansea's BPL survival kit for next season is secured, and ditto for Man City's 2nd place finish. Swansea enjoyed the better of play while Edin Dzeko was the goose that had the game's golden opportunity. If he was on the golf course, his opponent would've had him pick up the "gimme," but somehow the Bosnian's effort from three yards out missed the target. Swansea 0, Manchester City 0.
QUEENS PARK RANGERS vs. ARSENAL: QPR has already been sentenced to the Minor Leagues, and it took just 20 seconds for their lack of desire to appear, as that's how long it took for Theo Wolcott to open the scoring. Wolcott should've recorded a hat trick, though, as he turned into a plumber later in the first half in striking the pipe, and in the second half, his right-footed sinker was denied via a fine save from QPR keeper Joel Robles. Loic Remy had the home side's top scoring chance late in the second, but his swirling effort fell just wide. After the match, QPR manager Harry Redknapp declared that his team gave maximum effort, but to that I quote another song that I'm fond of: James Brown's "Talking loud and saying nothing." There's a reason why they are the rear end of the Premiership table. Arsenal 1, QPR 0.
LIVERPOOL vs. EVERTON: On Saturday the U.S. hosted the Kentucky Derby, the most exciting two minutes in sports; well, this match was the dullest 90 minutes in soccer. I haven't seen so much promise go to waste since Vanilla Ice. Liverpool spilled a six-pack into the Newcastle net one week earlier, but they went cold turkey on this day; clearly they missed Luis Suarez, who sat out the second game of his 10-game suspension. In the second half, referee Michael Oliver suspected foul play when he disallowed an apparent Sylvain Distin goal; somehow, the arbiter ruled that Victor Anichebe interfered with netminder Pepe Reina, but replays showed that the only contact the Nigerian made with Reina was with his breath. I expected more from both clubs but that would be the theme of the weekend throughout the BPL. Everton 0, Liverpool 0.
NORWICH CITY vs. ASTON VILLA: After a 2-1 victory against Everton back on February 23, Norwich sat mid-table and could not be blamed for making off-season plans; however, the Canaries haven't won since, and now find themselves in a battle royal for Premiership survival. Aston Villa had only lost once in their previous four, and despite fielding the youngest team in the BPL, they've displayed nerves of steel in avoiding what was a near-certain drop one month ago. AV midfielder Gabriel Agbonlahor has a love-hate relationship with fans and management, but Saturday's date was deep and passionate, as Agbonlahor put on a Lebron James-like performance in lifting his team to victory. His goal to open the scoring was Selma Hayek'like in its beauty, and after Grant Holt deservedly tied the game in knots on a penalty kick, Agbonlahor ran onto a long outlet pass and delivered the goods from five yards out. Aston Villa climbs to the summit of premiership survival, the 40 point plateau, while the buns are becoming quite squeaky at Norwich. Aston Villa 2, Norwich 1.
WEST HAM UNITED vs. NEWCASTLE UNITED: The Hammers can sleep peacefully assured of membership in the Premier League next season, while Newcastle's issues would best be handled with an hour on Oprah Winfrey's couch. Alan Pardew has a locker room full of characters, and with Fabricio Coloccini and Hatem Ben Afra recovered from injury, the manager added character to his ship of fools. Pappiss Cisse had the best scoring chance, but his slow roller was cleared off the goal line; at regular speed it appeared to be the wrong decision, and after viewing several replays I haven't changed my opinion. Yet another scoreless outcome…ugh. West Ham 0, Newcastle 0.
WEST BROMWICH ALBION vs. WIGAN: Seeing his Wigan squad fighting for survival is an annual rite of passage for manager Roberto Martinez, and I would not be the least bit surprised if Michael Corleone's quote from "The Godfather Part III" – "Every time I think I'm out, they pull me back in" – is etched above the locker room door. Just one loss in the last two weeks would've meant the death sentence of relegation for Wigan, but they always seem to find a stay of execution; on Saturday, it was actually two stays of execution, as the Lactics erased a pair of one-goal deficits. On March 17, I facetiously wrote that Callum McManaman deserved to be put on trial for his Paul Bunyan imitation in nearly sawing off a Newcastle player's leg, but his game-winner in the 80th courtesy of Shaun Maloney's heavy labor finds him King for a day. Rocky lives in the form of Wigan. Wigan 3, WBA 2.
FULHAM vs. READING: Nigel Adkins was appointed Reading's interim manager on March 26th, and six fixtures later, he was able to notch his first win; unfortunately, the victory came 30 days late. Hal Robson-Kanu and Bryan Ruiz would each score twice, and Martin Jol should be embarrassed because Fulham has mailed in their season, stamped return to sender. Reading 4, Fulham 2.