By Zach Finkelstein
The chase for a 28th World Series championship starts Saturday in big league fashion, as the Yankees are set to face the Philadelphia Phillies in what will be the Bombers' first game against another Major League team in 2012.
The 27-time World Series champions are slated to play 33 Grapefruit League games in 34 days, including two when the team will split up to battle both the Phillies and Twins.
Naturally, the Bombers will trot out many men during this Spring Training sprint. Sixty-nine players are currently donning pinstripes – 34 pitchers, eight catchers, 15 infielders and 12 outfielders, for those who are keeping track.
The club's eldest statesman, Mariano Rivera, is 42 years young. To put that in perspective, the Yankees' indomitable closer had already completed his third professional season before the birth of the camp's youngest player, 19-year-old catcher Gary Sanchez.
Alex Rodriguez is the most experienced man on the team, having already logged 18 seasons in the Majors. He is not the only one with a great deal of tenure, however, as seven others have played more than a decade of big league ball. Near the very top of the list are Derek Jeter and Rivera, who are each entering their 18th season in pinstripes. Andruw Jones, (entering 17th season in the Majors), Raul Ibanez (17th), Eric Chavez (15th), Freddy Garcia (14th) and CC Sabathia (12th) know a thing or two about succeeding in The Show, as well.
The Bombers are preparing feverishly for the marathon that is the 2012 schedule, so they don't have too much free time on their hands. If they wanted to assemble a pickup basketball game, however, they would certainly have the bodies to make it work. Eight Yankees stand 6-foot-5 or taller, including right-handed pitching prospect Dellin Betances, he of a 6-8 frame. The right-handed Michael Pineda and southpaw CC Sabathia are no slouches, either, as they stand at 6-7. Trust me when I say they're pretty imposing when perched atop a 10-inch pitching mound. Or you can just take a look at their stat sheets, which speak for themselves.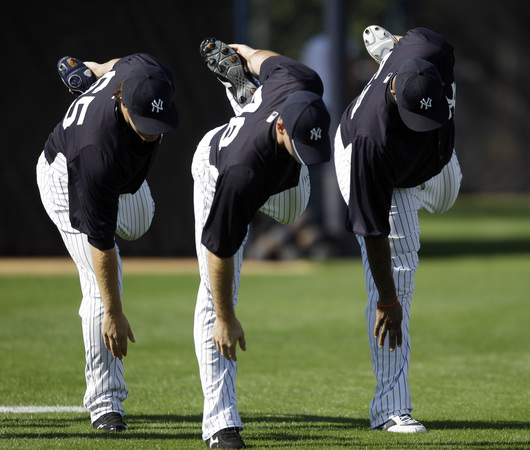 Rounding out the "all-tall" team is 6-6 right-hander Brad Meyers and four men who check in at 6-5 – righty Phil Hughes, southpaws Boone Logan and Clay Rapada, plus outfielder Justin Maxwell.
***
The Yankees brand is one of the most recognizable in the world, as evidenced by the fact that franchise's interlocking NY logo is sold on hats and shirts everywhere from the United States' West Coast to the Far East of the globe. Nine different nations are currently represented on the team's 40-man roster – the U.S., Canada, the Dominican Republic, Japan, Mexico, Curacao, Panama, Puerto Rico and Venezuela. All told, 21 of the 69 players wearing pinstripes this spring come from outside U.S. borders.
The Dominican-born Ivan Nova will take the hill against Philadelphia on Saturday. As you may recall, he finished fourth in the American League's Rookie of the Year vote in 2011 after completing his first full big league campaign with 16 wins, more than any pinstriped rookie since Stan Bahansen recorded 17 in 1968.
So let's all sit back … no, stand up … and get ready to enjoy what will be an exciting 2012 season!
Follow Zach on Twitter