By Zachary Finkelstein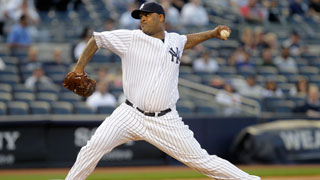 Now on his 12th lap around Major League Baseball's regular-season track, CC Sabathia has succeeded in securing his fair share of sports-related spoils. From World Series champ to Cy Young contender, and from perennial All-Star candidate to possible Hall of Famer, the Yankees' No. 1 starter has been called many things during his Major League tenure.
One title that has sometimes eluded him, however, is April ace.
Granted, Sabathia has pitched his best under the brightest lights, as evidenced by his .636 winning percentage during postseason ball. But the southpaw has been sensational during the regular season, too, having tallied 80 more wins than losses with a solid 3.53 ERA entering his Tuesday night start against the Twins. But for some reason, April excellence has sometimes escaped Sabathia, owner of a 4.16 ERA during the sport's first full month.
Those woes were prevalent during his first two tilts in 2012, when the southpaw pitched to a 6.75 ERA over two underwhelming outings against the Orioles and Rays.
"I was just trying to be too fine with my fastball," Sabathia told reporters following his April 11 effort against the O's. "I had good command, and my pitches were doing what they needed to. I was just trying to make too good a pitch."
A true professional, Carsten Charles understands that his club counts on him to offer innings -- six, seven or eight quality innings -- every fifth day. And that is just what he did during the Yankees' victory over the Twins on Tuesday, when he scattered four hits and one lonely walk with seven strikeouts over 7 1/3 frames of three-run ball.
There could not have been a better remedy to cure Sabathia's first-month maladies than Minnesota, against whom the southpaw improved to a perfect 9-0 with an excellent 1.93 ERA since Aug. 3, 2007.
The 6-foot-7 mountain of a man mowed down Minny, retiring 13 straight from the third to the eighth, and allowed the Bombers' outstanding but oft-used bullpen to get some sorely needed rest.
Sabathia was great, but could he have gone eight?
"His next start, maybe that's a possibility," Yankees manager Joe Girardi told reporters after the game. "He did what we asked him to do. He got us into the eighth, and it was time to take him out."
"There are days when you have guys down and your bullpen is limited," Girardi said Monday night. "[Tuesday] would be a great day for CC to go out and do what he usually does."
Mission accomplished.