By Zachary Finkelstein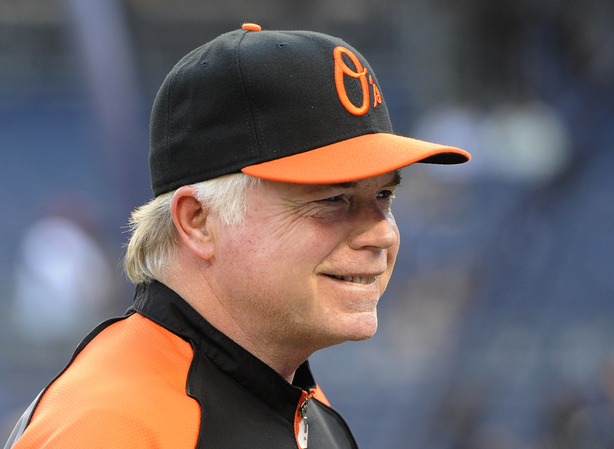 "Showing up is half the battle," is an adage that has rung true for the Yankees since July 18, when they owned a 10-game lead in the American League East.

The Bombers had been without Andy Pettitte for a few starts at that point, but their division advantage had nonetheless reached its apex. Since then, however, New York's AL franchise has gone 18-22, the latest loss coming from a 6-1 defeat to the Baltimore Orioles on Friday night at Yankee Stadium.

The Bombers' bats were quieted by Miguel Gonzalez, a 28-year-old rookie who retired 14 of the first 15 Yankees faced en route to a scoreless seven-inning gem.

Gonzalez, who scattered four hits and one walk with nine strikeouts in the Bronx, is emblematic of the enigma that has blessed Baltimore's baseball club through 131 games.

Based on the Pythagorean standings -- a formula that uses a team's runs scored/allowed split to determine how many wins it should have -- the O's have played like a 61-70 club. With 554 runs scored and 593 allowed, Baltimore owns a differential of -39, 37 worse than the last-place Seattle Mariners, who entered Friday with two fewer runs scored than surrendered.

But no formula can take from the reality that the Orioles actually sit at 73-58, just a pair of games behind the Bombers and with a chance to leave town holding a share of the AL East lead.
And guess what: The O's, who've spent the past 14 postseasons at home, would make the playoffs as a Wild Card club if the season were to end today.

With all due respect to the statisticians who've scoffed at the Orioles' "luck," a win is a win is a win. And win is all the O's have done when the contests have been close. They've prevailed in a franchise-record 13 straight one-run affairs since June 22 and sit at a remarkable 24-6 (32.9 percent of their victories) in one-run games.

The O's are led by ex-Yankees skipper Buck Showalter, whose legend continues to grow as a manager capable of manufacturing epic franchise turnarounds.

In his second full season in Baltimore, Showalter has his squad on pace for 90 wins, which would be a 21-game improvement over last year's 69-93 mark. In 2004, Showalter's second full year with the Rangers, he led Texas to an 18-game improvement and was named the AL Manager of the Year. During season No. 2 with the Diamondbacks (1999), he oversaw a 35-game improvement. And as Yankees fans may remember, his second full year in New York (1993) resulted in a 12-game bump.

Despite Friday's loss, the Yankees are still a strong favorite to win their division (74.3-percent chance) and would need a historic collapse to miss October entirely (91.4-percent likelihood of making the playoffs; both statistics from coolstandings.com).

Emotions and recent play often sway the narrative of the day, but statistics tell the truth over the long haul.

On another positive note, the Yankees' injury front became much brighter following reports on left-hander Andy Pettitte, third baseman Alex Rodriguez and first baseman Mark Teixeira.

Pettitte, the winningest hurler in postseason history, tossed 20 pitches from a mound Friday for the first time since taking a comebacker off his ankle during a June 27 start at Yankee Stadium.

"It was huge," Pettitte told reporters. "I'm sure that you guys talking to me could tell that I was getting a little paranoid about how this thing's going to feel. Today was good. I didn't get out there and push off as hard as I could and let it fly, but I was just introducing myself back to the mound. I felt really comfortable, so that was a good thing. And my arm felt just free and easy. That was another good thing."

If Pettitte (3.22 ERA, 1.09 WHIP through nine starts) can return by mid-September, he would have several outings to sharpen up before taking the hill during the playoffs.

Hours after the southpaw's bullpen session, Rodriguez kicked off a three-game rehab assignment with the Class A Advanced Tampa Yankees. Slotted as a designated hitter during his first professional game since July 24, the Bombers' hot-corner man went hitless but still managed to draw a walk and score a run. If all goes as planned, A-Rod could make a quick drive to rejoin his teammates during the opener of a three-game set vs. the Rays in St. Petersburg, Fla., on Monday.

New York is also optimistically awaiting the return of first baseman Mark Teixeira, who is tentatively scheduled to come back from a strained left calf during an important series at Camden Yards next weekend. Teixeira, who leads the team with 81 RBIs and ranks third with 23 homers, could do wonders for a lineup that has scored only 20 times in its past seven games.

With MLB now one month away from officially commencing its first playoff expansion since 1995, the Yankees understand the importance of taking the division. On Oct. 5, two AL Wild Card clubs will battle in a one-game playoff while the division winner waits for the American League Division Series to start the following day.

September should be an exciting time throughout the sport – not just in the AL East. And if the Yankees take care of business – as they are capable of doing – then a 12th division crown in 16 years is well within reach.