It's no secret. I'm not only a YES employee. I have been rooting for the Yankees my entire life. It's like Sy Sperling. Not only is he the President of Hair Club for Men, he's also a client. I guess I can be a client their as well, but bald is beautiful, sorry Sy.
I have never hidden the fact that I am a fan and I never will. Some will say that it isn't professional because my subjectivity would be skewed because I am a fan. In my personal opinion, I think my views are honed in 100 percent more because I have been following this team since I was a zygote. It's in my DNA. When they took an ultrasound they saw the interlocking NY. My passion for covering the team I grew up rooting for is unparalleled.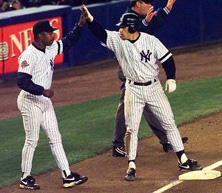 Back in 1996, I had just entered the work force. I was a production assistant for MSNBC. We were having our launch party on the same night as Game 6. Yes, that Game 6. The Joe-Girardi-shake-the-stadium-triple Game 6 against the Braves. It was a tough decision to make on my part. Do I go show my face as a new employee at the launch party of a brand new network, or do I head to the bar to watch the Yankees with all of my childhood friends with a chance for them to end an 18-year championship drought? The answer to that question is both. I showed my face for an hour at the party, and then took off. I hopped into my red Pontiac Sunfire (insert joke here) left the Liberty Science Center in Jersey City and pointed my car towards my hometown of South River.
I got to the light at the corner of the Old Bridge Turnpike and Prospect Street just as Mariano Rivera was striking out Javy Lopez to end the eighth with an emphatic Sterling, "STRUCK HIM OUT SWINGING" call. I got to the South River Pub for the beginning of the bottom of the eighth and about a half hour later, my closest friends and family and I were celebrating the first Yankees World Series win since 1978.
I told you all of that to tell you this. I just returned from Spring Training. It was another great trip. The weather was sparkling. The days were over 80 and sunny. We didn't see one drop of rain and the nights cooled off to a fantastic 55-60 degrees. You had the best of both worlds. During the day you were in Florida and at night you had a bit of a chill to make you feel like you were still home.
I watch how hard these guys work at their craft. They REALLY do. After a full day of rounds of BP, one of the newest Yankees, Raul Ibanez, went back into the netted cages under the stadium and took MORE BP. Hitting off a tee first and then went against a live arm some more. Mark Teixeira did the same thing. This is a guy who has hit 30 home runs and driven in more than 100 RBIs for the past eight years. By the way, wherever he went, it was on the hop. He was hustling from place to place. If you think it was just to get by autograph seekers you are wrong. He was still hustling in the player-friendly confines heading to the clubhouse.
Fans seeking signatures sometimes get the wind knocked out of them by these guys not stopping for a second to sign an autograph. You have to realize something, and remember, this is coming from a fan: These guys are at work. These guys are trying to squeeze as much as they can out of the sunlight. They are not purposely figuratively punching you in the jejunum. Let's be honest. It wouldn't be one autograph. There are hundreds of people lined up over at Field No. 2 when the BP groups come out. They cannot sign for 45 minutes. They are working. You can't take this stuff to heart. If they have time during a break in BP before a game, they do sign.
The first day I was there I saw it in Clearwater. Joe Girardi actually signed a poster of a young Yankees fan who passed away. You may remember him from Twitter. Steven E. Smith. His father, Matt, was holding the sign and Girardi scaled the dugout to sign it and then invited Matt onto the field to watch BP with the manager behind the cage. Most of the players came over to shake his hand. Girardi kept the poster and will send it back when the whole team has put their signature on it.
It does happen. Joe Girardi is a classy guy. You'll learn more about him in Kevin Kernan's book coming out shortly, Girardi: No Ordinary Joe. It comes out April 1 and you can order it now at Amazon.com.
There is a reason why you love this team. There is a reason why you go to games to see them do what they do so well. It's because of the tireless work they put into their craft. So the next time you get bent out of shape because you didn't get an autograph, think about that big hit one of these guys gets in a clutch spot to get a big win during the season. It's because he was working on his game, and not on his signature.
Follow Chris Shearn on Twitter: @ChrisShearnYES