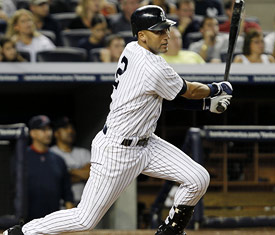 How many times have you heard this or said it yourself? I wish I was around to see Babe Ruth, Lou Gehrig, Joe DiMaggio, or Mickey Mantle play. What we would give to be able to get in Doc Brown's DeLorean and head back in time to see one of Ruth's mammoth blasts, Gehrig's sweet swing, DiMaggio's effortless fielding and 56-game hitting streak, or the sheer power of Mickey Mantle from both sides of the plate? These guys were legendary. The only connection I have to past legends is my father. He tells me stories all the time about Mantle and how he used to go to Connie Mack Stadium in Philadelphia and have conversations with Jackie Robinson at third base. I envy my dad like you can't believe.

I obviously never had the chance to see any of them play. However, I have had the opportunity every day to watch a living, breathing, do-everything-the-right-way Yankee grow into a legend for the past 15-plus years. That legend, of course, is "Num-bah 2, Derek Je-tuh."

You can disagree with me if you want. It's your right. You have your opinion, I have mine. I understand first and foremost Babe Ruth, and the rest of these guys were bigger than the game. If you get a chance look at Lou Gehrig's numbers on Baseball-Reference.com, enlighten yourself.

Derek Jeter is not bigger than the game, and he would never think he was either. That's the great thing about the Captain. Whatever he does lack (which isn't much) that these other guys had on the field, he more than makes up for it with how he handles himself off the field.

I've been waiting to write this all season. Every year in Spring Training, for the past three years, the buzz around the clubhouse is, "Is Jeter losing a step or two? He doesn't have the range anymore." And every year, on cue, Jeter goes in the hole, fields and fires a jump throw to get a runner out at first. Yup, he lost his range.

There was even some talk at the outset of the season in May, from a peer of mine that I respect dearly, but I took umbrage with him then, and I take umbrage with him now. Yes, Jeter had a 2-for-25 stretch in May. He had a 5-for-32 stretch in June and just batted .245 in July. However, the Captain's first eight games in August have been tremendous. He's batting .344 and his on-base percentage is .417.

Derek Jeter is a legend. He's also the kind of athlete you would want your child to admire and emulate. The ghost of the Babe said it the best in the movie The Sandlot, "Remember kid, heroes get remembered, legends never die." Ruth, Gehrig, DiMaggio and Mantle will live on forever. So too will Derek Jeter.