You know the feeling you used to get on Christmas Eve when you were a kid? You know what I'm talking about, especially the kids that are still experiencing it right now. Heck I still get that way living vicariously through my daughter. You get that nervous excitement. You can't wait to doze off, because you knew the next time you opened your eyes, surrounding your Christmas tree was an array of joy to last you not only for the next year, but for a lifetime. Now, if you bottled that feeling up and put it on a store shelf, how cool would that be to experience that euphoria every day? Christmas joy in a bottle, pretty neat idea huh?

I drank that Christmas joy when I arrived to Tampa, Fla., on Tuesday.

Let me explain. Usually, as we all know, Christmas Eve occurs December 24. In 2011, I will be the beneficiary of being able to be a part of two Christmas Eves. Not only will I get to see the one in December (God willing), I also got a little taste yesterday. Yesterday was Christmas Day, making Tuesday March 1, the day I arrived in Tampa, Christmas Eve. The prequel, or for your Star Wars fans, Christmas Eve, Episode I.

The feeling going to sleep on Tuesday night was the same feeling I used to get as a kid wondering what would be under the tree when I woke up. The difference, though, was that I knew what was under the tree, an interview with four of Roger Maris' children down in Gainesville, Fla. It is the 50th anniversary of the magical season of 1961. The year Roger Maris, "Against All Odds" as it reads on his plaque in Monument Park, broke Babe Ruth's single-season home run record. A record which most baseball fans believe should still stand in the record books today.

Randy, Kevin, Rich, and Susan Maris were some of the nicest people I have ever encountered in my life. They treated us like family, even though it was the first time we met. Randy spent the entire day with us, followed by Susan, Kevin, and Rich. I talked their ears off about baseball, about the high school team they coach, but mostly about their dad. We talked for two hours on camera, the longest interview I have ever conducted in my life. I was captivated by every word spoken by these descendents of a deity in my eyes. They would never boast that way. Neither would their father.

I wasn't around when Roger Maris played. I wasn't around when he went through that stressful season in 1961. His children were too young to remember that glorious season. Susan, the first born, was just four at the time. Through their hearts, and minds, and through what their father told them over the years until his untimely death in 1985, I had a chance to experience that magical season.

There is more to Roger Maris than baseball though. I also got to experience Roger Maris the man and father. The same greatness Maris displayed on the baseball diamond, he displayed on the diamond of life. He was a man of decency, integrity and humility.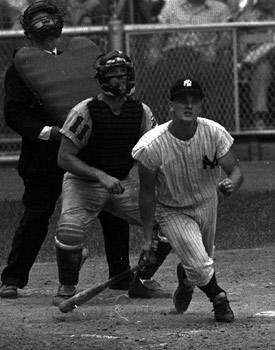 The Hall of Fame's motto is, "Preserving History, Honoring Excellence, Connecting Generations." How can the man who hit 61 home runs and went to seven World Series in 12 seasons, making every team he played on better, not be in a place with that motto? He put together back-to-back MVPs in 1960 and 1961, (and could have won it in 1962 as well) his first two seasons with the Yankees. All going through the ringer with the press. Do you know UPI voted him "Flop of the Year" in 1962? He had 33 homers and 100 RBI. This is a season we revere players for having now and he gets voted "Flop of the Year."
He was a guy who constantly played through injuries, including a broken hand in 1965 that was misdiagnosed. Maris didn't turn to performance enhancing drugs to help him recover quicker. That wasn't available to him. Even if it was, he wouldn't have turned to something that would have cheated the game of baseball. Roger Maris IS a Hall of Famer.

Before you go look up his stats to try to discount me, do your due diligence. Don't just look at the numbers. Read about what his Cardinals teammates said about him. Look deeper than his .260 lifetime average. Roger Maris was the definition of clutch. A stat that number crunchers get all a flutter nowadays is "close and late." Put this in your collective pipe and smoke it. In 1961 in the last two innings of games, with the tying or winning runs on base, Roger Maris hit .411. In 1962, he hit .375. In 1963, he hit .440! In 1964, .426. Look up clutch in the dictionary. If there isn't a picture of Maris there, cut one out and put it there.
Before his death in 1986, Hall of Famer Hank Greenberg was tired of people saying Maris didn't belong in Cooperstown. He said his detractors always said, "All he ever did was hit 61 home runs." To which Greenberg replied, "All he ever did? That's like saying all Jonas Salk did was discover a vaccine for polio."

Roger Maris should be in the Hall of Fame. Plain and simple. Maris is more than 61. He is more than .260. If you want to preserve history, honor excellence, and connect generations, you do it by honoring a man who played the game the way it should be played. A man who through injuries and pressure displayed the courage and character you would hope to find in our heroes of today.

Follow Chris Shearn on Twitter: @ChrisShearnYES