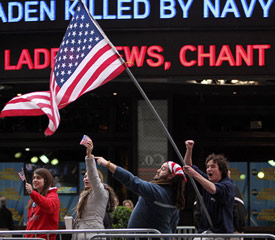 Waking up to the news of the death of Osama Bin Laden today was the greatest juxtaposition of emotions for me. It was elation because our military's hard work finally paid off, and it was sadness because hearing of the event just took me back to that awful day. It's a day when so many innocent people lost their lives. I lost a high school friend, and he was also part of my inspiration to do what I am doing today.

I experienced that entire day working for MSNBC. I got into work that morning around 5:55. The Giants played on Monday Night Football against the Broncos the night before and got destroyed. I wasn't in the best of moods. I drove in from Hoboken, and as dawn was breaking I looked over my shoulder at the skyline of the city as I drove into Secaucus. I had seen it so many times before, but every time I looked it just kept getting better. It always gave me the feeling that I was home. I had no idea that would be the last time I was going to be able to drink in that awesome sight.

MSNBC got rid of the Sports Department. I was the only one left. So my Senior Producer turned to me to put together a Michael Jordan comeback piece. I forget what comeback it was for him. He did it so much I lost track, but I was excited to be working on a topic that drove my passion to be involved in television.

I was in the Imus in the Morning control room working on getting some internet grabs of other athletes who made comebacks when the first tower was hit. None of us knew what happened. Did a pilot have a heart attack? Did something malfunction on the plane? Needless to say we were all in shock. Everyone was told to stop what they were working on and concentrate on the developing situation. As the tape producer on duty, I felt like Paul Revere running down the halls telling everyone to drop what they were doing. In many ways I was getting this information to associate producers in their edit rooms for the first time.

It was a short time later that I was positioned in our tape playback area. I had a tape rolling on Chopper 4's feed which was circling the towers. Then it happened. The second plane hit. No one else saw it but me. Everyone was screaming a bomb went off in the building. I saw the plane on Chopper 4's feed, come over the river and nail the second building. No one believed me until I showed them on video tape not too long after it hit.

Then they came down. First it was the South Tower, then the North Tower. I was naïve. I thought the firefighters would just get up there and put everything out and we would move on from there. Those brave and courageous firefighters who were going up flights of stairs with their equipment, while frightened masses were on their way down, hopefully on their way to safety.

I can still see them crumbling to the ground. Live. I remember thinking about all those people who were probably lost. I remember thinking all they did that day was go to work. All they did was board flights hoping to get to a meeting, or to visit loved ones.

The day ended for me around 9 o'clock. I couldn't get home. Route 3, Route 17, the bridges, tunnels and the New Jersey Turnpike were all closed. I can remember looking out of my hotel room and seeing just a stretch of flashing red and blue lights as far as the eye could see. When I got to the hotel I talked to my parents. That's when I learned about my friend Chris from high school and part of my inspiration to get into broadcasting. He was in the first tower and didn't get out.

He was a senior when I was a freshman. He took the time after being in the field after he graduated college to let me in on how the sports broadcasting industry was difficult, challenging, yet rewarding. I'll never forget that day. It stuck with me and pushed me to get to where I am. It showed me if a kid from my hometown could do it, so can I.

After learning about Chris, and being in a state of shock, the President came on that night and addressed the nation. The hotel bar was packed. I remember people of all races, colors, and creeds huddling together as one. As Americans. I can't begin to tell you, after all the pain and hurt that we all felt that day that was the best feeling in the world. We were truly united as one.

It's a shame thought that it takes an event such as that day or last night to bring us together as a country. When it comes down to it we are all we have. We shouldn't be bickering amongst ourselves, when there is so much hatred in the world toward us and our way of life.

We like to celebrate our individual heritages all the time. I don't think it's a bad thing, but we have to take into consideration that no matter where our families came from we are not separate. We are all one under one flag, and we are all chasing the American dream.

We have Italian Americans, African Americans, Polish Americans, Hungarian Americans, Mexican Americans, Indian Americans and every other ethnic group that has come to our great country to form this great melting pot of success. The one common denominator in all of this is that we are all Americans. It's my hope that some day we all just look at ourselves as one nation, one people, under one flag and that common denomination of Americans. Our differences are what divide us, but it's our common ground, being Americans, that brings us together.

September 11th 2001, just saying that date out loud, almost 10 years later, still feels like someone wound up and hit me as hard as they could in the solar plexus. It's a day we'll never forget. Those images are forever burned into my memory banks. The pain from that day will never subside. Those tears that continue to shed year after year will never dry.

Now we have May 1st, 2011. It's a day we will always remember as well. It's a day that will echo justification for generations to come for the nearly 10 years of bravery, courage and sacrifice of our Armed Forces. Their blood, sweat, and the tears for those who we have lost have not been in vain. This is only another battle we have won. We have not won the war. Also, this has been a concerted effort of not just one president, but three. This hiding under a rock -- at sometimes literally -- coward, has been at this since Bill Clinton was in office. President Obama first placed calls to his two predecessors before spreading the news elsewhere. It had to be a relief for all three men. This is not about being a Democrat, Republican, or Independent. This is about being an American.

God Bless our troops who continue to fight. If you see someone wearing the uniform go shake their hand. They are putting not only their own life, but the lives of their families on the line every single day.