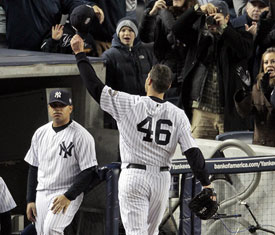 Keith Olbermann has a blog post up about Andy Pettitte and the Hall of Fame. Seems to me he's unlikely to go (a separate issue from whether he should go or not), but he does underscore an interesting aspect of the way that the Yankees have gone about winning their umptybillion rings over the last 87 years. For a team that has won as many games as the Yankees have, you'd think they would have stamped out a 300-game winner every 15 years or so, the pitchers just picking up wins by hanging around good teams. That hasn't been the case. Only two pitchers have won even 200 games in a Yankees uniform, Whitey Ford with 236 and Red Ruffing with 231. Andy Pettitte is currently third with 192 wins in pinstripes, followed by Lefty Gomez (189) and Ron Guidry (170).

It's not that Yankees pitchers haven't been great pitchers at their peak; Ron Guidry's 1978 was one of the greatest pitching seasons of all time, and if you picked a rotation out of the careers of great Yankees pitchers who aren't in the Hall of Fame, guys like Sailor Bob Shawkey, Mel Stottlemyre, Allie Reynolds and Spud Chandler, you would win the pennant every year. These pitchers didn't have the career value with normally associate with Hall of Famers, mostly due to injury, interruption for wartime service, or both, but at their peaks they were among the best hurlers active in their times. The free agency era has further complicated matters, because now a pitcher, say a Tommy John or Mike Mussina, can join the Yankees some portion of the way through his career and pitch well without having the time to climb too far up the career list. Pettitte's Houston sojourn aside, he has simply had unusual longevity for a Yankees pitcher.

Pettitte isn't all about longevity, of course; he's also had some very good seasons. His 1996, 1997 and Texas 2005 were excellent, with strong ERAs and high win totals, to the extent that those wins mean anything to anyone but the voters, wins being a team stat more than a reflection of an individual performance. In most other seasons, Pettitte has been a pitcher who can come in and pitch about 10 percent better than the average cat. This is immensely valuable in terms of the security a team can take from consistency, particularly when it makes a habit of setting up a good offense—after all, a pitcher need not post a 1.00 RA, he only needs to be a run better than whatever his offense scores per game. Still, this kind of performance is not quite at the level of the best Hall of Famers, who are more dominant and therefore are less dependent on limber lumber on any given day.

Pettitte turns 38 in June. If he somehow rolls up his third 21-win season, he will finish the season with an even 250 wins. What is more realistic is another 14-win season, his fourth in five years. That would place him at 243 wins. Voters are too hung up on win totals; it's so easy to let an arbitrary number like 300 do your thinking for you on a pitcher like Tommy John or Jim Kaat or Bert Blyleven than to think about the pitcher's actual qualities. What is a more appropriate standard for Pettitte is his 3.91 ERA, low for this offensively-inflated era. Still, this falls in the good-not-great category: adjusted for park and league, Pettitte ranks 22nd among active pitchers with over 1000 innings pitched.

Whitey Ford was the last great pitcher to give the prime of his career to the Yankees. We're still waiting for the next one.

BLALOCK TO RAYS?
If the rumored move actually comes to pass, nice pickup for the Rays in adding former Rangers first/third baseman Hank Blalock to their bench. Blalock is a mystery. He looked like a great all-around hitter in the Minors and his first tour or two around the Majors, but whether through injuries or bad habits regressed badly, losing all semblance of plate judgment. Though he hit 25 home runs last year, he drew just 26 walks and finished with a .277 on-base percentage. Given the Rays suffered last year for lack of substitutes at the corners when injuries hit, not to mention a non-performing DH, this isn't a bad move, particularly if they can get Blalock, 29, to remember what it was he used to do well. As the Yankees have learned from hitters stretching from Johnny Mize to Darryl Strawberry to Eric Hinske last year, there's nothing like having a lefty power bat in reserve, whatever that player's other weaknesses. The Rays may have just gotten theirs.

MORE OF ME
• Wholesome Reading has been updated and I will be adding more as a choo-choo down to DC. Warning: politics, baby!

• On Tuesday afternoon at roughly noon I'll be appearing on the Power Alley program on Sirius-XM's home plate channel. On Tuesday evening at 7 p.m., anyone in the Washington DC area who feels like having a fun evening of baseball talk can join me and several of my favorite Baseball Prospectus colleagues at the great Politics and Prose bookstore and coffee house.

• Back at home on Wednesday, I shall not be receiving visitors.