WELCOME TO LEFTY MANSION
Tonight, the Yankees face Orioles southpaw Brian Matusz. If Matusz seems like the 98th lefty the Yankees have faced this year, you're not far off. The Yankees have been running into portsiders at a crazy-high rate. Through Monday, the Yankees have played in 10 games started by a left-hander, compared to 15 started by a right-hander. That equates to two out of five games, or 40 percent, have been started by southpaws. Last year, opposing teams started lefties in 54 games, or one-third.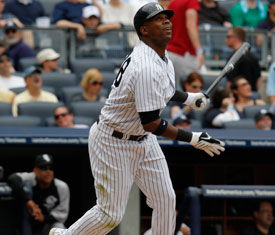 I have no idea if this lefty-centric trend will keep up -- it seems unlikely given that only 31 percent of games have been started by left-handers league-wide -- but if it does, the Yankees will face close to 70 lefties this year. Suddenly, a player like Marcus Thames goes from being a spare part to an important part of the offense and Curtis Granderson's lefty problems become that much heavier a burden to carry.

As part of their continuing response to Granderson's absence, the Yankees will call up Greg Golson today. Golson has almost all the things the Yankees need in a platoon/bench outfielder. He's fast, has power, can play center field and is a right-handed hitter. The only thing missing is the actual ability to hit. Currently batting .253/.289/.430 at Triple-A Scranton, the former first-round pick is a career .263/.307/.396 hitter in the Minor Leagues and has had massive problems making contact.

Last season at Oklahoma City, Golson cut the strikeout rate fractionally but his power disappeared along with it, hitting just two home runs. He finished his first season at Triple-A hitting .258/.299/.344. He hasn't been significantly better against left-handers, so he's not a platoon weapon. In his seven Major League at-bats, Golson has struck out five times. What he is, at best, is a fifth outfielder/pinch-runner who should have a bat in his hands only as a last resort, say in the 20th inning. At 24 years old, he likely is what he is.

The Yankees almost certainly know that Golson can't play; perhaps in acquiring him they envisioned Triple-A depth, some expanded-roster defensive-replacement action, and a potential postseason sequel to Freddy Guzman -- that last a more depressing possibility than another "Star Trek" movie. There's nothing wrong with this kind of player except that (a) Joe Girardi seems to get all giddy about using them and they wind up batting with two runners on when you're down by three in the bottom of the 10th, and (b) they squeeze out something better on today's pitching-choked roster.

The Yankees didn't have to go with Golson. Yes, he gives them some versatility insofar as being able to pinch-hit for Randy Winn with Marcus Thames while not forcing the latter to play defense. Still, there were other alternatives (such as have been mentioned in previous entries) which mainly involved a player who, unlike Randy Winn, can hit, Winn's big home run on Monday notwithstanding. Dave Winfree would have given the Yankees a more likely producer against lefties (roughly .288/.346/.511 against them in his minor-league career), Colin Curtis or the veteran Jon Weber would provide a left-handed pinch-hitter more likely to come through with the odd hit. None of them have the athletic skills of Golson and they would clog the roster to some degree, but in his own way, so does Golson.

CANO-DLING AGAIN
Notice last night's 0-for-4 with some first-pitch pop-ups to left field? That's the Evil Cano trying to claw his way back into our world. Gotta keep the devil down in the hole, Robbie! Don't let him out!

MORE FROM ME
•I've got a new (free) Dead Player of the Day up at BP: Spittin' Bill Doak, plus some particularly aggrieved thoughts on spending time in a seniors' rehab facility.

•Wholesome Reading has been updated, and more to come as soon as I get a chance… The world goes on, even when we have family responsibilities.