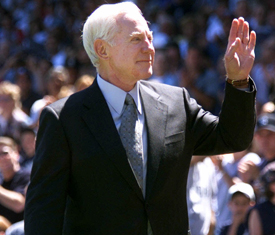 PETTITTE FORDING FORD
With today's victory, Andy Pettitte tied Whitey Ford for career wins. The two now sit at 60th on the all-time list with 236, sitting just behind a couple of Yankees alumni, Waite Hoyt and Clark Griffith, both of whom are in the Hall of Fame. It's a nice accomplishment for Pettitte, who seemed to spend years with his arm hanging by a thread. Just a few years ago you wouldn't have predicted him to have the endurance to get to this point, and you certainly wouldn't have predicted this season's dominant start as recently as last year.

When Pettitte eventually passes Whitey Ford, possibly as soon as Saturday, I'm sure we'll hear a lot about how Ford could have had more wins had Casey Stengel not made a point of pitching the southpaw out of rotation, saving him for all of the Yankees' biggest opponents. Those who may say so will be barking up the wrong tree. Stengel didn't hold Ford back; he saved him. Yes, Ford had it rougher than most pitchers in his choice of opponents, and this makes his extraordinary .690 career winning percentage, the best ever (fellow Yankee Spud Chandler was better but in less than half the starts), even more eye-popping than it already is. Again, that's not the point. Stengel's program, as well as his usage of relief pitchers, did hold down Ford's ability to compile gaudy win totals. First, who cares? The goal for any player and manager is that the team win, not that the pitcher compiles stats, and the Stengel-Ford Yankees won more pennants than anyone else in history. Second, Stengel preserved Ford's arm for far longer than it would have been under almost any other manager of the time.

Under Stengel, Ford never led the AL in innings pitched. He rarely even penetrated the top ten, doing so just twice. This was an incredibly fortunate thing for Ford and the Yankees, because even though managers had begun to use relief pitchers at that time, the prevailing mindset when it came to starters was to push them until they bled. Here are Whitey's innings totals under Stengel contrasted with the AL leader in those seasons (excluding the partial 1950 season):

YEAR FORD IP AL LEADER
1953 207 287 (Bob Lemon)
1954 210.2 271 (Early Wynn)
1955 253.2 260 (Frank Sullivan)
1956 225.2 294 (Frank Lary)
1957 129.1 267 (Jim Bunning)
1958 219.1 260 (Frank Lary)
1959 204 256 (Early Wynn)
1960 192.2 274 (Frank Lary/Pedro Ramos)

Funny thing about the pitchers on the right-hand side—they didn't coast to the end of their careers, they just ended. Lemon led the league in innings four times, throwing as many as 309.2. He was finished at 35. Frank Sullivan's arm was finished at 28. Lary, who had thrown as many as 294 innings in a season, couldn't stay healthy after 31. Pedro Ramos had one more big innings year in him and then slowly settled into a swingman/relief role beginning at 27. Wynn was able to endure, as was Bunning, though he might have won 250 or 300 games if the Phillies hadn't asked him to pitch 300 innings a year in his 30s.

Note Ford's 1957 and 1960. Ford had arm problems in both of those seasons. That was public knowledge. The Yankees knew it. Nonetheless, when the Yankees fired Stengel after the 1960 season, what happened? Ralph Houk brilliantly told Ford that from now on he'd be pitching on regular rest. Ford got the big win totals he'd always craved, and also twice led the league in innings pitched, surpassing his totals under Stengel in every seasons and peaking at 283 innings in 1961. It took just four years to pitch his arm off. By 1965, Ford was a league-average pitcher. By 1966, he was, for all practical purposes, gone. His career had an abrupt ending. Ford didn't pitch until he lost effectiveness or velocity, he simply had to stop.

We can't know what would have happened, but had Ford pitched under a more conservative manager, he might have had a few more 20-win seasons than he ultimately had, getting a few more starts against the A's and few less against the White Sox and Indians, but it's also possible, and given the arm problems that he had even with handling that was gentle by the standards of the day, that he would have lost effectiveness much, much earlier than he did. By reserving him for the games they had to win, the Yankees deployed him where they most needed him, leaving the work of defeating lesser teams to their lesser pitchers. They also ensured that he would be there for them every year, not just for a few years. Which course would you rather your manager take?