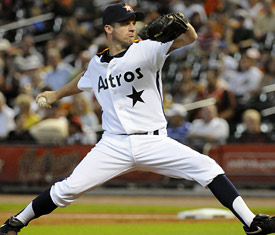 Wednesday's speculation on Roy Oswalt proved to be the merest Hail Mary into the night after the stadium's lights were turned out, as the Astros and Phillies have now come to terms on a deal; Oswalt has apparently given his blessing to the deal. The sad aspect of this whole business is that if Phillies GM Ruben Amaro, Jr. had merely hung on to Cliff Lee instead of dealing him to the Mariners for what he claimed was a prospect reload, they never would have had to trade for Oswalt in the first place.

I expect that someday we will find out that ownership ordered Amaro to trade Lee and he has been forced to grin through a deal that was 99 percent likely to backfire. Roy Halladay and Lee was always going to be better than Halladay or Lee, particularly when the Phils had such a thin rotation to begin with. I'm working on a longer consideration of the following for tomorrow: you can almost never trade a Cliff Lee-level talent and get proper value in prospects, just because very few prospects achieve that level of greatness and, taking things a step further, very few prospects achieve any level of greatness at all.

Meanwhile, we wait on the Yankees and have a greater mystery to ponder. Did the Yankees withdraw Joba Chamberlain from trade talks for Dan Haren? As much as I think that Chamberlain will improve, a Haren in the hand is worth a lot more than hopes pinned to Chamberlain's peripheral stats and radar gun readings.

As I completed this section, the prospects included in the Oswalt deal were apparently revealed and they aren't any better than what the D'backs got for Haren. They may be worse. At these prices, the Yankees should be able to trade a real prospect like Jesus Montero for two future Hall of Famers and a year of backrubs from the supermodel of their choice, or to put it another way, they shouldn't have to trade Montero at all to get real talent, especially if that talent makes money. Heck, the Astros apparently are paying $11 million to ease the sting of Oswalt's salary and they're still not getting much back—a league-average starter type in J.A. Happ and two middling prospects. Reportedly it appears that the Astros didn't get much at all. Bring on Adam Dunn—the Yankees offer a bag of onions.

MEANWHILE, ON CHESAPEAKE BAY
Buck Showalter will take over as the Orioles' manager next week. He will be the first strong-willed, personality-driven manager they have had since Davey Johnson. Showalter has opinions about how an organization should be run, which the Orioles probably need after so many years in the wilderness. He also tends to wear out his welcome with the intensity of his feelings, and I recall that whatever the controversy in the media when George Steinbrenner canned him for Joe Torre after the 1995 playoffs, those within the organization weren't at all conflicted. In this, Showalter has a bit of the old Billy Martin in him. The question will be whether ownership stays out of his way enough to let him do what needs to be done, and if he will get to stick around long enough to finish the job instead of getting terminated the year before his club wins a World Series. On the other hand, the Orioles have so far to go that if he gets fired with the club on the precipice of a championship he might have put in 20 years on the job.

No manager can take a club as hopeless as the current O's and make them a winner, but in Matt Wieters, Ada Jones, Nick Markakis, Brian Matusz, Chris Tillman and others the team had young talent that was expected to give a better accounting of itself than it has to date. That talent remains waiting to be tapped, and sometimes a new manager can find ways of helping those players take a decisive step forward. If Showalter can get just a few of those guys to do things in the majors that are more consistent with their minor league performances, the Orioles could get better in a hurry—not Yankees/Rays/Red Sox better, but they can at least reach the outer country of "respectable."

MORE FROM ME
• Continuing my just-for-fun run of managerial best-of teams, I have the Chuck Tanner All-Stars up at BP. Tanner was rumored to be taking over the Yankees at one point during the annual Lou Piniella-Billy Martin rotation. Be thankful it didn't happen.

• As always, you can follow me on Twitter at PB_Steve.