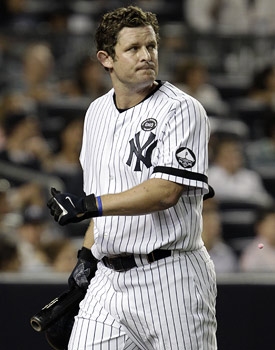 THIS IS WHY I WORRY
Two small matters to discuss regarding Monday night's game, and let's not make too big a deal of this because the game was lost in the seven-run fifth, not because of anything Joe Girardi did later.

Coffee Joe made an unfortunate appearance yesterday. Those who have been reading since last year know that Coffee Joe, Joe Girardi's over-managing alter ego, first manifested during last year's playoffs, when Joe started making MOVES! BIG moves, running pitchers in and out of the game like he had a 43-man staff. Since then, Coffee Joe has largely been quiet, but every once in awhile he creeps out. It wasn't when he yanked Curtis Granderson for Marcus Thames. That was a measured decision, even if it did distort the defense. No, the caffeinated action came in the bottom of the eighth when the tying run came to the plate in the form of Brett Gardner.

Cito Gaston reacted to having runners on first and second and Gardner, a singles hitter at the plate by calling for lefty David Purcey. Former starter Purcey has been rough on lefty hitters this year, holding them to .148/.258/.185, albeit in a grand total of 31 plate appearances. It may not be a fluke; despite right-handers beating on him like schoolyard bullies last year, lefties hit only .156/.291/.222 against him (55 PA). No doubt this information was percolatin' in Joe's brain, causing Coffee Joe to rouse himself from his dormant state and pinch-hit for Gardner with Austin Kearns. Probably sealing the decision was Gardner's current slump—from July 1 on, Gardner has hit .210/.360/.321. This cold snap dates almost precisely to the right wrist contusion that Gardner suffered on June 28.

Even if Gardner is playing with one hand tied behind his back, note the on-base percentage—in his last 101 plate appearances he has taken 18 walks, a pace for over 100 bases on balls in a full season. The patience is still there, which makes Gardner's turns at the plate valuable even if his hitting isn't currently all that it can be. It should also be noted that Gardner is hitting a respectable .263/.388/.379 against southpaws, retaining his patience against same-side pitchers. Given his slump and general lack of power, Gardner was probably the least likely Yankee to hit a three-run home run to tie the game (other than Alex Rodriguez, I mean), but he was also one of the Yankees most likely to reach base and continue the inning and get Derek Jeter to the plate—a situation which has its own problems, but that's a subject for another day.

Other than being right-handed, Kearns had little to recommend him in the situation. Since the end of April, he has hit .249/.336/.372 with six home runs, or only one more than Gardner has hit. He has drawn 29 walks, or only 11 more than Gardner has drawn in the last four weeks. He doesn't hit left-handers well at all. In that same May 1-present span of games, Kearns has hit .249/.336/.372 against right-handers, .225/.303/.338 against lefties. The Yankees got him to take some platoon at-bats away from Curtis Granderson because almost anyone would be better, but that's not the same thing as saying that Kearns is good against left-handers, and just because he's better than the helpless Granderson doesn't mean that he's better than the patient Gardner.

Kearns struck out, but even if he had hit a game-tying three-run shot, Coffee Joe would have been lucky, not correct. Sometimes the old baseball clichés are correct, and in this case, "You dance with the one that brung ya" holds sway: Girardi needs to keep faith with his .390-.400 on-base percentage man Gardner and forget about trying to force magical Earl Weaver home runs from the bench. It only works if you have the players, and neither Joe Girardi nor Coffee Joe has then.

The other manifestation of Coffee Joe in the game: calling on his pet, Sergio Mitre, who allowed inherited runner Aaron Hill to score. Oh yes, and the other reason I worry: A.J. Burnett in the clutch. That's not a Coffee Joe thing, it's just a Yankees thing. The playoff rotation is going to be interesting.

ONLY EIGHT HOURS TO GO…
…Do you have your Rangers bid in?

MORE FROM ME
After many delays and unplanned rescheduling, I will have my next live chat on Wednesday at 1 p.m. As always, if you can't make it at that time (hard to imagine why you wouldn't, really) you can get questions in at the link and I'll see answer as many of them as possible during the chat.

There's a new BP bit up on Buck Showalter and the possible futility of his quest to redeem the Orioles.