IN PRAISE OF GIRARDI/HERE COME THE RED SOX
In our last entry, I went on at great length about the untimely manifestation of Coffee Joe earlier this week. I meant to provide perspective by also mentioning some praiseworthy things that Joe Girardi has done this year. In the heat of the moment, I lost track of that goal and didn't go beyond my indictment of Coffee Joe. I want to correct that now. He has, within certain limitations, constructed an excellent batting order this year. The main innovation has been batting Nick Swisher second. This is an untraditional choice, since nine times out of ten managers will still bat a banjo-hitting middle infielder second instead of a power bat. Swisher has completely changed his approach this year. He's walking less but hitting for a higher batting average and more power. Ironically, even the old Nick Swisher, the one that hit .249 last year, would have been a good choice to bat second. He gets on base, he hits for power. In short, he's a hitter who can make things happen.
As I've often said in this space (and on street corners, barstools, doctor's waiting rooms, and sometimes with the blankets pulled up to my nose at 4:21 in the morning), the batting order is not about creating synergies between hitters that will allow scoring events to build to a climax like a set of dominoes that gets knocked over. That happens a little bit, but not so much that it's worth raising up a bad hitter over a good one. All raising a bad hitter in the batting order does is give that bad hitter more times at the plate over your good hitters. The number-two spot in the batting order will have the second-most turns at bat in a given year. The Yankees don't have any truly bad hitters other than when Francisco Cervelli (.190 since the end of May) plays, so there are only so many ways a manager could screw up the batting order even if he wanted to. Yet, Girardi could have been suckered by speed, insisting on batting Curtis Granderson (normally not a bad choice) and the effective but powerless Brett Gardner higher up in the order. Instead, he's emphasized power, which far more than speed wins ballgames.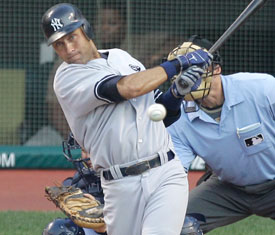 Now, I said "within certain limitations." That limitation is Derek Jeter, who is having what might turn out to be the worst season of his career. His walk percentage is the lowest of his career as his plate judgment setting has apparently been flicked to "off." He's seeing 3.5 pitches per plate appearance, tied for the lowest rate of his career. Since his batting average is also down -- and no doubt the two are related -- his on-base percentage is currently a career-low .341. He has been far from the ideal leadoff man this year.
Jeter's performance is connected to the word "limitation" because Girardi is almost certainly hamstrung in the way that he deals with Jeter in the same way that Casey Stengel had to be careful before he dropped an aging Joe DiMaggio out of the cleanup spot. Not only would it be a political issue, it isn't necessarily the right thing to do. Jeter had a .400 OBP as recently as last year. It's entirely possible that at 36, the Jeter going forward is the Jeter we're seeing now. It is also possible that Jeter suddenly wakes up -- perhaps his 4-for-4 on Wednesday is the beginning -- and finishes the year with a terrific, Jeterian two months. Given the inevitable distraction that would ensue if Girardi dropped Jeter to, say, seventh, which wouldn't be unjustified in this lineup, and the real possibility that Jeter will bounce back, making a move just isn't worth it.
We should also credit Girardi's handling of the pitching staff. Six American League managers have had 10 or more blown quality starts, which is to say that after six innings their starter had allowed three or fewer earned runs, but they left him in long enough to give up more runs. Ozzie Guillen has blown 18 percent of his quality starts. Girardi has blown five, or seven percent. Wednesday's game was a good example of his touch in this regard. Rather than forcing Phil Hughes to labor on a 100-degree day (one wonders if this kind of weather is going to be the summer norm around here from now on, a depressing thought), he pulled him after 5 1/3 innings and 99 pitches. Sometimes it's not just the pitch count that matters to a young pitcher's health (not to mention the game outcome) but the pitching conditions, and Girardi was wise to take the heat into account.
No, it's not Coffee Joe all the time, just every now and again. If Girardi can keep his caffeinated nemesis down in the hole (to borrow from "The Wire"/Tom Waits) during the playoffs, the Yankees should only have to fear their opponents, not their skipper. Speaking of which, the playoffs became that much more of a possibility today when the Yankees were able to back into first place thanks to a Rays loss to the Twins. There is much more conflict to go before anything is settled, and this weekend's Red Sox series will tell a great deal. If the Sox can sweep, the Yankees have to contend with two teams instead of one. If they do anything less than that, it's curtains for them. With Kevin Youkilis out for the season, you'd think the odds would be against them, but the pitching matchups are pretty nicely balanced and may even slope towards the Red Sox.

MORE FROM ME
•Yesterday's chat transcript—debating odd rules about catch the ball in the outfield, plus relationship advice.
•New column about why the Red Sox-Yankees rivalry isn't all it's cracked up to be.