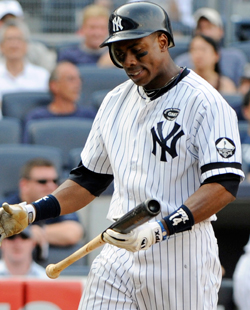 The Yankees are 12-8 in the their last 20 games, a .600 winning percentage. For most teams, even for the Yankees, that would usually be considered a very successful record. Why, then, does it seem like they have been slacking? First, the Yankees have mostly played better than .600 this year. In every April, June and July, they were winning more often. Only in May did they slip, and just slightly, to .552. Last month, they went 19-7. If you go 19-7 often enough, folks will start comparing you to the 1927 or 1998 Yankees. In contrast to July's dominance, in their last ten games, the Yankees are 4-6, which is not just winning less often, it's also not winning. They haven't won more than two games in a row since the third week of July. But for two games in Toronto (starts by A.J. Burnett and Dustin Moseley), the pitchers have continued to perform quite well, but Mark Teixeira and Derek Jeter aside there is no member of the offense who truly deserves to be called "hot." Six-hundredth home run or not, Alex Rodriguez has been ice cold, Curtis Granderson has been less than grand, and Lance has been a real Berkman. Jorge Posada is still hitting less than .225 since coming off the disabled list, and Brett Gardner has dropped to .192 since hurting his wrist. Even Robinson Cano has hit just .279 (albeit with a .533 slugging percentage) since the end of June.

Phi Hughes was inefficient in Monday's game, but ultimately effective, allowing just two runs in six innings. The bullpen backed him up with three scoreless innings of relief. You can't ask for much more than that. The problem is that the offense is sleeping. This should be transient; some of these players should wake up. Note I say "some," because there are many things that we don't really know about, and that is whether some of the oldsters will snap back.

We're still dealing with this year's championship pursuit, so it is not only premature but almost perverse to talk about next year, and yet there are so many interesting questions that would arise if some of these players finish out the year in lethargic fashion. In my mind, I imagine the Yankees' internal dialogue would go something like this:

Q: What if A-Rod finishes with the worst production of his career?
A: You try to pretend it's a fluke and carry on, because he's signed for the rest of eternity.

Q: What if Derek Jeter does the same?
A: Same thing. You re-sign him and let him pursue his 3,000th hit, because that will be a nice gate attraction. Besides, his numbers are still good by the standards of his position, and if we didn't worry about his glove when he was 27, we're not going to be too bothered at 37.

Q: If Brett Gardner doesn't recover, do we blame the injury or reclassify him as a fourth outfielder?
A: Irrelevant; either way, we try to sign Carl Crawford.

Q: What about Posada?
A: He's signed, too. We try to brazen things out with him and that Cervelli kid through about June and we hope that by then Austin Romine has pulled out of his two-month slump and has maybe also thrown out a runner or two.

Q: You're an optimistic guy, ain'tcha?
A: And handsome, too. Watch me juggle these five smartphones!

JETER AND RUTH: DIFFERENT FLAVORS OF BASEBALL ICE CREAM
At the risk of engendering more reader mail that says that I have an irrational prejudice against Jeter, celebrating his passing Babe Ruth in total hits is a bit like cheering him for passing Ruth in stolen bases, something which happened back in 2001. Despite being a .342 hitter, in most seasons Ruth couldn't put up huge hit totals because he was pitched around so much. When nearly 2100 of your plate appearances end in ball four, you just have fewer opportunities to make hits. He also wasn't focused on that. Ruth said that he could have been a .400 hitter had he choked up and concentrated more on making contact, but he knew that he was paid to hit home runs, not singles. Given that in his best years he hit .372 to .393, it seems as if he had a point. Finally, add in that Ruth didn't start playing regularly until he was 24, and you have less of an opportunity to pile up the singles than a 22-season career would seem to suggest.

The Captain (Ruth was Yankees captain as well, for about two minutes) is a different hitter, generally focused on hitting to the opposite field for singles rather than hitting the ball a country mile. For his 2,875 hits, Jeter has 2,122 singles -- and in 719 more at-bats than Ruth had. Of the Babe's 2,873 hits, just 1,517 hits went for one base. The outfielders had to chase the other 1,356. This is no knock on Jeter -- he is his own player and a wonderful, Hall of Fame-worthy player at that. It's just a matter of apples and oranges. There is no direct comparison to be made between the two, except to say that both players had careers that were long and very successful. Jeter's hit record is a measure of that longevity.

ONE MORE TIME
The new Pinstriped Bible is coming this week!