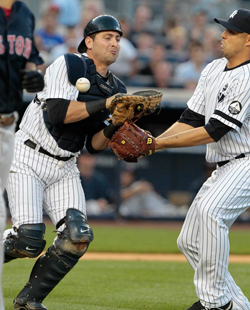 The New York Yankees have the best record in baseball and sit atop the American League East by half a game, but the inconsistent baseball they've been playing lately is troublesome. As losers of five out of their last seven games, the Yanks have lost ground to their chief division rivals. Just a few weeks ago, the Tampa Bay Rays were trailing them by three games, the injury-riddled Red Sox by eight in the loss column. Tampa is now just a half-game back, and the Sox six in the loss column.
The Yanks' current four-game series versus the Red Sox is a big one for both teams. For the Sox, it is a chance to make themselves relevant; sweeping the Yankees in the Bronx would bring them to within two games of their archrivals in the overall standings, three in the loss column. Conversely, and even after losing the first game of the series on Friday night, the Yanks effectively have a chance to put Boston to sleep by winning three of four.
If that series opener was any indication of what's to come, however, the Yankees will be fortunate to come away with a split. Against a hobbled Red Sox team, on their own field, New York looked lethargic, sloppy and defensive.
There's no single reason for the 6-3 loss—and that could be what's most disturbing about it. The Yanks have lost games in a variety of ways lately. They have given away too much in too many areas, and opposing teams have been willing takers. And the generosity toward opponents has started with their manager.
Joe Girardi frequently talks about the big picture. He is almost compulsive about resting his players. It served him well in 2009, but the deeper he gets into 2010, the more it's looking as if he's taken it to a detrimental extreme that must be reevaluated.
Last Sunday in St. Petersburg, with a chance to pull off a series win against a Rays team hot on their heels for the division lead, he rested Brett Gardner and Alex Rodriguez. He put non-waiver trade acquisitions Lance Berkman and Austin Kearns at first base and in left field, respectively, using Mark Teixeira as designated hitter so he could have the proverbial half-day of rest. And while Girardi was opening sleepaway cots and laying out road grey footie pajamas in his dugout, Rays manager Joe Maddon fielded his best squad behind one of his best pitchers, going fulltilt for the win. And he got it, score 3-0. On the mound for the Yanks, enduring Berkman's misplays at first base that led to two of Tampa's three runs, CC Sabathia must have wondered what he'd done to warrant having the B-team at his back.
The Yanks returned home to face Toronto as losers of two out of three with AJ Burnett on the mound—the equivalent of plugging a hole with a hand grenade that's had its firing pin yanked. One Burnett blowup later, they'd lost two in a row, turning Tuesday into the rubber game of the series with pitcher Dustin Moseley, a sub, cast as stopper. Far from ideal, and again they came out on the bottom. The Yanks would eventually salvage the last game of the set, but losing two of three to Toronto clearly wasn't what they'd envisioned.
Afterward, it was easy to wonder if Girardi regretted laying out the jammies in Florida, easy to see how Sunday's loss had made Monday and Tuesday's look and feel worse than they otherwise might have. Leaving St. Pete up on the Rays by three obviously would have been much better than leaving ahead by one. The Yanks didn't take their best crack at it. The Rays did, and they reduced their opponents' division lead to the point where it was right there for the taking. A day later they were tied for first place, and the following day it was in their sole possession. And though they've dropped a half game back as of this writing, the distance between the two teams in the standings is really negligible
But getting back to Friday and the Red Sox, Javier Vazquez versus Clay Buchholz.
An hour or two before first pitch, with the Yanks' starting lineup posted to show catcher Francisco Cervelli paired with Vazquez and Berkman slotted in as DH, word circulated in the clubhouse that Jorge Posada might be available at his locker to answer questions about his sitting out. Because this was the game after an off day when Posada had presumably rested, and because Cervelli had caught Vazquez on his most recent starts, there was considerable interest in what Posada had to say about being left on the bench. But the pregame Q&A never materialized, leaving his absence a void surrounded by question marks.
With the Yanks leading 2-1 at the bottom of the second inning, that void opened wide between home plate and first base. With one out and Red Sox third baseman Adrian Beltre on second base, Cervelli dropped a popup off Mike Lowell's bat. Vazquez said he should've had it himself, and Cervelli said it was his ball, and the fact is that it was because he called for it. His ball, his error. And what's worse, he seemed to forget there were men on base, allowing Beltre to cruise to third.
After that things rapidly fell apart. Vazquez did manage to get the next man, but walked the next two—including the number nine hitter—which resulted in Beltre strolling on home. Then Marco Scutaro doubled and the inning got uglier. Before it ended, the Sox were leading 4-2, with all three runs they scored having been unearned.
Clay Buchholz has been among the best pitchers in the Majors this season and came into the Bronx owning an 11-5 record and a 2.59 ERA. In his previous start he'd taken a two-hit shutout into the ninth inning, though he eventually wound up with a no-decision because of a blown save. If you expect to win against a pitcher of his caliber, you don't hand him a lead and then add to it in the sixth, when Vazquez surrendered a two-run homer to outfielder Ryan Kalish, who'd had all of seven Major League games under his belt.
Based on his track record it's unlikely Posada would have dropped that ball in the second when the game was really lost. There's been plenty of talk about his deteriorating abilities behind home plate, and some of it's valid, but it's hard to recall when, if ever, he has bobbled a routine popup over the course of his long career. As hard as it is to figure why Girardi would leave his bat out of the lineup kicking off a big series against the Red Sox when he'd had a full day of rest. Despite his scrap and energy, Cervelli batted .180 in June and has hit .214 since the beginning of July with 7 errors for the season.
In the postgame press conference, somebody asked Girardi if anything was wrong with his starting catcher. He replied that there wasn't. Somebody else followed up, questioning him about why Posada wasn't in the lineup. Girardi said something about the Yanks having acquired a DH in Berkman, implying that if you've got the guy on the roster, you ought to use him. He also said he wanted to make sure the knee cyst that bothered Posada during the last road trip didn't flare up. But then he insisted the cyst wasn't bothering the catcher.
In the end it kind of felt like Girardi wasn't too forthcoming with his answers. Maybe there's a more serious health issue with Posada than he wanted to disclose. Maybe he was being overcautious again and brought out the home pajamas for Posada. Or maybe he just prefers having Cervelli catch Vazquez. Even at the expense of leaving Posada out in favor of Berkman, who entered the game hitting 2-15 since his acquisition from the Astros, and left 2-19—though in fairness, an excellent defensive play by centerfielder Jacoby Ellsbury robbed him of a hit in the eighth.
As for Girardi, all you can do is take him at his word. If he says Posada's feeling okay, you have to believe it. And if you're going to believe it, you also have to believe that it was a mistake keeping him out of the lineup. That in Girardi's increasingly vocal preoccupation with the big picture, he again neglected to consider adequately that, in baseball, the picture's a mosaic of individual wins and losses. You eventually want to wind up with more of the former than anybody else but by sitting Posada—who was feeling well enough to pinch hit in the ninth—he went a long way to adding another game toward the losses that can make the big picture a failed and unsightly yearlong effort for the New York Yankees.
Amid a tightening pennant race, chased by two teams that are determined not to go away, it might be that the best thing the Yanks' big-thinking manager can do for his team is to start thinking small.
Follow Jerome Preisler on Twitter @YankeesInk.