Coffee please, thanks. Late night ... y'know how these Yankees/Red Sox games go. Not that anyone here's complaining. When the games are as tough, dramatic and generally crisp as the last three have been, you need to appreciate them, and then suck it up and get your morning jolt however you can.
So on the second day of September 2011, with the fifth of six regular season series between the teams over, the Yanks took a pair of games at Fenway for their first series win over the Sox this year.
The overall head-to-head record is now 11-4, Sox over the Yanks. Not how the Bombers would want it, but as Robert DeNiro told John Cazale in The Deer Hunter once upon a time, "This is this. This ain't something else. This is this." Which is more less the same as saying, "It is what it is," but around these here parts you don't get the cheap knockoffs.
What have we learned about the teams and how they measure up against one another?
We learned CC Sabathia can beat the 2011 Red Sox. Everyone knew he was capable, but he hadn't done it, and now he has. It wasn't too pretty but pretty doesn't count in baseball.
We learned that a Major League Baseball umpire once again didn't seem to know the rules of the game he's officiating. A week or so back, one of them blew a game-changing call because he didn't know the ground rules of a particular ballpark. In this case, it appeared the ump was unaware that when a batter gets hit when he swings it isn't a hit-by-pitch, but a strike.
He may have said afterward that he thought the batter swung after he got hit, or something like that, but when you think about that explanation, it's kind of hard to buy. A batter gets hit on his hand, makes a fuss, and then swings? Maybe on the Bizarro planet, that makes logical sense. On Earth, nope.
We also learned Red Sox pitcher John Lackey is an equal opportunity glarer. He openly dislikes opposing batters clapping their hands at the plate—and stepping hard on it— after scoring home runs off him, same as he dislikes it when his fielders fail to make plays behind him. And his preferred way of expressing dislike is to glare. The difference is, he can't plunk his own guys the way he plunked Francisco Cervelli for his celebration.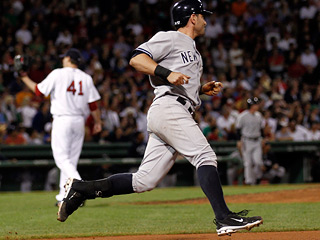 As far Cervelli's display of exuberance went, it's a Latin thing, said Red Sox catcher Jarrod Saltalamacchia. Not that there's anything wrong with it, he hurriedly clarified, maybe sensing Big Papi looming over his shoulder. But he was just saying, you know. And maybe forgetting that his own closer, Jonathan Papelbon, isn't Latin, and has his own patented way of celebrating excessively.
And just so we're straight for next time, the consensus among media types is that it's apparently okay to clap when you reach base on an RBI hit but not when you cross home plate on a homer.

Very importantly these last few days, we learned that Phil Hughes continues to be inconsistent as a starting pitcher after three full years and change at each end in the big leagues. When Hughes has a fastball that's up around 94, 95 mph, the ball moves and he can be effective. When he has a fastball that's down around 91, 92 mph the ball doesn't move so much and he tends to get hit, especially by patient batters like the Red Sox guys.

The recurring problem for Hughes is that he can't seem to hang onto the 94, 95 very long during a game, even when he has it to start with. It appears that when he feels the velocity drop off, he shies away from the plate like he did when he walked Sox outfielder Josh Reddick with one out in the sixth after being ahead of him 0-2 in the count. That was after his team had rallied from a 4-1 deficit at the top of the inning to take a 5-4 lead. That was also what let Reddick score on a fluky Varitek double and opened the door to an eventual Yankees loss Wednesday night.

It's good for the Yanks that they learned all this about Hughes. They now have six starters in their rotation and one has to go into the bullpen soon. It isn't going to be Sabathia (18-7), Ivan Nova (14-4) Freddy Garcia (11-7) or Bartolo Colon, who's one game under .500 could easily be several games over. Everyone realizes it's going to be Hughes or A.J. Burnett.

For a while there it looked like Hughes was the likely candidate because he'd pitched out of the bullpen before, and done it well. On the flipside, Burnett wouldn't seem suited to the pen. His emotions can get the better of him under pressure, and relievers often enter games in pressurized situations. He's a walking textbook of pitching issues, and you don't want to give him any more of them. That would make him a total loss, and an expensive loss at that, one with a couple more years left on his big bucks contract. It wouldn't seem an ideal option for the Yanks.

So it looked as if their plan would be to get half a game or so out of Burnett, a few more innings out of Hughes, and then go to their established relief corps to finish off games. Sort of a Hughes/Burnett tandem.

And then a couple of decent Hughes starts (against light-hitting teams), together with a few Burnett disasters on the mound, kind of blew all that apart. Burnett was really the killjoy. He started to put the Yankees in a hole before fans even took their seats. Soon it was looking like the Yanks would have to banish him to the pen a la Jose Contreras, Jeff Weaver, Javier Vazquez and a host of ill-remembered castouts before them.

But yesterday Burnett hung in for five plus. He pitched well enough to hold the Sox to two runs scored on a Dustin Pedroia homer in the fourth. He said afterward that he'd utilized some tips he had worked on with his pitching coach, Larry Rothschild, in their throwing sessions between starts. Less hand movement, directing his energy toward the plate, pitcher-speaky stuff like that. And he'd stayed calm, he said.

For the Yanks, it's always a good thing when A.J .Burnett is calm.
Thursday night the Yankees won with A.J. on the mound. Yankee fans had anticipated his start with fear and dread. Many claimed in the social media to have formed prayer circles or dosed themselves with hard liquor and sedatives. Some had reported painful gastronomic difficulties in the hours before the game.
But in the end they learned Burnett could put in an effort that allowed his team to win. The Yanks' management and coaching staff also learned that. For them, this was a very happy thing. It makes Plan A -- Hughes to bullpen, Burnett staying in rotation -- viable again. Almost a certainty, in fact. And that is the best resolution to the situation they could have hoped for.
What else was learned?
Red Sox batters can wear out the best Yankee pitchers, and Yankee batters can wear out the best Sox pitchers, no surprise. September call-up Jesus Montero has a crack at getting significant time at DH and making the postseason roster. He didn't get any hits Thursday night but he also didn't really look overmatched, meaning he seemed to know what he was doing at the plate. He also got his first hit-by-pitch in the Majors. It was a big hit-by-pitch, because he eventually wound up coming around for his first run scored in the Majors in an inning that gave his team the lead. None of it gave him a baseball to take home for his trophy case, but he said he was happy to contribute anyway.
So the Yanks took two out of three from the Red Sox and learned some things in the process. And this morning's papers are full of articles saying that one of these two teams will go to the World Series.
That's kind of premature. Both are almost locks for the playoffs, but there are a couple of other teams who might have something to say about the World Series part of the forecast. That five-game, first round Divisional Series is no picnic. It will probably involve the Detroit Tigers and Texas Rangers and they are teams with very good pitching and offense. They would like to prevent the Yanks/Sox ALCS that television network executives and ad salesmen are probably salivating about. Either might yet have its way.
First place in the AL East is now a virtual tie with the Red Sox and Yankees having an equal number of losses and the Sox having one more win. Over this series in Boston, we learned that the American League East pennant race will probably be fought to the bitter end -- perhaps even the final week, when the Yankees and Red Sox have their sixth and last matchup of the season in the Bronx. After that, each will have three games left on their schedules. The Yanks will play them in Tampa against the Rays. The Red Sox will play them in Baltimore against the Orioles. Maybe those teams will have a say in who wins the division and Wild Card.
New York Yankees. Boston Red Sox. The former was supposed to have less than what it takes in the pitching department to make the postseason this year. The latter was supposed to have a historic rotation and offense that would for all intents and purposes let it storm its way into the World Series unchallenged. That was what we heard before the season started.
But look what's happened in the meantime, and there is a lesson in it.
Of everything we learned these last three days, it was most of all that history has a way of defying expectations and stubbornly refusing to do what it's told.
Follow Jerome Preisler on Twitter: @YankeesInk