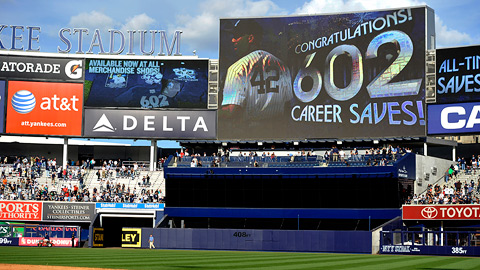 It was an afternoon in late July, and Mariano Rivera had stopped near the batting cage to speak with a reporter from a Latin sports outlet. The Yankee batters were beginning their practice and Rivera was headed toward the outfield with some of the other pitchers to catch fly balls. For Rivera, that has always been a pleasure; he has said that he would like someday to play center field, if only for an inning.
The reporter is a proper looking man of some years, thin, grey haired, with a neatly trimmed mustache. Even in the midsummer heat, his attire is semiformal -- collared dress shirts and suspenders, when the younger members of the sports media will often wear golf shirts and khakis. He carries a leather shoulder bag that always looks slightly overstuffed.
I do not know his name. I've seen him often over the years in passing, and we always exchange nods of hello without accompanying conversation. I believe him to be a broadcast journalist, because I have never seen him in the section of the press box reserved for the writing press.
That July day, his conversation with Rivera seemed personal, or at least off the record. They stood close together between the cage and warning track area outside the home dugout, talking in quiet voices. The reporter was not holding a recorder or a notepad.
They spoke very briefly -- four or five minutes at most. Then Rivera started toward the outfield, paused in front of me, turned back toward the reporter, and they exchanged a few added words in Spanish. My impression was that they were making plans for a longer conversation, though I could have been mistaken.
The reporter watched Rivera as he trotted off across the grass, noticed me watching the two of them, glanced in my direction.
"Es un caballero," he said in Spanish, nodding slowly toward Rivera. And then, in English, smiling, "A gentleman."
I returned his smile. There are textures to the phrase that go beyond the quick translation. Literally, caballero means horseman, and its origins are with the mounted knights of ancient Spain. It connotes someone of chivalry and gentility, of decorous and noble bearing.
Un caballero.
It so perfectly defines Mariano Rivera.
Moments after the 602nd regular season save of his career -- he has in truth, had 644, counting those in the postseason -- Rivera stood on the pitcher's mound at the heart of Yankee Stadium, the reluctant but visibly proud center of attention. The crowd was sparse; it was a makeup game with the Minnesota Twins on a Monday afternoon in September, a game postponed from early April, the chill in the air autumnal, summer vacations come and gone. Were it not for the promise of seeing Rivera break the all-time saves record held by Trevor Hoffman, it is likely there would have been fewer in attendance. Many of those who were there came out for Rivera, came to see him make history.
602. The number was, in its way, merely the period at the end of a sentence. Rivera, whose greatness was indisputable long before he reached it, will himself downplay its significance. But it is important validation. It marks his place, as anniversaries and birthdays mark events. It is a concrete measure, forever preserving in records the enormity of his accomplishment.
On September 19th 2011, the greatest baseball reliever ever earned his 602nd regular season save, more than any other reliever in the game's history. And the less-than-full Stadium roared as if it was crammed to capacity.
In the grandstands, the noise started before Rivera made his jog from the bullpen, spectators cheering wildly on their feet when Nick Swisher, one of their own team's players, hit into a double play to end the eighth inning. The score was 5-3, Yankees. A hit by a Yankee batter, and the team might have lead by four runs or more, and then Rivera would not have entered the game. The double play preserved the save situation and a date with history, and the crowd erupted when their own man hit into it. Rivera had a two-run lead to protect, and on that day everyone there knew it would be enough.
When it was done—three batters up, three down—and his teammates poured from the dugout and bullpen to give their congratulations, Rivera, who had been headed down into the Yankee clubhouse, was pushed back onto the mound there at the heart of it all, Jorge Posada and Alex Rodriguez, urging him to appreciate the accolades, the long, loud outpouring of affection from the crowd. Rivera looked uncharacteristically awkward at first, doffing his cap. And then fighting back emotion, he began to acknowledge those who had come for him. And in his eyes, in the straightness of his posture as he gathered himself, one could see the silent but unmistakable pride.
"For the first time in my career, I'm on the mound alone," he said later, his children at his side. "There's nobody behind me, nobody in front of me … and then surrounded by so many people. I can't describe that feeling … it was priceless … it was a moment … I didn't know it could be like that. And all I have to say is, I was thanking God in that moment."
Others will speak of Rivera's discipline, preparedness, and mental strength. In his humble and dignified way, Rivera credits his longevity, and the famous cutter he says is a gift, to God's mercy.
Es un caballero.
I thought of those words while lending my applause to Rivera's ovation. I think of them now as I write my own appreciation.
Of all that will be said about Mariano Rivera today, tomorrow, and in the future, perhaps none honor him more than those.
Follow Jerome Preisler on Twitter: @YankeesInk