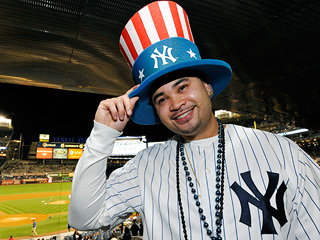 I view my job at Yankee Stadium as having several major, interrelated components. First and most importantly, I try to see what I can see when I'm there and gather material for a possible column.
Next in my priorities is using social media to rapidly pass along information to fans and offer any snap impressions or opinions I might have. I often share glimpses of my personal experiences covering a baseball game to peel away the curtain separating fan and reporter.
I also like to take the pulse of fans on the Web as a game develops, find out what they're feeling and wondering about, and provide a useful service by researching and answering people's most common questions. In the press box I have colleagues with knowledge of different facets of the game whose brains I can pick on the spot.
There's often a schism between the stream of raw emotion from social media and the activities I observe in the clubhouse and interview room before and after games. Even in the cauldron of postseason competition, team preparations are calm and organized. Media sessions are scheduled and posted on video screens. Each session is much less freeform than during the regular season; a manager or player enters the interview room, answers a handful of questions, vacates the podium for the next arrival.
In the hours before a game, fans await lineup postings, and announcements on things like injuries, player availability and pitching rotation decisions. At the ballpark, for the teams, it's all about preparation.
Roaming the line between fans, players and coaches is sometimes an odd experience. When I get to the ballpark I will set up for a day's work, and, early on, check my Twitter stream to pick up on the mood and concerns of fans. It helps me decide on areas of focus. I also mostly enjoy the interaction, but as someone wrote a long time ago, none loves the messenger who brings bad news, and that part isn't always fun.
Occasionally it gets pretty rough; the wave of intensity from Yankees fans can be buffeting and that only increases in the postseason. There are innumerable voices saying a lot of things but really saying the same thing. They all want their team to win, and are nervous and restless because the pressure, the stakes, are heightened.
Players and coaches have similar feelings, though they might use different words for them. You hear the terms "amped up" and "butterflies" a lot. Ballplayers especially don't like to talk about nerves or nervousness. It's understandable. You don't want the opposition to see you sweat, doesn't matter that everyone's sweating a little.
In his pregame media session, Detroit manager Jim Leyland said he hadn't seen much in the way of nerves from his ace Justin Verlander, his Game 3 starter, in his truncated rain-suspended Game 1 outing, but conceded he might have been somewhat antsy to explain some struggles with control that gave the Yanks an early lead. That's another of those words—antsy
Leyland's demeanor is matter-of-fact. He doesn't dance around the truth and he says what he thinks, unless it's something he believes will compromise his strategy or a player's expectation of keeping certain pieces of business in the clubhouse. He isn't going to talk about a player's nerves, but he won't lie, either. "Antsy" is as good substitution for nervous as any. It's a small thing. Ant-small.
In his pregame press conference, Justin Verlander, a runaway favorite for this year's Cy Young award and an American League MVP candidate, was relatively candid. Verlander is affable and comfortable with the press. There to answer questions before a key Game 3 start in Detroit, he talked briefly about how his single inning of work in Game 1 might have affected him.
"It might be beneficial," Verlander told a reporter, and then went on to talk about getting into a rhythm on the mound. A few sentences later, he added. "I got a feeling of what it's like, and there was some adrenaline. Anybody who says there's not is full of it. It's being able to channel it and use it the right way. I felt pretty calm and collected early on, especially to [Derek] Jeter … for the most part, I felt pretty good."
Adrenaline is another of those words that says it without saying it.
Shortly afterward, during the Tigers' on-field workouts, I spent some time observing Leyland as he watched his players conduct drills and occasionally conversed with members of the press. I found him interesting to watch, even when he was just standing and talking to someone, but although I've wrestled with articulating why, I'm still not sure I can do it.
Maybe part of it is just Leyland's old-school appearance, the silver hair and mustache, the slightly craggy face, the whippet lean physique. And the socks. The Tigers' have a classic uniform befitting its status as one of Major League Baseball's eight oldest franchises, and Leyland in uniform has a classic high socks look. Not David Robertson high, but middle high over his calves. He wears his trousers sort of baggy, too. Not that he's swimming in them, but Leyland isn't the type to go skintight.
When Leyland talks to a reporter he looks him or her in the eye and gives straight, thoughtful, unembellished answers to questions. He has a dry sense of humor that sometimes escapes people. I have compared Leyland being funny and Leyland being straight to a pitcher who delivers his fastball and changeup from the same arm angle. You have to be on your toes to see the ball coming.
If Leyland had nerves before ALDS Game 2, he didn't show it. He knew its importance, of course. For the Tigers, winning was a must. They lost Game 1 and had to take the second from the Yankees and split the series, neutralize the Yanks' home field advantage.
Leyland looked and sounded as if it was business as usual. He could have been getting ready for a game in April or June. But hours later after a 5-3 Detroit victory, when he explained why he'd gone to eighth-inning setup man Joaquin Benoit an inning earlier than usual to preserve a four-run lead, Leyland said, "It's playoff time. You do some things at playoff time that you don't do over a 162-game schedule."
Leyland talked about how a team can't afford to go down 0-2 and face three straight elimination games in a five-game divisional series, that to win it you do what you have to do. "Sometimes you don't like to do it," he said. "But I felt that … really, basically, what you do as a manager, you try to do anything that gives your team the best chance to win."
Leyland's got about a quarter century of managerial experience, has been in the postseason a bunch, led a Florida Marlins team to a World Championship in 1997, and almost got the Tigers a trophy in 2006. That's a whole lot of baseball under his belt, where there doesn't seem to be much anxiety tucked away under his jersey.
At the bottom of the ninth inning Sunday night, with the Yankees having gotten to within two runs of tying the game, Robinson Cano came up to the plate with two men on base, two outs, and Alex Rodriguez in the on-deck circle. Cano had daggered the Tigers with a grand slam in the previous night's Yankees win and is someone Leyland calls one of the five best players in the game. Coming off an injury-plagued season, Rodriguez has been hitless and looked out of sync in the series' first two games.
Asked if he considered walking Cano to pitch to A-Rod, Leyland allowed a bare trace of a smile before giving a very detailed account of his thought process. "I figured it's wet, it's slippery, one gets away, one run is in, something like that would happen, a ground ball … "
A ball slips, Leyland had thought, a ball is hit in the infield, you get Rodriguez over there with his bat, and somebody throws it away, and the game is tied. The thought of walking Cano crossed his mind, but he just couldn't do it. And he took his chances with the Yankees' second baseman.
It was a revealing answer. I don't know how Leyland deals with nerves internally, but you can tell he's always quietly thinking, and maybe that's what keeps them quiet too.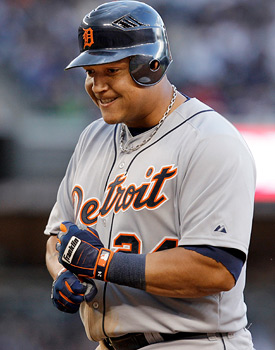 Detroit first baseman Miguel Cabrera is the power charge at the heart of his team's batting order. In the Game 2 win he went 3-for-4 with three RBIs, putting the Tigers on the board in the first with a two-run homer off Freddy Garcia. Before he followed Leyland's and pitcher Max Scherzer's postgame interviews, media members were told that Cabrera, who admits to having struggled with and overcome a drinking problem, would not answer questions about off-the-field issues.
The announcement led me to figure he would be tight-lipped with reporters. But given the restrictions on questioning, Cabrera proved easygoing and good-humored. He was also refreshingly honest when asked about nerves.
"I get nervous," he said. "Don't get me wrong. I think everybody gets nervous when you warm up before the game." Then without pause, he added, "When you step on the field, they throw the first strike, the nerves go away."
The truth is that however they want to put it, everybody involved with the game's nervous this time of year. Coaches, players fans. The ones in the field and dugout seem to handle it by concentrating on what they have to do to win. The ones in the grandstands, and watching on television, sometimes don't handle it as well. It's understandable. Baseball grips the heart and soul, takes hold of their emotions, and they're powerless to impact the games in which they are so wholly invested.
Game 3, is a road game for the Yankees. CC Sabathia, the Yanks' reliable ace, goes up against Verlander in the series' swing game. As the men in Comerica Park do their work, and the social media erupts, you can be sure it's going to get tense. As a fan I'll have my own set of anxieties. As a reporter, I can try to be objective and calmly look ahead working a Game 5 of this series Thursday night at Yankee Stadium.
I think that's where we're headed, and I intend to be there walking the line.
Follow Jerome Preisler on Twitter: @YankeesInk