The moment, the image, defines Jorge Posada for so many who have followed his career. Game 7 of the 2003 American League Championship Series at Yankee Stadium. Yankees versus Red Sox, door to the World Series wide open for both teams. Victorious team steps through, loser hears it shut with sudden slam.
Win or go home.
The Yankees are in a deep ditch early, down four runs with Pedro Martinez pitching flawlessly on the mound for the Sox, and the Yanks' Roger Clemens out of the game by the fourth inning. Clemens followed by an all-hands, ad hoc relief corps of starters and relievers -- Mike Mussina leading the way -- that would shut the Red Sox down for several innings.
Bottom of the eighth, the Yanks had scored a couple of runs on a pair of Jason Giambi solo homers, but the Sox have also scored again, giving them a 5-2 lead. On the New York radio broadcast, a dour fatalism has crept into John Sterling's repetitions of Yogi Berra's "getting late early" phrase.
Then those hits by Derek Jeter and Bernie Williams bring the Yankees within two, Red Sox manager Grady Little and Martinez have the chat that will eventually send Little packing as he leaves Boston. Martinez stays put instead of getting pulled for a lefty reliever, and a double by Hideki Matsui brings Williams home, leaving the Yanks down a single run.
Jorge Posada, the switch-hitting catcher, steps to the plate with Matsui on second there in scoring position.
Eight odd years later, Posada would recall that moment in a packed Yankee Stadium conference room on the day of his retirement from baseball. A room as full as it's ever been, his wife and children at his sides, the trophies representing his five World Championships with the Yanks to his right. He would sit recalling that moment, special even among the many special ones in his 17-year Major League career, to the press and his closest friends, former coaches and team-mates—two of them, Jeter and Mariano Rivera, men he calls his brothers.
There is an interesting characteristic about athletes that can seem contradictory. While in the game, the great ones don't think of past moments, don't think of their failures or successes, don't think of the gravity of the situation. They zone narrowly on the now and let experience and muscle memory take over. Whatever conscious thought they have at such times is to assess the challenge in front of them, channel their will and ability toward conquering it. It is all done quickly, very quickly—in the game, they often have seconds or less to apply themselves to positive action.
Here is what's contradictory, or apparently so: Hours and days later, years and decades even, the same athletes can often describe those moments—everything about them, about the process leading up to their feats, with striking detail and clarity. Their brains have recorded it all; relaxed, they can mentally exhale.
About that moment in 2003, that defining moment, Posada would recall thinking Martinez was about to get the hook, be replaced by a lefty out of the Red Sox bullpen before his at-bat. And then realizing that the pitcher had stayed put, talked his manager into leaving him in the game, and …
"I knew how he was pitching me the whole day—he was pitching me inside, pitching me inside, pitching me inside," Posada would say. "So when Grady Little left, I felt like he was going to throw me a pitch inside. I was looking for something in, and I swung at a pitch that was probably a ball, but it was too close to take. And I got jammed, and the ball found a lot of grass . . . ."
A lot of grass, a bloop double to shallow center, that no-man's land behind the infielders and in front of the outfielders, sending Matsui around third and across home plate, tying a game the Yanks would, of course, go on to win 6-5 in extras, their exhilaration on the field matched in counterpoint by the Sox's stunned, numb walk toward the visiting clubhouse.
Remembering being there in the crowded room, Posada hesitates for the merest beat before he shares what he felt reaching second base to leave that unforgettable image, one that transfixes us to this day:
He is roaring, fists clenched at his sides. Roaring there on the base pad like a lion.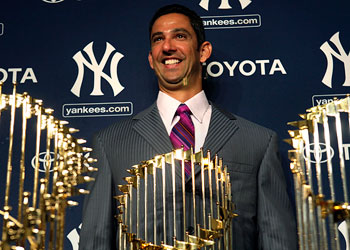 In his description, Jorge Posada's voice would not be as emotional as when he thanked his parents for the support they had given him, thanked his wife and his children for theirs. Nor as when he thanked Jeter for his friendship, and Rivera for his brotherhood. Posada is a proud but humble man. Earlier in the press conference, asked about the highest and lowest moments of his career, he spoke of team accomplishments while discussing the former, and of a game in which he allowed three passed balls as the worst of it for him.
Three passed balls. The worst moment in his mind. One of personal accountability, for a poor performance in a game few, if any, others in that overcapacity room could even remember.
Proud yet humble, ending his pause, Posada would use now similarly restrained tones to explain how he felt landing on second base after that ALCS Game 7 double
"Looking at the stands, and looking at the dugout, [I was] just excited, super excited during that time. Just knowing that you have one game to play. You win or go home. It's just a pretty exciting time."
Just exciting enough to make Yankee Stadium roar and shake as wildly as it ever would that night, exciting enough to reveal the competitive fire in his heart, a fire that fueled him to overcome obstacles large and small on the way to becoming a catcher for the New York Yankees, a five-time World Champion, a leader whose enormous heart would become the passionate heart of the team.
Roaring, like a lion, on the field.
And then, almost a decade later, on a Tuesday, leaving it behind with gentle, grateful words for his wife, children and all those he loves and cares about.
That is Jorge Posada. Man, baseball player, Yankee great.
Others will follow in his path, but there will never be another like him.
Thanks to Bruce Beck for his insights into the great ones.
Follow Jerome Preisler on Twitter: @Jerome_Preisler