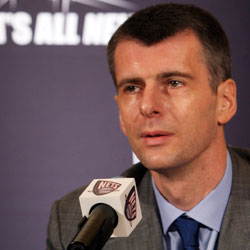 NEW YORK – Mikhail Prokhorov said all the right things today, everything Nets fans wanted to hear, even some who are unhappy that his purchase of the team solidified the eventual move to Brooklyn.
Prokhorov was entertaining at his introductory brunch and press conference as the Nets' new owner. He displayed a strong sense of humor, but also exuded confidence about turning the Nets into the envy of the league. Jason Kidd would have loved playing for this guy.
Prokhorov is convinced he can put together a sales pitch to lure the top free agents to the Nets. He's also convinced the Nets will raise the championship trophy at the earliest in Newark within the next two years and at the latest in Brooklyn within five years.
He also hinted that the most vilified Net last season may not be on notice while another who became unpopular with fans absolutely won't.
Kiki Vandeweghe's days as general manager are numbered as the Nets won't renew his contract. Prokhorov said "his contract expires and I wish him well," when asked specifically about Vandeweghe. Prokhorov wasn't asked about Yi Jianlian, but said the Nets needed more from the power forward position.
Reading between the lines, Yi's days could be numbered too if the Nets can find a home, even though Prokhorov's plan for total globalization would take a hit.
Winning games trumps everything in Prokhorov's world.
"I think the best is the result," Prokhorov said. "If you win it doesn't matter."
Prokhorov was answering a question about the style of play he prefers, but it applies all over. Like Ivan Drago's wife said in Rocky IV when the Russian was fighting Apollo Creed, "He didn't come here to lose."
Prokhorov didn't spend $200 million plus a significant amount of Nets debt to come over here and lose. But Prokhorov joked "I come in peace," when a reporter mentioned he never imagined someone from Russian joining an American sports franchise.
If Prokhorov's history follows him he and the Nets could be the ones laughing as the champagne stings their eyes. It's amazing to even fathom that. It takes 16 playoff wins to claim an NBA title. The Nets won 12 games all season.
"It's not a big problem to win 13 games next season," Prokhorov said.
More jokes from maybe the tallest funnyman.
The 6-foot-7 Prokhorov has plenty reasons to smile, laugh and be confident. His style, business approach, personality all work for him. They've made him a billionaire and helped CSKA Moscow win two Euroleague titles when he financed them last decade.
Prokhorov believes in having a strategy and fall-back options in case plan A doesn't happen. He said, "I've never lost my cool….If you have Plan B and Plan C, you're all the time relaxed."
He plans to use those strategies to make the Nets a "global team," which will be one of his sales pitches to LeBron James and the other free agents that hit the market on July 1. Prokhorov thinks the Nets could be the biggest basketball team in the world.
The cynic who has seen enough of the NBA, and the Nets in particular, says no way. But Prokhorov's money, charm, personality, confidence make him seem like he will succeed with the Nets were so many have failed.
Another big reason is the way he accepts challenges and tackles them.
This is a man who is a bit of a daredevil as an athlete. He kickboxes, does flips and 360s when he jet skis and enjoys heli-skiing, which Wikipedia defines as off-trail, downhill skiing that is accessed by a helicopter, not a ski lift.
Prokhorov does all these things because he needs new tests. He gets bored if he becomes good at something.
He doesn't like standing still. He likes to work and acquire assets. He puts forth the effort to be the best he can as a businessman, owner and even athlete.
"I try to keep my work day to 15 hours," he said. "If it's 15, stop. I spend 12, 15 hours in my office, the last two hours at the gym every day, and five or six hours of sleep."
That's good because fixing the Nets won't be easy. Prokhorov, and team president Rod Thorn, who will return, have plenty of work to do.
Thorn will be responsible for hiring a coach – with NBA experience – and a new general manager
"I have the same approach to my management style, it doesn't matter if it's a gold producing company or basketball team," Prokhorov said.
"First, I am very active. I do my best to invite the best people I can find on the market. After [that] usually I take a step back and let the people do their job."
Prokhorov said he doesn't interfere. He communicates with his managers and they figure things out together. Thorn will be responsible for hiring a coach – with NBA experience – and a new general manager and rebuilding the roster.
"I'm sure we will have a great team and we can build a championship team," Prokhorov said.
He didn't come here to lose.
Al Iannazzone covers the Nets for The Record (Bergen County, N.J.)