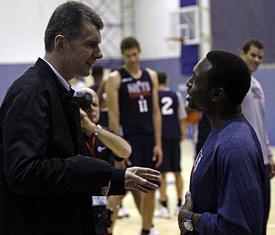 This was a travel day for the Nets, or at least part of it was.
While most of us were sleeping, the Nets flew nine hours from Russia to China. They probably started their initial descent as we typed this because they're on the ground now. Bed awaits, though, if their body clocks allow it.
China is 12 hours ahead of Eastern Standard Time, so it's night time there. While many of you are watching the Jets or some NLCS action, the Nets will be holding their first practice in Asia.
"We got a detailed schedule," coach Avery Johnson said before embarking on the week-long journey. "In China we have a strategic [plan]. All of our guys behind the scenes, they've all been working together along with our Russian allies."
This isn't an ideal trip for the Nets, but this hasn't been an ideal training camp.
Before the first basketball player was taped and basketball was dribbled, the already overhauled roster was nearly shaken up by a trade for Carmelo Anthony -- and talks are not dead. Now the Nets are traveling all over the world.
They spent less than 24 hours in Russia to meet owner Mikhail Prokhorov and hold an open practice/clinic or several thousand of his comrades before flying to China, where they will play two exhibition games in Beijing and Guangzhou against the Rockets that were scheduled when the Nets still had Yi Jianlian.
Johnson will do what he can to work in as much as possible for a team that needs to work. It's hard to give a team with so many new faces days off but it's hard not to when you consider their travel schedule and overall preseason.
OK, the Russia trip was an addition to the itinerary. But they flew nine hours there after Saturday's preseason game in Newark, arrived in the late morning and had an evening practice. They slept and flew another roughly nine hours to China.
They'll spend about five days in China and are scheduled to hold two practice – maybe a third – two shootarounds and play two games.
They fly home Saturday night, which is really Saturday morning here. The travel time is about 17 hours and they arrive home Sunday morning while many of us are sleeping.
They may not practice Monday because of all the travel and needing to get their rest. Then the Nets play back-to-back preseason games on Tuesday (in New York) and Wednesday (in Boston), which probably will be followed by at least one if not two much-needed off days.
The NBA let the Nets - and all the teams going abroad in the preseason - start camp three days earlier than the rest of the league. But that doesn't change the fact that it's a brutal schedule that includes more flights than practices in a 13-day stretch. Had the two games against the Rockets been on U.S. soil, the Nets have would have had plenty of more time to work on many things that need work.
Taking it even further, between the dates of Oct. 6 and Oct. 22, the Nets may only have four full practices. With a team featuring 12 new faces, that's not nearly enough. Had they played here, they may have eight in that time.
It's a great opportunity for the Nets to bond and build familiarity and chemistry off the court that they hopes carries onto the court. It's a lot of dinners together, trips to places such as the Great Wall, movies, but they also need to sleep
We get the NBA globalizing and the Nets are all for it because of they have a foreign owner, and they have the opportunity to market the team around the world and sell sponsorships.
But it could take its toll on the product that really matters and that's the play on the court.
***
The two games on Wednesday (8 a.m.) and Saturday (7:30 a.m.) will air on NBA TV.
***
Prokhorov told reporters in Russia he will be at the Nets' home opener on Oct. 27.
***
Follow me on Twitter: @Al_Iannazzone
Al Iannazzone covers the Nets for The Record (Bergen County, N.J.)