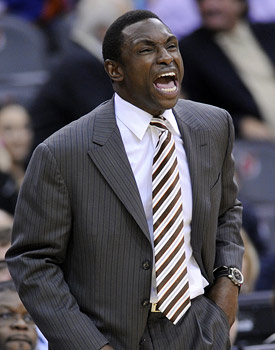 The Nets visited the Great Wall yesterday and officially hit the wall today.
Coach Avery Johnson said the Nets are tired, looked it at practice today and as a result likely won't have a shootaround before tomorrow's preseason game against the Rockets.
You knew it was coming after the Nets went from Newark to Russia – where they stayed for less than 24 hours – to Beijing and now Guangzhou all in about five days. Awaiting them after tomorrow's game is a 17-hour trip home.
"I know in the back of their minds they know we're going to be returning home after the game tomorrow," Johnson said during a conference call this morning. "We have to get something out of this game. With us only having two preseason games after tomorrow night, it's critical."
Johnson has decided he needs to tweak the offense because the Nets only have two constants: Brook Lopez in the post and Devin Harris' penetration. He needs to get more from other positions.
Johnson said everyone got something out of yesterday's trip to the Great Wall.
He was one of a handful of people – along with Joe Smith, Brian Zoubek and Johnson's assistant Kim Blanco – to walk every step and said he's feeling the effects in his calves, hamstring and back from the walk up and down the steps.
"I think my pride kicked in," Johnson said. "I was kind of challenged by someone that said I couldn't do it. I think that competitive spirit came out in me."
"I don't ever want to see another step in my life."
It's good that Johnson still accepts challenges and works to overcome them because he's going to face plenty this season with or without Carmelo Anthony.
***
That takes us to the proposed trade we wrote about in The Record yesterday. It was discussed about two weeks ago. They were initial talks and didn't really go anywhere.
But the deal, initiated by Portland, is an indication that a trade for Carmelo Anthony is not "dead." Another indication was Denver scout Mike Bratz attending two games at Prudential Center to watch Derrick Favors.
The four-team deal - that was close to being consummated in September - was dead as constituted. But other teams have tried to get involved.
In this one, the Nets would send Derrick Favors and two No. 1s to Denver, and Devin Harris and Kris Humphries to New Orleans and Portland would send several guys not named Brandon Roy, LaMarcus Aldridge and Greg Oden to the Hornets. In turn, the Hornets would give the Blazers Chris Paul and the Nets would get Anthony from Denver and Andre Miller from Portland.
Our first reaction was why would the Hornets and Nuggets do this deal when they're giving up the best players and the Blazers and Nets clearly are getting the most out of it? That's kind of why it went nowhere.
The Hornets aren't planning to deal Paul at this time and the Nuggets haven't yet committed to trading Anthony.

But the rationale behind it was:
• The Nets would get a star in Anthony and quality point guard in Miller. They immediately become a playoff contender. They still keep some cap flexibility for 2012 – when Paul becomes a free agent – because Miller's contract expires in two years. The downside would be Travis Outlaw playing power forward to start the season until Troy Murphy returns and Outlaw probably have to back him up when that happens.
• The Nuggets would get a young power forward in Favors that could turn out to be a very good player, despite his expected struggles in the preseason. They also get the two No. 1 picks they want. The Nuggets may get more, but with Andrei Kirilenko not in this deal, they save some money and thus aren't paying luxury tax – which they want to avoid.
• The Blazers would get a superstar point guard to play with Roy, Aldridge and Oden for at least two years and they would try to keep him around longer. When stories broke in the summer about Paul wanting out, Portland was reportedly one his preferred destinations.
• The Hornets would get a good young point guard and other pieces from Portland to start reshaping their roster with the expectation being they will want to save money and will have to part with Paul eventually before he leaves through free agency. But they're not at that point yet.
The talks went nowhere, but could morph into something else. The Nuggets aren't ready to pull the trigger yet, but you have to believe it's coming. Anthony wants out, but isn't pushing - yet. This could be the quiet before the storm.
***
Coach's Corner
"I'm not concerned about Derrick Favors at all. Derrick Favors is a 19-year-old rookie. He could legitimately be a freshman in college and based on his age I'm not concerned. I'm not worried about Derrick Favors. He's going to be great. He's going to be just fine. This is growing pains for him. If you look at his college situation, he didn't significantly improve until the second half of the season. I'm not looking for Favors to really start making improvements until about the 30th game this season. We knew that when we drafted him and he's right on schedule. We love him."
- Johnson on the rookie power forward. (Sounds like what was written here the other day)

***
Follow me on Twitter: @Al_Iannazzone
Al Iannazzone covers the Nets for The Record (Bergen County, N.J.)