The Nets and their fans have plenty be thankful for, especially after what they experienced last season. There's direction, vision, money and a plan.
We're not amongst those that believe 5-10 is something to jump up and down about, but at least they're showing progress. They're five games better than last season, and with a stop here and a make there could have another victory, two or three.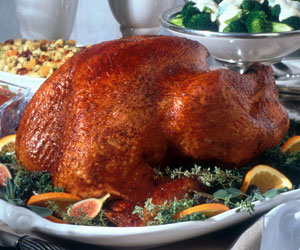 The Nets are going to continue to get better and at this point that's the most important thing. But here are some things for which the Nets –- and their fans –- should give thanks:
1. Mikhail Prokhorov: It's too early to know whether his initial promise of making the playoffs in Year 1 and winning a championship within five years will happen. But he's committed to doing everything for that to happen. Prior ownership would say they want the best team possible, but then cut salary every year. Prokhorov is adding salary, adding payroll by bolstering Avery Johnson's bench, giving the Nets an actual scouting staff and allowing them to have a "hybrid" arrangement with the Springfield Armor of the D-League, so the players, coaches and general managers can be trained to do everything the big team does. Prokhorov is also going to pay top dollar for players if they decide they want to play for the Nets.
2. Avery Johnson: He's brought instant credibility to the Nets and the leadership they've needed. You've seen it written and said plenty by me before, but he brought accountability and defense back to the Nets. The players know if they don't listen and follow Johnson or play up to his expectations there are consequences. He's been most critical of Devin Harris and Brook Lopez in the press and in private and they've responded to it. Johnson and GM Billy King has made an example of Terrence Williams, deactivating him for two games "for repeatedly violating team policy." On Friday, the Nets announced they were sending Williams down to the D-League for the good of the team.
3. Rod Thorn's parting work: Thorn did his best to leave the Nets in the best shape possible, and after they struck out on the big free agents he pursued the players Johnson wanted. He got the Nets shooting, athleticism, guys who are willing to play defense and are playing with something to prove. Still question the $35 million for five years given to Travis Outlaw and $10 million for three years to Johan Petro –- they're thankful for that -– but the Nets have assembled a roster of group of guys who play hard and complement each other. (Outlaw, by the way, has been more consistent lately and has hit some big shots). They drafted Derrick Favors, someone who can help as a player or a trade chip. They also have many assets and maintained the flexibility needed to make trades. You might have heard, Carmelo Anthony is their top target.
4. Billy King: He's a smart man who knows the league as a coach and executive and has been aggressive since becoming the Nets general manager. Within a month of his hiring, he acquired Troy Murphy. Thus far, Murphy hasn't worked out as a player, but he could be one of the assets needed to get Anthony. King had a complicated four-team deal for Anthony all-but done before camp started and has continued to try and put together packages to bring the All-Star small forward to New Jersey. King isn't done and won't be until Anthony is traded before the Feb. 24 trade deadline passes.
5. Devin Harris' return: He has taken a lot of criticism for his leadership, toughness and defense the last year or so, but you can't question them this year. Aside from a game here and there, Harris is playing similar to his All-Star season of two years ago. You can't help but believe that being reunited with Johnson had something to do with it. Harris wants to show he can play for Johnson, but he also wants to prove he can stay healthy and lead a team. He's doing everything much better this season. It's a win-win for everyone.

***
Follow me on Twitter: @Al_Iannazzone
***

Al Iannazzone covers the Nets for The Record (Bergen County, N.J.)