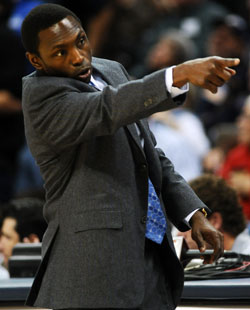 The Nets play the Knicks on Tuesday night at Madison Square Garden in a game that, over the years, has been bigger for the fans than the players.
Nets fans hate losing to the Knicks more than any other team. Many of them probably love the fact that two of the Nets' 12 wins last year came against New York. Our guess is the Jason Kidd years weren't just memorable because of the two Finals trips, but for all the victories against the Knicks. The fans reveled in that.
These games are important for each organization, too. They don't like losing to each other at anything. Either team would have been crushed if LeBron James chose one over the other, and either will be if the other ends up with Carmelo Anthony.
Many people contend Anthony prefers the Knicks over the Nets and doesn't want to play in Newark. But look at both situations objectively and ask yourself: which situation would you choose if you were Anthony?
Location
The Knicks play in New York at one of the NBA's oldest arenas, but one about to undergo a major renovation.
The Nets play in a new state-of-the-art arena in Newark, but will be in a brand new state-of-the-art building in Brooklyn. But to some players, it doesn't matter how close you are. If you're not in Manhattan, you're not in New York.
Roster
The Knicks have Amar'e Stoudemire, a close friend of Anthony's and a great player. But the Knicks may have to be gutted in order be able to trade for Anthony. They don't have the first-round picks Denver wants, so they would have to deal some of their players to get them.
The Nets are trying to get Anthony without giving up Devin Harris or Brook Lopez. They have the first-round picks and plenty of assets that should enable them to keep improving if they keep them or use them in trades.
Flexibility
The Nets have $39.8 million in salaries committed for next season and have nine draft picks in the next three years, including three first-rounders.
The Knicks have $44.2 million committed for next season, but may not have their own No. 1 pick. Houston could have theirs in 2011 and 2012. They do have two No. 2s next year and a first and second in 2013. But the Knicks can't trade that to Denver. The first one they can part with is their 2014 No. 1, which is why they're trying to get a pick.
It's also worth keeping an eye on what happens with the NBA investigation of the Knicks hosting illegal draft workouts and their punishment -– they could lose draft picks –- if any wrongdoing is found
Stability
The Nets have a fiery, first-year coach in Avery Johnson, who isn't going anywhere. He has the ears of the players and the organization. They have a new general manager in Billy King who also figures to be here for a long time and wants to make the Nets matter.
The Knicks have a good coach (Mike D'Antoni) and good president (Donnie Walsh), but they may not be around after this season. Isiah Thomas is gone, but not forgotten. He wants to come back and the team may bring him back. Wow.
Ownership
For all his flaws, say this for Knicks owner James Dolan: he spends on his team. They haven't won much under his watch because the money hasn't been well spent, but he spends. You also have to question why he would want to bring back Thomas.
Mikhail Prokhorov only has been an NBA owner since May, but it's clear he will spend on the Nets. His personality, finances and his passion to be a success make him an asset.
The Knicks are off to a better start, but the Nets seem to be more stable and have more to offer other than the immediate big stage of New York.
You decide: which situation is better?

***

Tale of the Tape
Nets Since 2000-2001 Knicks
6 Winning Seasons 1
392-445 Record 336-502
6 Playoff berths 2
9 Playoff Series won 0
2 Finals berths 0
1 50-win seasons 0
2 50-loss seasons 5
1 70-loss seasons 0
27 Head-to-head wins 13
5 Head coaches 7
5 All-Stars 3
***
Follow me on Twitter: @Al_Iannazzone
***
Al Iannazzone covers the Nets for The Record (Bergen County, N.J.)