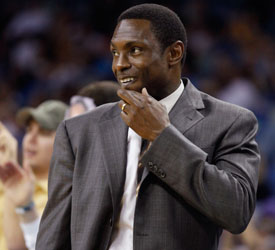 He was a day late, but Nets coach Avery Johnson had a list that he probably checked twice and then let his players know who's been naughty and nice.
Johnson addressed each player individually in front of the whole team before Sunday's practice and told him what he's doing well and what needs improvement.
We weren't there, so we can't tell you what was said, but we all probably can guess because the Nets have no perfect players and no All-Stars.
Things such as better shot selection, taking care of the ball, being more of a presence on the boards, boxing out, finishing better, finding the best shot and not dribbling or holding on to the ball too much probably came up. But Johnson said it was more positive than negative, especially coming off of the Nets' last five games.
According to Johnson, the Nets raised their defense and were more competitive than some stretches before their little Christmas break. But Johnson said this four-day break was like a mini-All-Star break, so you knew he was going to come back with a little message and some renewed goals for each player and the team before Monday's game against the Magic.
"Just shared with guys in front of their teammates some areas of improvement, some things we want them to continue doing," Johnson said. "It was great. Guys were really receptive to it.
"It was a great time to do it. After 30 games, it's a good little time as we go into these 27 games before the break just to do a little check-up list, so guys won't ever not know where they are and what's expected of them. It's good when their teammates can kind of hear it. So they can hold each other a little accountable more as the season goes on."
This wasn't the first time Johnson has done it this season and it won't be his last.
He'll probably do it again after the All-Star break. Then there's always the possibility -- if not the probability -- that many of the players he addressed Sunday won't be Nets later this winter. So he'll have to do it again.
Carmelo Anthony is the Nets' main target on the trade front, but they have other things brewing. Many are related to Anthony as general manager Billy King is trying to pull off something that includes two teams or three teams or four teams or more.
The Nets could look totally different long before the NBA's February 24 trade deadline. A new small forward, a new point guard and some other new players to come off the bench are all possibilities.
But Johnson has to coach his team as presently constructed, and he has to keep everyone focused on getting better because there are no guarantees that a deal for Anthony will be done. King and assistant GM Bobby Marks probably have contingency plans just as they have several different scenarios involving Anthony.
The best Christmas gift for the Nets would have been a trade for Anthony on a signed contract extension. Now his acquisition may have to be a New Year's resolution.
Out of respect for Anthony, relevant trade talk was recently put on hold after his sister died just before Christmas. There is no doubt, however, that King is exploring possibilities with other teams, as well.
If the Nets can't get Anthony, they will have to go another route because Troy Murphy isn't expected to be in New Jersey all season. The Nets have great trade bait in five first round picks -- over the next two years -- and they're not expected to keep them all.
But until anything is done, these are the Nets. As much as Johnson wants a better team, he also wants to ensure that he puts his current squad in the position to improve and succeed.
"Areas of improvement for every guy," Johnson said. "Just a lot of what they already know, stuff we talked about all year. It maybe was one or two more things we told a particular guy that now he realizes it's really important to improve in that area."
The Nets, who have plenty of areas in which to improve, returned to work the day after Christmas. And until he's told otherwise, Johnson has to continue working to improve his team from within.
***
Follow me on Twitter: @Al_Iannazzone
***
Al Iannazzone covers the Nets for The Record (Bergen County, N.J.)