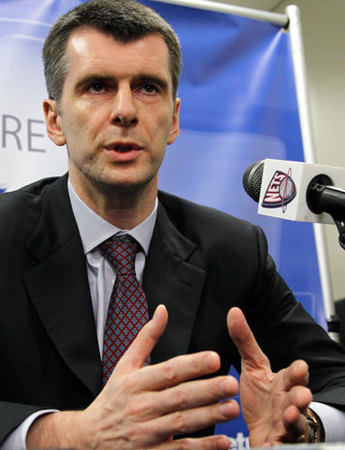 On Russian Culture Night, Mikhail Prokhorov came to Newark and emphatically said, "Nyet" to the Denver Nuggets.
The Nets principal owner stunned members of his organization and the media when he announced before last night's 103-95 victory over the Jazz that he instructed management to back out of talks for Carmelo Anthony.
This made the giant "Blueprint for Greatness" mural across from Madison Square Garden seem like a paint-by-numbers piece you frame and put in your child's bedroom. This was Prokhorov showing he has had enough of reading and hearing about all the different things that were going on in the Anthony talks. This was a statement.
"I am not happy with the way the deal has gone until now," he said. "It has taken too long. It has been played out in public…. There comes a time when the price is simply too expensive. I am instructing our team to walk away from the deal."
Prokhorov also revealed he instructed general manager Billy King and other members of the Nets' hierarchy that the meeting with Anthony that was scheduled for Thursday was cancelled.
Wow.
I've written that word here before when describing how bad the Nets can be. But this wow is because no one really could have seen this coming.
Could it have been a pre-emptive strike since no one knows whether Anthony wanted to be a Net? Sure.
Could it be a bluff? Sure. But Prokhorov looked and sounded pretty convincing.
What if the Nuggets call back and want to do a deal? Prokhorov said Nyet again.
"I think I was absolutely clear on this matter," he said.
After all the Nets put into getting Anthony – and from a straight trading partner they were the frontrunners to make a deal with Denver – this was hardly what anyone expected Prokhorov to say.
With the Nets' season down the tubes the way it's been and after they finally received permission from the Nuggets to talk to Anthony, this isn't what anyone expected Prokhorov to say.
"I think it's all positive," coach Avery Johnson said. "He's done a solid job of managing. He's still figuring out a couple of things. He hasn't been an NBA owner for very long. Whatever decisions he makes we stand by it. We may talk about it privately and we just stand by him 100 percent."
Really, who knows if talking to Anthony would have made a difference? If he didn't want to be a Net, maybe he would have listened and said no thanks. Maybe Prokhorov was trying to save the Nets that potential embarrassment.
But he really seemed perturbed by how this has been handled and he had seen enough, heard enough, read enough about all the different scenarios and most recently the three-team trade with the Pistons that was close to getting done.
The media definitely contributed to the madness, but our job is report the things we know and hear. The teams could have done a better job of putting out fires by correcting things that were untrue because the stories and speculation were rampant.
But the teams probably are thinking if they do speak that they're admitting they're talking to the Nuggets or the Nuggets are talking to the Nets.
In the end, a lot of time has been wasted by so many people and the ones you really feel bad for are the Nets, their fans and their executives.
King and assistant general manager Bobby Marks worked tirelessly on this deal, put together so many scenarios to put Denver in a difficult position to say no.
But Prokhorov backed out before Anthony could say 'nyet' to the Nets.

***
Coach's Corner
"Yeah, not so much for myself. I'm relieved for our players and I'm relieved for Billy. Just move on. We'll keep building and we'll keep developing."
- Johnson on whether he's relieved the talks are over.

***
Follow me on Twitter: @Al_Iannazzone
***
Al Iannazzone covers the Nets for The Record (Bergen County, N.J.)