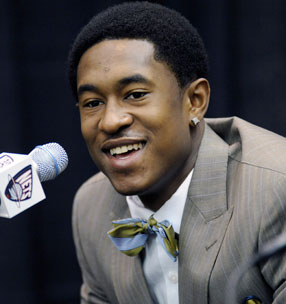 Picking at the bottom of the first round and in the second round, a talented player who slipped further than expected and feels he has something to prove, or a hungry young player who wants to show he can play in the NBA, can be good finds.
That's why the Nets felt good about themselves today when they introduced MarShon Brooks, Jordan Williams and Bojan Bogdanovic to the local media today.
Brooks, the high-scoring guard from Providence, was "really nervous" about falling from the Lottery to the bottom sixth of the first round and he's going to use it as motivation.
"Let's just say during the draft process I played really well," Brooks said. "Let's just say that.
"I feel like I still have a lot to prove. I have a chip on my shoulder definitely. I've always been an underdog so I'm used to it. I'm just humbled to be in this situation. I'm just going to play hard and it's going to make me play that much harder."
We'll see how Brooks uses that motivation, if it stays with him until the fall or whenever the basketball season begins. In some cases it goes away pretty quickly. In others, it's channeled improperly.
I remember Chris Douglas-Roberts saying similar things three years ago – with much more attitude and confidence – but he's still trying to find his way in the NBA. He's not backing up his talk enough.
Brooks didn't have the bravado of Douglas-Roberts, which the Nets probably like. But they hope Brooks will be one of those players that many teams get criticized for passing up on because he turned out to be a productive player on a good team at some point.
Brooks was projected as a lottery pick or someone who would be taken in the top 20. The Nets didn't think he would be there for them, but as he dipped they began looking for ways to move up.
They did, sending the Celtics the No. 27 pick and a 2014 second-round choice for the rights to Brooks, who went 25th. The truth is if the Celtics were that high on him – and he played in Providence – they would have kept him.
But everyone looks at players differently and the Nets liked Brooks' game and potential and did what they had to do to make sure they got him.
"I'm thrilled to be in this position to help the Nets organization," Brooks said. "You guys will be seeing me for the next 10 years with this organization. I'm just looking forward to be a part of it."
You have to believe Brooks can help the Nets. He seems to have the right attitude. He had great stats for a losing team – 24.6 points, 7.0 rebounds, 1.5 steals – and he won't be asked to do as much on the Nets.
Two things he admits he needs to work on are his shooting and his defense. Coach Avery Johnson will make sure Brooks does the latter and it's up to him to do the former.
Brooks should get open looks playing with Deron Williams and Brook Lopez. If he doesn't capitalize by making shots or finding ways to get to the basket, Brooks is going to make the teams who passed him look like they were right.
"I would say I'm a scorer that can shoot," he said. "Shooting definitely is not my strength. I think I get to the rim a little better than most shooting guards.
"Defensively I've got to put more effort. I played a lot in college. I was playing power forward. I was playing 20 minutes a game at power forward. I think I would do a much better job guarding people my size. I'm looking forward to it."
Bogdanovic will play in Turkey for at least one year, but the Nets believe they got a first-round player with the second pick in Round 2.
In Jordan Williams' case, he put up big stats in a tough conference – 16.9 points and 11.8 rebounds for Maryland. He was the seventh pick of the second round.
The one thing he said, and the Nets have said, is that his rebounding should translate to the NBA. Williams made sure he was more ready for the NBA by shedding some of his weight and body fat since his sophomore season ended, dropping about 15 pounds.
"I think I just had to change my body," he said. "My body in college had a lot of weight I didn't need and I didn't look right. I think that going into the whole NBA process I had to really just focus on certain things in my body.
"Now my game is much more versatile. I play longer and I'm in much better shape, so it's just all-around a better change for me."
The Nets hope he stays hungry and that these roster changes are better for them.
***
Follow me on Twitter: @Al_Iannazzone
***
Al Iannazzone covers the Nets for The Record (Bergen County, N.J.)