After the Nets brought in draft pickups MarShon Brooks, Jordan Williams and Bogan Bogdanovic to meet the local media Monday, they promptly sent the ones that will be with them next season to California to work out.
This made perfect sense because of the labor situation. If there is a lockout -- as expected -- starting Friday there can be no contact between the players and the teams.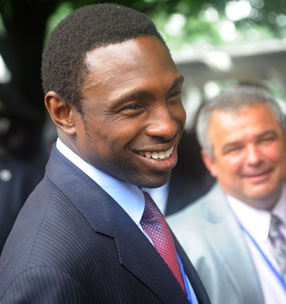 So Brooks and Williams flew to meet coach Avery Johnson and general manager Billy King at P3 in Santa Barbara for some training until they can't talk to him anymore.
Brooks and Williams were given what the Nets want them to do this summer, what workouts, what things they need to improve on –- basically everything they should do to make sure they're ready when the work stoppage ends and/or training camp begins.
The Nets can't afford anyone, let alone rookies, to use camp to let them get ready for the NBA season. King said he thought about holding a rookie-free agent camp before July 1, but thought P3 was a better alternative.
"I thought this would be better than bringing them in just to play basketball for a couple days," he said. "I think for them it's going to be more getting a foundation of lifting and testing and seeing where they are strength wise.
"They train. They test them, [strengthen] different parts of the muscles. Give them a plan. Map it out for them for the summer. It's more weight and training."
P3, which stands for Peak Performance Project, is a place the Utah Jazz had used. King heard about it and when Deron Williams mentioned it, the Nets GM looked into it and decided it would be good for his players to attend.
That's why earlier this month Williams helped organize a group workout where every Net under contract went to P3 to train. This is something that needs to happen again if there is a long lockout.
It would be wise for someone –- Williams or Anthony Morrow or Jordan Farmar -– to try and organize such meetings this summer. It would be good for the Nets if it were Brook Lopez stepping up and showing some leadership and putting something together. That definitely would be a big step for him.
It's difficult to get everyone together, but it can be done.
The summer after Jason Kidd was traded, Vince Carter helped organize workouts at the Nets practice facility and mostly everyone showed up for a camp a week or two early.
That was the year everyone predicted the Nets would be terrible after the losses of Kidd and Richard Jefferson. But with Carter's leadership and Devin Harris becoming an All-Star, the Nets hung in the playoff race much longer than anyone expected.
These Nets should follow that lead.
It can't be at the Nets' practice facility if there's a lockout because you can't have any contact with your team. They just have to find a neutral site the way the Giants did, holding their workouts at Bergen Catholic High School during the ongoing NFL lockout
The bottom line is if there is a work stoppage and it's lengthy, the Nets need to have chemistry and be as much on the same page as possible, and the rookies need some guidance so when they can reconvene with the team collectively, they're a little ahead of the game.
This is a critical year for the Nets, their last in New Jersey before the big move to Brooklyn. They want to go in with a competitive team, a playoff contender for so many obvious reasons.
Management still must upgrade the roster with the main needs being small forward and power forward. King and assistant general manager Bobby Marks will put in the necessary work to try to do that. Re-signing Kris Humphries is the Nets' power forward priority.
But the Nets are under contract -- the ones who hate losing and hated being on a 24-win team last season and in Lopez's case a 12-win team the year before that –- should have extra motivation to make sure they don't experience that again. The rookies who will be under contract should have the desire to make sure they are as NBA ready as possible.
Collectively, the Nets should continue to work on their bodies and game and find time to train together to develop familiarity with each other to improve the chances of being a playoff team whenever the 2011-12 season begins.
The Nets' players should do it anyway -- even if there isn't a long lockout.
***
Follow me on Twitter: @Al_Iannazzone
***
Al Iannazzone covers the Nets for The Record (Bergen County, N.J.)