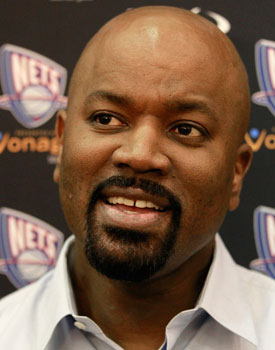 EAST RUTHERFORD, N.J. – Billy King wasn't with the Nets when LeBron James' announced his "Decision" or when the team settled on their Fab Four in free agency last year.
This is King's first time going through the process in full as Nets general manager and one thing you know is he will be is aggressive.
He was in his pursuit of Carmelo Anthony and ultimately in landing Deron Williams, and that's what the Nets need now.
Teams were permitted to speak to agents today for the first time since the lockout began on July 1. That official kicking off perhaps the biggest Nets' offseason since Jason Kidd was a free agent in 2002 because of what lies ahead.
The Nets are going to Brooklyn and would like to take Williams with them. So King needs to get the players that make the Nets competitive now and assets that can turn them into a championship contender later.
"I want to build a team I think can be successful," King said. "If it takes being successful now and that will help us down the road, then we'll do it now. We're not going to sit here and say, we'll wait to the future, because the future is not promised to anybody."

Everything King does will be with Williams in mind and with Williams' backing.
He can opt out after the season – and odds are he will. But if the Nets improve enough to entice him to stay their Brooklyn opening will be almost complete.
The only thing that could make it better would be if Williams and Dwight Howard were in the starting lineup. King is trying to make sure that happens through this critical free agency, too.
"Every year there's an importance to it because you're building a roster," King said. "Yeah, Deron Williams' contract situation is important. But we have the right to negotiate with Brook [Lopez] coming up. Every offseason is important because that's your one chance to build a roster for that season."
There was plenty of news circulating about Lopez and Howard, but that was expected. If the Nets are going to get Howard now they have to offer Lopez and draft picks. But that doesn't mean the Magic are going to accept that offer.
Orlando general manager Otis Smith likely will seek out the best offers and make the decision when it's clear he can't keep Howard. But Smith won't want the Dwight Drama to match the distraction the 'Melo Madness caused Denver.
The Nets hope it ends differently than the Anthony situation and they're the winners of the Howard sweepstakes. But in the meantime, King can't wait on what may be. He has to worry about what is.
The Nets have a star point guard, are moving to Brooklyn next year, have the richest owner in the NBA and could have about $23 million to spend on free agents.

That puts King in better position than his predecessor Rod Thorn was in last summer. Thorn had Mikhail Prokhorov's checkbook, but Brooklyn was two years away and Devin Harris was the best player on the team.
The Nets chased James, Dwyane Wade, Chris Bosh, Carlos Boozer, Tyrus Thomas and ended up with Travis Outlaw, Anthony Morrow, Jordan Farmar and Johan Petro.
This time around, the Nets' targets are big men Nene and Tyson Chandler and small forwards Caron Butler, Tayshaun Prince, Andrei Kirilenko and Shane Battier. Kris Humphries remains in the picture, but the Nets need to address other areas first.
Beside getting Howard, their hope is to nab either Nene or Chandler, move Lopez to the power forward, put a versatile small forward in the starting lineup and retool the bench.
Some of these moves would make Williams' happy, but also could give the Nets enough assets where a deal for Howard could be more realistic. Orlando may be more interested in a package that includes Nene or Chandler than Lopez.
The bottom line is King wants to be a playoff team as soon as possible, and he wants flexibility on the court and off of it.
"I want to get as much flexibility," King said. "That's when teams are good - when they're not limited in their substitution patterns because then you can mix and match our roster better."
As far as the other flexibility, King said, "You always want assets. If you need to improve your roster, you can have assets to do that."
King is confident he will be able to improve now, but also collect enough pieces to make moves later. Howard is the ultimate target and the pursuit of Superman begins now.
***
Follow me on Twitter: @Al_Iannazzone
***

Al Iannazzone covers the Nets for The Record (Bergen County, N.J.)