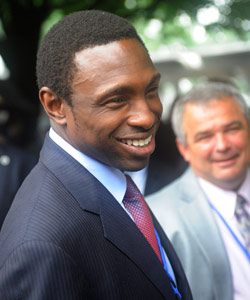 After such a long lockout-generated layoff, it's busy season in the NBA and the Nets should be among the busiest teams.
They have the money – up to about $24 million for free agency – the star point guard and some assets to at least be in the conversation to acquire Dwight Howard.
Negotiations for players and free agents should heat up over the weekend and early next week, building to the expected opening of camps Dec. 9. Here are some pressing issues concerning the Nets and their roster and one major issue that seems to be put to rest – for now.


D-Will Won't
Deron Williams' agent Jeff Schwartz said yesterday what many people were already thinking, including Nets execs: his client won't sign an extension with the Nets and will become a free agent next summer. But hours later, Williams tweeted to say it doesn't mean he won't re-sign with the Nets.
This was a smart move – as was outlined here – to just get it out of the way so it doesn't hang over the heads of Williams and the Nets all season. The new CBA made it almost a guarantee Williams would go this route. He makes much more money by opting out. It doesn't mean he won't re-sign. And by doing it now, the focus can be about basketball.
The Nets will try to build around Williams to improve their chances of him signing a 5-year, $101 million contract in the summer.

Build a front court
That's what this off-season is all about for the Nets and they have several ways they'd like to go and many more ways it can go.
The ultimate goal for general manager Billy King would be to put together a trade for Howard. He would give the Nets the best chances to be competitive and keep Williams.
But if they can't get Howard now, the Nets still have to want a big man. They've gone hardest after Nene. Tyson Chandler also is in the picture. If the Nets can get one of them they'll move Brook Lopez to power forward.
But whoever the Nets get could become an asset they try to use to acquire Howard. Agents have to be considering that too because they may not want to send their player to the Nets with the possibility they could be traded by February.
You also have to look at who fits best.
Nene and Chandler would complement Lopez, who is more of a jump shooter and pick-and-pop player. But if getting Howard is the end goal, Lopez – the Nets' main trade chip today – might be the best fit to play alongside Superman.
Nene and Howard could co-exist, but Chandler and Howard are a little more similar. Neither is a power forward. That may not work that well.
The Nets have their plan for this and Plans C-Z. And everyone wants to know where Kris Humphries fits in.
Humphries remains in the picture. But the Nets want to make other moves first. They need to address both power forward and small forward and depending on how things shake out, they might not have the time or money to bring Humphries back. He's one of the top two power forwards (along with David West) and will be in demand.
Other players the Nets have an interest in is restricted free agent Thaddeus Young, an athletic hybrid forward who would fit well with Williams, Caron Butler, Tayshaun Prince, Shane Battier, Andrei Kirilenko and Grant Hill.
Hill is an interesting name and he has a natural link because like King, he's a Duke alum. But at this stage of his career, Hill may want to stay where he is and play Steve Nash or go to a winner.
Improve the bench
Presuming the Nets get a starting big man and small forward and ultimately amnesty Travis Outlaw, you are looking at a bench consisting of Jordan Farmar, MarShon Brooks, Damion James, Johan Petro, Sundiata Gaines and Jordan Williams. The Nets need more scoring, experience and versatility.
One player the Nets have interest in is Shawne Williams, a good fit who could stretch the floor off the bench. The Nets likely would give him more than the one-year deal the Knicks have discussed. But the Heat and Bulls also have shown interest.
Some other players on their list that could help them include Arron Afflalo, Rasual Butler, Bostjan Nachbar, Luc Mbah a Moute, Chris Wilcox and Josh McRoberts.

Talk to Lopez
King did the right thing when he said he wouldn't allow "the circus-like atmosphere" that surrounded the Nets last year to happen again.
So one of the first things he and coach Avery Johnson have to do next week is sit down Lopez and reassure him that he is in their plans; that they are going to start talking extension with his agent. That part is true. That Lopez is in their plans probably isn't entirely.
They like him, but if they can move Lopez to get Howard the Nets would do it in a heartbeat. But they have to try to keep things quiet and avoid the distractions. The Carmelo Anthony drama definitely affected the team. They're good to need Lopez focused and committed. As of now, he's their No. 2 player.

***


Follow me on Twitter: @Al_Iannazzone

***

Al Iannazzone covers the Nets for The Record (Bergen County, N.J.)